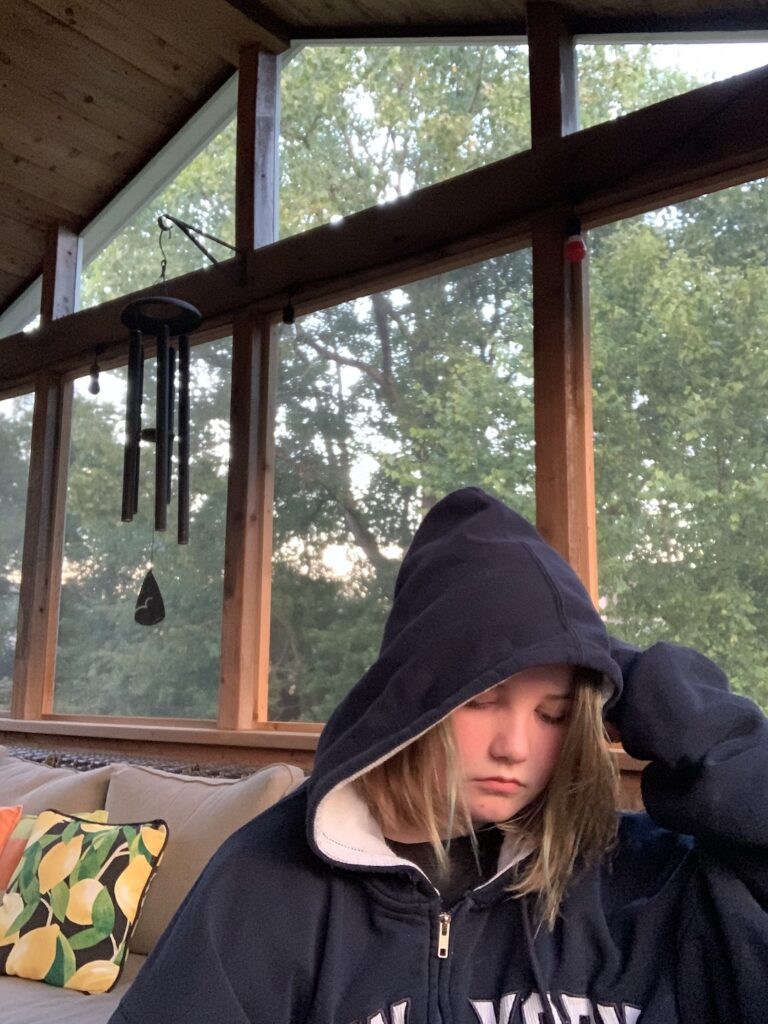 Mental health stigma is alive and well in 2022.
Mental health stigma is when someone sees you in a negative way because of your mental illness. My poor kiddo was on the receiving end of this recently and it breaks my heart.
First of all, know this about my baby: she is an amazing kid. Journey has the kindest, most loving and sensitive heart you could ever encounter. She has a gift for empathy, compassion and intuition. She will tell you what you are feeling – heck, what every person in the room is feeling – before you even know it yourself.
And yes, in addition to these gifts, our sweet Journey also struggles with anxiety and depression. These are legitimate mental health diagnoses – something that will be with her all her life.
Anxiety and depression are hereditary medical conditions that run in our family. They are not Journey's fault. They do not make Journey a bad kid, a trouble-maker or a problem child. Many people who know Journey only as a sunny, happy, bright light will find it unbelievable that she suffers from severe depression.
And yet, we know there are people who might not want their kids to hang out or spend time with Journey if they knew her mental health history. There are a lot of people who are ignorant about mental health issues and don't see them as medical conditions, but rather behavior problems or character flaws.
There are people who will assume the worst of Journey simply because she suffers from anxiety and depression. As her mom, this breaks my heart. No child should be judged harshly because of a medical condition they were born with!
We've experienced this phenomenon already, and it sucks. This is the exact nature of mental health stigma: it means that people may assume the worst about you without any reason to. And when people expect the worst from someone, they are more likely to only see the worst.
I wish there was some way to change this – and that's why we're writing this blog post.
As far as I can tell, the only way to reduce prejudice and stigma against people with mental health issues is to normalize these conditions by talking about them openly out in the light.
When people see celebrities, positive role models and other likable individuals talking about having anxiety or depression, it immediately helps to ease the myths and misconceptions they may have bought into.
That's why TV shows like Oprah and Prince Harry's The Me You Can't See are so important. If you haven't seen this program, it de-mystifies mental illness through the stories of both regular people and famous people, like Prince Harry himself, Lady Gaga and Glenn Close.
When we know someone personally or see someone familiar who is struggling with a mental health issue, somehow it becomes less scary and dark. Instead, it becomes something we want to learn more about so we can help if possible.
That's why Journey and I try to be as open as we can on this blog about the struggles we face personally. If we can help others who are battling anxiety, depression, or other mental health issues, then that will make our hard times a little easier to bear.
If you're looking for ways to help and support a friend or loved one with depression or anxiety, we recommend talking with them and offering a listening ear. There are also some great resources at the Depression Project.
Interested in more of our content about mental health and self-care? Be sure to click that link.