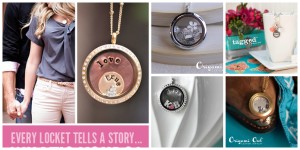 Are you sick of direct selling companies yet? You know – where you host a party at your house and get all your friends to buy things so you can make out like a bandit in hostess credit.
I am. Or rather, I was – until I discovered Origami Owl. Now I'm seriously considering having a party to introduce my friends to this cool, personalizable jewelry. In the meantime, I'm sharing a product review. I'm not being compensated in any way for this review. I paid for my Origami Owl jewelry myself – and at full price. I just really, really like the products, packaging and story behind Origami Owl.
First off, you should know I'm a sucker for personal, customizable jewelry. I loved those couple name ankle bracelets (worn with an extension around your neck) back in the 80s (was that a Long Island/East Coast thing, or do you know what I'm talking about?). I had an Italian charm bracelet in the early 2000s. I have a locket bracelet with teeny, tiny pics of newborn Zoebelle. I have a hipster necklace that says @LaraK (my Twitter handle). I have a Pandora bracelet with charms I adore. And, last but definitely my favorite of all, I now have my very own Origami Owl "living locket."
Here's what I like (and a few things I don't like) about Origami Owl:
The overall quality of the jewelry is really nice. The living lockets are not cheap (mine came to just under $100 with tax and shipping), but I do feel you end up with a gorgeous piece of jewelry that does not look "costumey." I would recommend the gold over the rose gold – I didn't like the rose gold chain I got. I wish I would have chosen a gold chain instead. I do love that they have so many choices of chain, both in length and in metals.
 They have a great selection of charms so you really can find something for everyone. The charms are adorably tiny – I mean really tiny. Smaller than you think, and much smaller than they appear on the website. For example, I got a "pearl" accent to put in my locket and it's about the size of a pin head. Good luck finding it if it slips out or rolls away while you're adjusting your charms in your locket!
The lockets are relatively easy to open once you wedge a fingernail into the crevice, but the magnets are strong enough that the lockets wouldn't open on their own under normal wear. My daughter can't get the locket open – and that's a good thing. I feel secure wearing it and don't worry about losing charms. I also think that a "starter" locket set would be an awesome gift to get a friend or female relative, because then you can add to it over time by getting her more charms for more versatility.
I love that you could customize the lockets to match different outfits, moods or occasions if you wanted to (and if you had enough charms). The medium locket holds about four charms and the large would likely hold about six. I also like the metal plates you can buy to put at the back of the locket – it would be great if these were truly personalizable, but right now all you can do is purchase plates with set words on (like love, family, blessed, etc.). Hopefully soon they'll provide an option to put names or other words on the plates.
I'm a sucker for nice packaging, and Origami Owl nails it. I made a 6-second Vine video the day my package arrived. From the outermost shipping box, to the inner box (like a Chinese food container – so cute), to the promotional materials, to the absolutely precious Asian silk pouch they give you to keep your necklace in… I am in love. Now I am dying to buy another one just to have that experience again! Talk about awesome marketing.
Speaking of marketing, have you heard the story behind Origami Owl? The company was founded by a 14 year old girl named Bella in 2010. As if I wasn't already in love with their stuff, now I'm really hooked. The company, obviously a huge success, is run by a 17 year old. Grrl power, baby! And, they have tons of mother/daughter consultant pairs who do sell the jewelry together – is that sweet or what?
So, there you have it – everything I love about Origami Owl. Next time I want a slightly shorter chain (I went with the super long 30 inch and it's not quite right for me) and the larger locket size (I went with the medium and it's pretty small). Other than that, I love everything I got!
What do you think – do you still like to host or attend product parties? What's your favorite? Prior to discovering Origami Owl, I was a Tastefully Simple fan. I think I may have a new reason to get the girls together. Want to come?