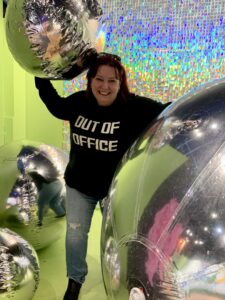 Also known as Lewis Center Mom, Midlife Mama is a north-of-Columbus, Ohio family, lifestyle and travel blog started in January 2012 to document the amazing journey that is being Z's mom.
If you're new here, this is a great place to start.
This blog is an ode to midlife motherhood and only-child life. We cover fun things to do in Ohio, Lewis Center life and lots of travel adventures.
We started out writing mostly about positive, gentle and attachment parenting (including lots of older content about nursing and cosleeping) but have moved on to address tween and teen parenting issues.
We are all about love; feminism; social justice; LGBTQIA+, nonbinary and trans rights; de-stigmatizing mental health struggles; anti-racism; celebrating differences and treating others with kindness. Always kindness.
We write to taste life twice.
We are PR friendly, love food and travel, and will gladly talk with you about reviews or giveaways. Especially if you are from an international, family-friendly destination, please contact me at lara at lara-mom.com (don't forget the hyphen). Hey, a girl can dream!
About the blogger
In addition to blogging, I own a one-woman marketing communications business and I'm wife to an incredible InfoSec guru and car guy. Together we're the parents of an active and amazing middle schooler who sometimes guest blogs here.
We have a small home zoo: two dogs, a cat, a snake and some fish. We love calling fabulous Columbus, Ohio (and our Lewis Center suburb) home, sweet home.
We're a global family since expanding our hearts and worldview by hosting amazing intercultural exchange students from Thailand (2018-19) and Germany (2020) through YFU. We can't wait to visit our Thai and German daughters and their families one day soon.
I'm proud to be a committed volunteer for The Trevor Project and a board member with the Preservation Parks Foundation.
Professionally, I've been a PR and marketing communications pro and avid social Internet user since the early 90s – and a blogger since soon after that. You do the math – it adds up to make me kind of old. That said, I must be somewhat cool: I am the Tattoo Doula, after all.
I had a pro blog about the sweet spot between PR and social media from 2008 – 2012. I also blogged on livejournal.com for many years before that.
I am one of the original members of the Easton Town Center MomE Mavens, a group of local social influencers and bloggers who help keep others in the loop about new and exciting happenings at Easton. I'm a proud On Our Sleeves ambassador. I also love food and writing about restaurants as a five-year member of the Columbus Yelp Elite Squad.
After a lifetime of focusing on career and self (not necessarily in that order), everything changed in July 2009 when we learned we had a tiny passenger on board. From the moment she was just a speck, smaller than a sesame seed, Z powerfully changed our world forever.
I began this blog in 2012 to document our life together, share what I am learning, and maybe leave something authentic and awesome for our kiddo to look back on after I'm gone. And hopefully not embarrass or shock my family too much along the way.
From selfish and self-centered to super-mom. From proud, avowed child-free DINK to devoted attachment-parenting mama. Who would have thought it possible?
Also, we uphold the latest FTC guidelines about sponsored posts like any good influencer should.