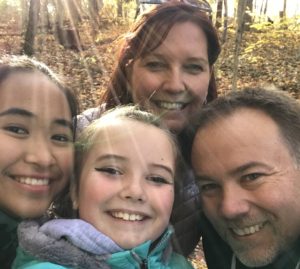 About the blog:
Working mom and family travel blog. Fun things to do in Ohio. Lewis Center life. Positive, gentle and attachment parenting – including transitions from nursing and cosleeping. Love. GRRL POWER. Motherhood.
We are PR friendly, love food and travel, and will gladly talk with you about reviews or giveaways. Especially if you are from Disney, Universal Orlando or associated in any way with tourism or cupcakes, please contact me at lara at lara-mom.com (don't forget the hyphen).
About the blogger:
We're a two career household with an active and amazing gradeschooler plus somewhat of a home zoo: a Goldendoodle, a small rescue pup, a ball python, a hamster and a whole bunch of fish.
In August 2018, we expanded our family and our worldview by hosting an intercultural exchange student from Thailand through YFU. Napa quickly became an integral part of our lives and will always be close to our hearts, even once she returns home to Thailand this June.
Workwise, I've been a PR and marketing communications pro since 1991, an avid social Internet user since 1994 and a blogger and social media pro since 1999. You do the math – it adds up to make me kind of old. That said, I must still be cool: I am the Tattoo Doula, after all.
My "professional" blog, about the sweet spot where PR and social media intersect, resided at larakretler.com from 2008 – 2012. In addition, a ton of my past PR and social media content from past jobs still exists here and here.
After a lifetime of focusing on career and self (not necessarily in that order), everything changed in July 2009 when we learned I had a tiny passenger on board. From the moment she was just a speck, smaller than a sesame seed, Zoe changed my world forever. She instantly became captain of the ship. I hope to document our journey together, share what I am learning, and maybe leave something awesome for her to look back on after I'm gone. And hopefully not embarrass her too much along the way.
From selfish and self-centered to super-mom. From proud, avowed childfree DINK to devoted attachment-parenting mama. Is it possible? I hope I'm living proof.
I am a founding member of the Easton MomE Mavens, a group of local social influencers and bloggers who help keep others in the loop about new and exciting happenings at Easton Town Center.
Also, we uphold the latest FTC guidelines about sponsored posts and digital advertising.