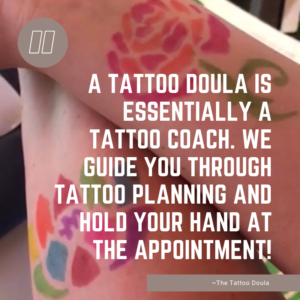 I have been a tattoo collector for almost 25 years and tattoo obsessed for far longer than that. Art that lives on your skin forever is beautiful, meaningful and sacred – it becomes a living part of you, a visual representation of something important to you and a reminder of a memory or moment you never want to forget.
Enjoy every step of the journey
The process of getting a tattoo can be as spiritual and special as you want it to be – an integral part of the final art itself. The tattoo experience shouldn't be something you suffer through, but rather a transformative ritual that strengthens and uplifts you.
I was fortunate early in my tattoo journey to have a heavily-tattooed friend who helped me navigate the world of artists, tattoo parlors, design and tattoo placement. For my first couple of big tattoos, she helped me make wise decisions I wouldn't regret later. Sometimes your artist will do this type of counseling and coaching – but not all artists have the time or desire.
I've also been blessed with dear friends who stay by my side while I'm getting tattooed – friends who lift me up and help me become the best version of myself. Positive energy around you is essential to a great tattoo experience!
Today, as the Tattoo Doula, it is my honor to do all of this and more for you.
It is my pleasure to help, coach and support you at every stage of your tattoo – before, during and after – to make it the best and most amazing experience it can possibly be. The Tattoo Doula's wrap-around services include:
guidance on choosing the right artist for you
talking you through your core spiritual values, lifetime personal and career goals and the overall significance of your tattoo
working with you and your artist on a design, size and appropriate body placement for your tattoo
ensuring a positive environment during your tattoo appointment (play list, snacks, essential oils, holding your hand, making you laugh, hand massage – whatever you need to get in your zone!)
keeping you in a positive state of mind leading up to and during your appointment
assisting you with tattoo aftercare and follow-up appointments as needed
If you're getting a small "sticker" or flash tattoo that you pick off a wall, you don't need the Tattoo Doula. But, if you are looking to design a custom art piece and tattoo experience that is sacred, meaningful and that you will cherish always, then we are here to serve you.
Your end result will be beautiful art on your skin that reflects your spirit inside – an experience and final product you will always treasure and never regret.
Most everything in life is temporary – but a tattoo can be forever! Make it right the first time with the Tattoo Doula. Please contact me for rates, which are customized to your individual tattoo needs.