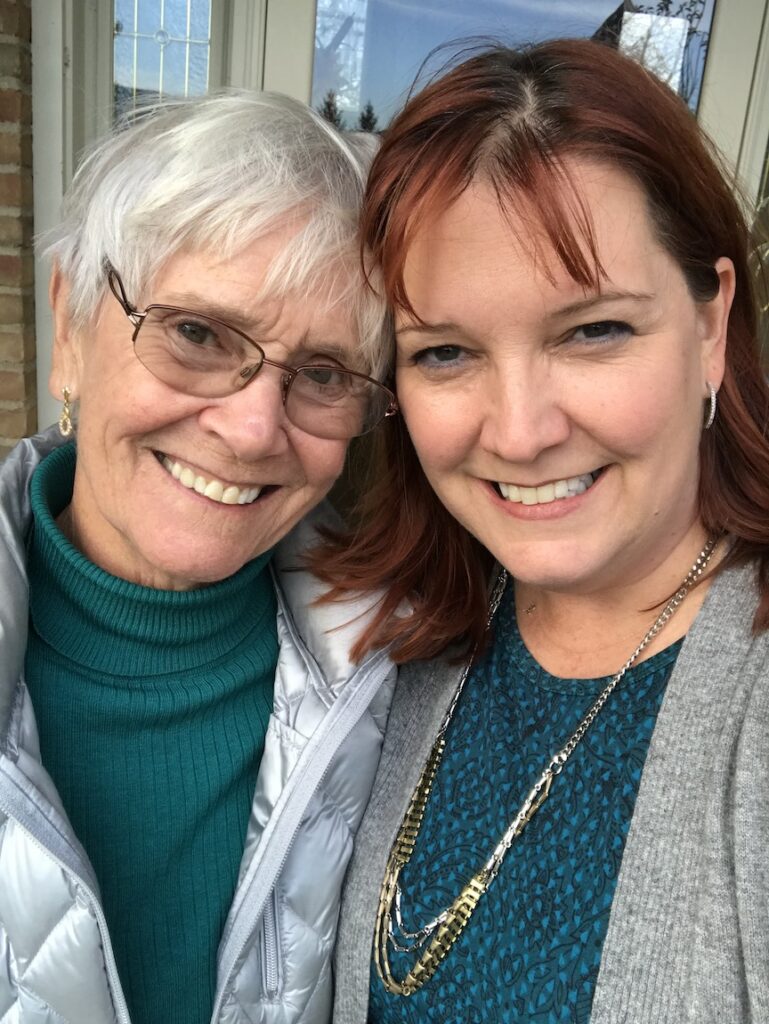 I've been dyeing my hair red since I was 25 years old.
Wow. That adds up to 27 years' worth of red hair dye, plus a whole lot of time and money spent at the salon!
Prior to going red, I highlighted my hair with blonde streaks for about ten years.
My best friend in high school always used to tell me I'd look good with red hair and that I should try it. It took me until age 25 – just after I got married – to actually give red a try.
Once I saw how natural I looked with red hair – and how it complimented my naturally fair skin and green eyes – I never went back to blonde.
So what has me second-guessing the red color after all this time? Believe it or not, Z has been encouraging me to stop dyeing my hair and return to my natural color – including rocking my platinum.
Both my parents both went a gorgeous platinum shade instead of gray as they aged, which is how they earned the nickname "the Platinum Foxes" from me. I can already tell from my roots that my hair is coming in that same sparkly silver or platinum hue that looks so pretty on my mom and dad. And I'm not gray all over quite yet – it's mainly just coming through in the front sections.
My mom didn't let her hair go gray until her 60s. Once she finally let her natural platinum come through, I was amazed and in awe of how beautiful it looked. "Why did you wait so long?" I remember asking her – but every woman has to make this choice in her own time.
So am I really ready to rock my natural silver/gray highlights? I'm just not sure. 52 seems a little young. Here are some pros and cons I'm weighing:
Pros
I would save a ton of money if I stopped dyeing it professionally
I could do other fun things with temporary hair color at home like Z does
It would be more authentic and "genX" of me to let my platinum show and embrace my aging
Cons
I would miss seeing Charis, my hairstylist and colorist, every seven weeks (though I would still see her for cuts of course)
I love my red hair!
I might start to look my age (though I would certainly still not act it)
What do you think? Should I go for it? The great thing about hair is that I can always dye it red again if I decide I truly miss it.
For now, I think I've convinced myself to listen to Z and grow my hair out. It's something new and fun that I've never tried before – plus it's another small but meaningful way to rebel against the patriarchy and its stupid, painful beauty standards.
I've embraced other forms of aging, like laugh lines and inevitable weight gain – so why do I keep fighting the gray hair? I know from my own experience how liberating and life-changing it can be to suddenly start loving something you've always been taught to hate about yourself.
We'll see if I can make it all the way to fully grown-out gray. I know the quickest way to get there is to get a super short haircut, but I'm just not sure I'm willing to give up my red hair AND get it cut short at the same time!
I've been reading lots of inspiring stories about other women who have let their gray grow out and are rocking silver hair with style and loving it. Hopefully, I can get through the tough first three months and then start to enjoy the journey a little more!
I'm also having fun thinking about the approximately $75 per month that I won't be spending on having my hair professionally dyed. Think of all the other self-care things could I invest that money into – like sound therapy, massages, facials, mani/pedis, acupuncture and more.
The more I think about it, the more I think growing out my platinum highlights will be a really fun project for the rest of 2022 and into 2023. I can always change my mind if I hate it. But we never know if we'll love something new until we take the chance to try it, right?
Let me know if you've been through the going-gray process and if you have any tips for how to speed it along. I am even willing to try a shorter haircut once I've determined that I like my platinum crown and want to see more of it.
Wish me luck in the comments below or over on Facebook or Instagram!