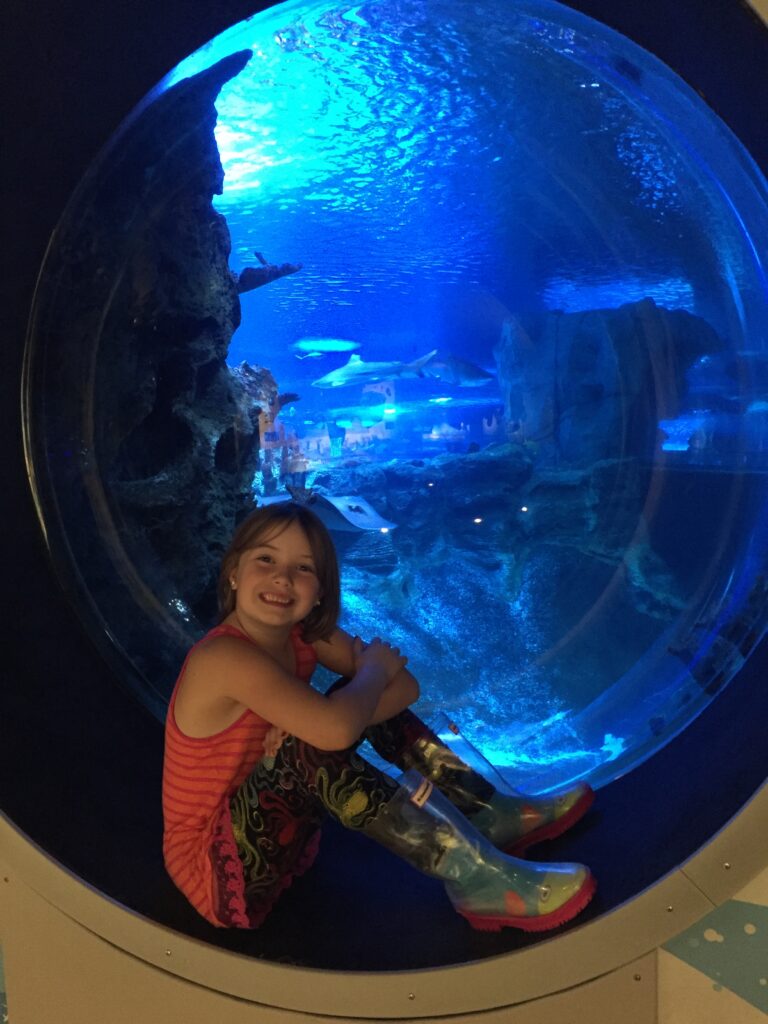 We love Ohio utterly and completely, but sometimes you just have to run for the border.
Driving down to Cincinnati and then crossing that state line into KY can only mean one thing for our family: we're headed for our favorite nearby aquarium.
We love the Newport Aquarium so much that it's on our annual must-do list – sometimes even more than once each year.
And that's in spite of how dreadfully boring the drive is from Columbus to Cincinnati. So you know the aquarium has to be good!
We've been going to the Newport Aquarium since even before we had Xage. It's situated in Newport on the Levee, a lovely riverfront area with an outdoor mall very similar to our beloved Easton Town Center here in Columbus. You can grab lunch, shop and visit the aquarium, making for a very full and fun day.
In fact, the aquarium itself has so much to offer (except food – we've never had a good meal there, so I definitely recommend dining outside) that we've developed a unique way of "doing" the Newport Aquarium. We started doing this when Xage was a toddler and find that it still works to this day.
What we do is hustle through the entire aquarium once, quite quickly. We only glance at the exhibits. We don't play in the play areas. We avoid the crowds and clusters of people around certain popular sea critters. This usually takes about an hour and gets rid of all the energy that has pent up during our long drive down to KY from Lewis Center.
Then we pause, get our hands stamped for return to the aquarium, and head outside to have some lunch. Sometimes we even pick up a little candy at the cute shop just across the way.
Once our tummies are satisfied, we head back into the aquarium and walk through slowly, at a more leisurely pace. This time through, we stop at all the tanks to greet the fish. We linger at our favorite spots, many of which I've detailed below.
For us, this helps us feel like we're truly getting our money's worth out of the aquarium – and by the time we're finished with that second tour through, we are starting to get tired and we're ready for the drive back home. Why does the drive home always seem quicker than the drive to a place? I don't know, but it does!
We've seen some incredible things at the Newport Aquarium. We even have friends who got married there! Here are some of our favorite past and current features at the aquarium.
Mermaids at the aquarium – we are huge fans of the Weeki Wachee mermaids in Florida, so when they came to the Newport Aquarium we had to visit them. The crowds were significant but we still loved seeing the mermaids in the tanks with the fish!
Stingray Hideaway – this is one of the nicest stingray touch tank exhibits we've seen, with a tunnel you can crawl through to pop your head up in the middle of the stingray tank! Plus, petting stingrays just never gets old, no matter how many times you've done it before.
Frog Bog play area – I'm afraid Xage may be a bit big for this section now, but it's been a favorite for years. There are giant, colorful frogs to climb on as well as a big climbing structure where kids can get their crazy on. It's usually loud in this area, but fun, and there are actual animal exhibits to ogle while the little ones play.
Walk-through Coral Reef tank – this is probably my favorite spot in the aquarium: a gorgeous tunnel walkway with incredible fish and sharks swimming on all sides of you. We notice different things every time we walk through this area!
Shark Bridge – this is a fun and scary rope bridge that suspends you above a giant shark tank with curious and stealthy sharks swimming beneath you. I remember the first time little Xage asked to do it without me – I was more than a little anxious, but I said yes. They felt so brave! And they still enjoy walking through this fun attraction.
While we do enjoy the aquarium at Columbus Zoo and even the many colorful fish on display at Aquarium Adventures, there's really nothing like truly immersing yourself in the creatures of the deep at a world-class aquarium like Newport Aquarium.
Have you visited Newport Aquarium, or do you have another favorite aquarium elsewhere? We'd love to hear your fish tales in the comments below or over on Facebook.