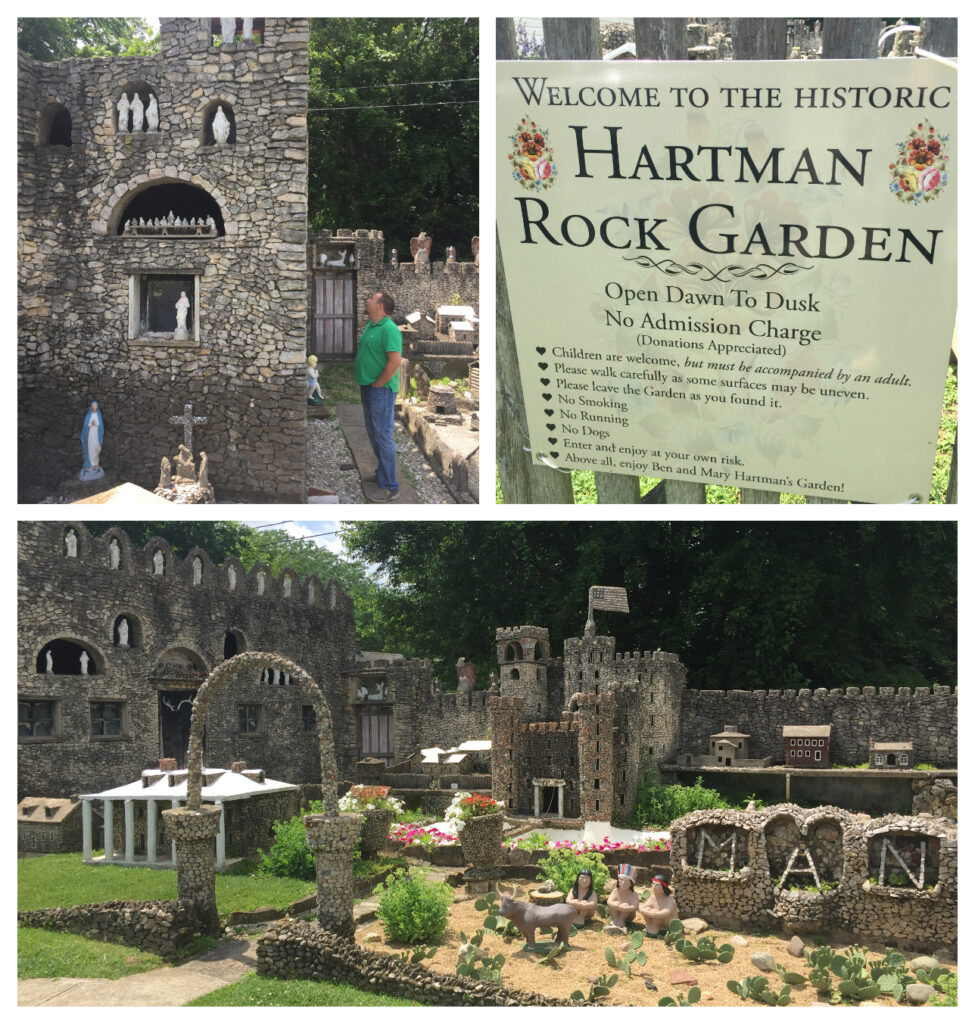 Nestled in a residential neighborhood in Springfield, Ohio is the most marvelous, bizarre and magnificent rock garden you could ever imagine.
It is a quirky and endearing display of historical American folk art.
The Hartman Rock Garden is simultaneously fun, weird, wacky and wholesome. It is a perfect destination for a romantic date, family outing or field trip with friends.
I remember as a young child, Z was always picking up and hoarding rocks; we still have a small rock garden in our yard, not to mention Z's crystal and rock collection in their room.
But our personal rock collections are nothing compared to the Hartmans' legacy! Just over an hour from Columbus, this rock garden is a true treasure and a place I can't wait to visit again.
In the simplest terms, the Hartman Rock Garden is just that – an otherwise ordinary, suburban backyard filled with handmade sculptures and buildings adorned with rocks. It is spectacular, odd, beautiful and bizarre. However, once you learn the story of Ben and Mary Hartman, the garden's creator and caretakers, it becomes so much more than that.
In the words of the Hartman Rock Garden guide book, the site is "one of the nation's most intriguing and revered works of in situ folk art, an outsider art phenomenon where self-taught artists construct fascinating worlds out of concrete, metal, stone and whatever else they can find."
Ben Hartman built the rock garden with his wife Mary's help after he was laid off from his foundry job in 1932 during the Great Depression. At 48, he was not content with his newly sedentary lifestyle and began constructing a cement fishing pond in his backyard. He fell in love with the project and spent the next 12 years filling his yard with over 50 structures, countless handmade figurines and hundreds of thousands of stones.
Ben died in 1944 from silicosis, an occupational lung disease. For the next 53 years, Mary took on the monumental task of maintaining the garden, caring for the flowers, preserving Ben's intriguing structures, giving tours and adding small details where she saw fit.
Visitors called it a rock garden, but Mary called it "a garden of love." The garden is filled with details memorializing Ben and Mary's love. It also celebrates their children and other family members.
The garden contains themes of family, religion and patriotism as well as historical places and events. I am quite confident you could visit Ben and Mary's garden a dozen times and find something new to marvel over during each visit.
Though the rock garden did fall into disrepair after Mary's passing in 1997, the Wisconsin-based Kohler Foundation, known for investing in the preservation of significant folk art sites around the country, purchased the property in 2008 to restore the Hartmans' legacy.
The site is now owned and maintained by the nonprofit, Friends of the Hartman Rock Garden. Visitors can come any day of the year from dusk to dawn. Donations are encouraged to assist with preserving, maintaining and interpreting this national treasure. There's even a kid's garden guide available from the website, perfect for ages 8-12.
Photos don't do it justice – you have to see the Hartman Rock Garden in person. According to the website and my own personal experience, summer is the best time to visit, when the garden is in full bloom.
Do you have other favorite destinations in Ohio that are this weird and wonderful? We'd love to hear about them in the comments below. And do let us know what wacky place you'd like us to visit next!