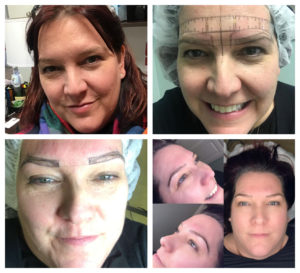 There are three types of people: those with naturally gorgeous brows, those who work hard to achieve gorgeous brows, and those who either don't know or don't care about how much gorgeous brows can do for one's face and overall appearance.
I was in the third category for much of my life but, after my recent microblading appointment with Beauty Strokes by Booma, I'm happy to report that I'm now in the first category: I've got killer brows!
I went through most of my life blissfully unaware of the importance of good brow maintenance, until I first had a truly stellar brow wax about 15 or so years ago. My technician, Lyndsey, gave me the best brow wax of my life and also filled them in a bit with a brow pencil. The resulting me looked so much better than the me who walked in there! I was convinced, right then and there, of the importance of brows.
Over the years, my own natural eyebrows have become more and more sparse, patchy and fair – until a few years back when I gave in and started trying to pencil or gel them into some semblance of my brows of yesteryear. I was never very good at it, though.
As a busy working mom, I had neither the time nor the talent to give myself the gorgeous brows I knew I deserved.
Then, a few months ago, a friend at work told me she was getting her eyebrows tattooed – a permanent makeup procedure known as microblading. Fascinated, I followed along with her journey and began obsessively watching the #Microblading feed on Instagram in search of ever more beautiful before and after brow makeovers.
Before too long, I was hooked – I just had to get this done myself! I knew microblading was the answer to my brow woes. I emailed and then met with Booma Chiang at a lovely little salon, Cala Luna, in downtown Westerville. She put me right at ease with her warm, professional and caring demeanor. I'd already seen the magic she worked on my colleague, so I was ready to go! Before my appointment, I had sent her plenty of pictures of my face so she knew what she was working with.
When I arrived at her salon, Booma cleaned my brows and face, gave me a hair net to put on and had me get comfortable lying on her padded table. She then spent about an hour measuring, mapping, designing and drawing the perfect brows for my face. She explained everything to me at every step in the procedure. I filled out the necessary paperwork, agreed to the brow shape and shade she suggested, and soon we began the actual procedure.
Is microblading painless? No. But it's also not the most painful thing I've ever experienced. It is similar to a tattoo, but the blade doesn't go as deep. Microblading feels a little like being scratched repeatedly – at first, it's not too bad, but it does become rather annoying and uncomfortable through repetition. Booma offers topical numbing cream which I highly recommend to "take the edge off." She also played a great mix of Amy Winehouse, Adele and Norah Jones which helped me relax and get into a good head space.
I'd estimate that it took her a little over an hour to microblade each eyebrow. She is meticulous and thorough, so there was quite a bit of back and forth as she got each brow just right. Booma gave me many opportunities for me to get up, stretch, drink water or take a bathroom break. She made the procedure as comfortable as possible for me, which I truly appreciated! I also took selfies throughout, so I had a sense of how things were going.
At the end of our appointment, Booma handed me a mirror for my big reveal and I was beyond thrilled. Exactly as I had hoped, she had filled in my sparse brows, given me beautiful lines and delivered a brow look that is very natural and believable – yet adds quite a bit of drama and polish to my somewhat low-maintenance appearance.
I am so glad I made this investment in myself. I truly love my new brows and the confidence they give me – or will once they are fully healed. To that end, I'll be following my aftercare instructions perfectly to ensure that they heal as well as they possibly can.
To paraphrase the inimitable Ariana Grande: you like my brows? Gee thanks, just bought 'em!
If you'd like to learn more about microblading, I highly recommend that you reach out to Booma by phone, email or her social channels. She will talk with you and help you design the brows of your dreams!
Have you experienced eyebrow microblading or other forms of permanent makeup? I'd love to hear your stories in the comments below or over on Facebook. And I'll be sure to share more photos once my brows are fully healed!