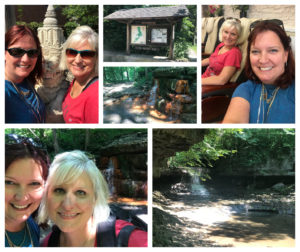 If you're like me, you're dreaming of balmy, full-color spring right about now. Why is Ohio's winter so long – almost half a year! – while our favorite seasons like spring and fall seem to be so terribly short?
I've got a really fun warmer weather outing for you to day-dream about while winter makes up its mind about leaving: a fabulous girls' day out in Yellow Springs, Ohio.
Last August, my BFF and I decided to meet in the middle – she's in Dayton, I'm in Columbus – and spend a day together with no kids, no work and no worries. We chose to spend our girls' day relaxing and having fun in Yellow Springs and it was bliss! We truly don't make the time often enough to do this, and I have such great memories of our day – and all of our prior girls' days together over the years.
We started our morning with lattes at Dino's Cappucinos right in downtown Yellow Springs. This little college town is adorable, bohemian and charming – especially if you love hippie-chic, which we do. Dino's is convenient, has a great menu and is a local favorite. I had their Chocolate Buddha – half hot cocoa, half chai – and it was delicious. We sat and chatted about our plans for the day, and just reveled in the pleasure of not having to be anywhere by a certain time.
I was intrigued by a shop window across the street, so we browsed a bit and took a few photos at Asanda Imports, known for beautiful, hand-made and imported items from Bali and Thailand. I hope to bring Napa back someday because it's a beautiful shop and I'm sure might remind her of home.
Next, we decided to take advantage of the great weather by going for a leisurely hike in the beautiful 1,000 acre Glen Helen Nature Preserve. We parked our cars at the Yellow Springs community center (formally known as the John Bryan Community Center), and asked for directions to hike to the "yellow spring" after which the town is named. We were told we could find several other waterfalls on our hike, too, which I was very excited about!
We set out walking along the adjacent bike trail toward and past downtown Yellow Springs until we reached the entrance to the nature preserve on our left. We headed into the glen and joked that we may never be seen or heard from again – it feels that secluded, remote and wild. A beautiful place for a hike! As we walked, we talked and shared, catching each other up on the meaningful things in our lives since our last get-together.
Highlights of our hike down and then back up from the glen's ravine included several waterfalls, limestone cliffs and overhangs, and the historic "yellow" spring after which the town is named. The spring itself is not actually yellow, but its properties have turned the rocks in and around the spring to an ochre color. Supposedly the water is said to have purifying and healing properties, but we were satisfied just to take photos.
After hiking back into town, we were hot and starving for lunch so we headed to a place right off the bike trail for some good quality pub food at Peach's Grill. Our lunch hit the spot, and it felt good to cool off in air conditioned surroundings while we figured out our next step. While dining, we reminisced over all the fun spa days we've spent together over the years – and that's when we realized we needed to cap off our afternoon with pedicures!
We tried to find a spa open in Yellow Springs, but alas had to travel to nearby Beavercreek instead. Side by side at Lounge Nails, soaking our sweaty toes in bubble baths and leaning back in our massage recliners, we agreed it had been our best girls' day out in a long time. I can't wait to do it again!
So what's your favorite spot for a girls' day out – and when was the last time you got to spend a carefree day with your best friend? I'd love to hear your stories in the comments below or over on Facebook.