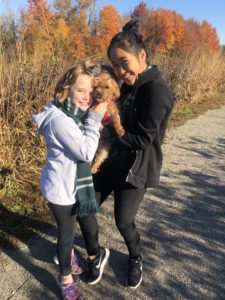 Welcome to our second SEASONS round-up post, a celebration of our best content focused around spring, summer, fall and winter.
Who else loves that easy, gradual transition between the long, hot days of summer and the shorter, crisper days of fall? I adore the harvest season so much that we literally named our sweet Goldendoodle after it. Autumn suits her coloring and temperament as well as she fits our family.
September still feels like summer to me – but I know that before too long, the days will start to grow shorter and we can be assured of cooler mornings, long walks with the dogs, colorful fall foliage, clear nights, great sleeps, and the first touches of frost on our lawns and windshields.
There is so much to love about fall. It's definitely one of my all-time favorite seasons! I love being outside in nature more, collecting acorns and buckeyes, spotting brightly colored leaves, hiking and exploring. I also adore fall clothes like boots, jeans and scarves.
As a family, we love going on gorgeous fall drives in E's hot rods, checking out a football game or visiting some of the many fall fun farms around Ohio. The taste of fresh apple cider (cold or hot!) and my first hot chai from Starbucks on a chilly morning are two of my favorite flavors of fall. Last autumn was especially meaningful for us because we had a new family member living with us, our beloved Napa from Thailand, and we kept especially busy with her cheerleading schedule and all our fall family adventures.
Here is a collection of our favorite fall and autumn blog posts brimming with things to do, family fun, road trips and other activities perfect for a festive and bountiful fall.
As kiddos acclimate to being back in school and we all adjust to shorter days and darker mornings, let's plan for a fall packed with adventures out in nature and good times with friends and family. Pick some crisp apples, choose your pumpkins wisely and squeeze every last drop of sweet, spooky fun out of Halloween season. There's so much to be thankful for in this harvest season.
What's your favorite thing about fall? I'd love to hear in the comments below or over on Facebook. Come back again soon to our SEASONS series for a look at our very favorite things about winter.