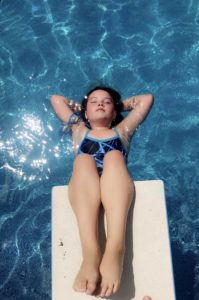 Summer is such a glorious word, feeling and season. Welcome to the first in my new SEASONS blog series: a round-up of our best posts from each season celebrating the finer points of spring, summer, fall and winter.
There's so much to love about summer! The power of a heat-induced thunderstorm. The smell of freshly cut grass. The feeling of sunshine warming our face and shoulders. The joyful sounds of kids playing in a sprinkler or pool. The taste of fresh watermelon or a juicy peach.
I love summer – although I've often said that it's a lot harder on adults than it is on kids. It would be so much easier if work and school followed a similar schedule. Imagine if we ALL had the summer off to spend time together, enjoy the sunshine and stay up late into the evenings hunting for fireflies?! What a dream that would be.
I know that in the hottest parts of summer, it can be tempting to stay inside in the air conditioning and avoid the outdoors. But I for one love the feeling of going out into the hot sunshine after being chilled inside in the AC. I like to take a walk during my lunch time at work, allowing myself to warm up slowly in the sun and taking in the sights and sounds of downtown Columbus in the summertime. And sometimes taking in some Jeni's ice cream, too, because that's what summer is for!
Here is a collection of our favorite summer blog posts chock full of things to do, family fun, roadtrips and other activities made for the long, leisurely days of summer.
Wherever your summer takes you, I hope that it is filled with friends and family, laughter and fun. I hope you stay cool drinking lots of water and get sweaty chasing down the ice cream truck at least once as it carols through your neighborhood.
What's your favorite part of summer? I'd love to hear in the comments below or over on Facebook. Come back again soon to our SEASONS series for a look at everything we adore about fall.