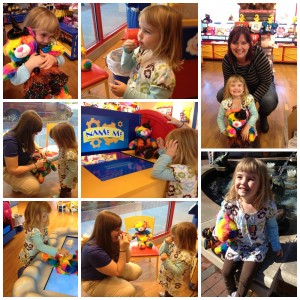 Disclaimer: Zoe and I were given an incredible opportunity recently to visit and experience the new Build-A-Bear Workshop at Easton Town Center in Columbus, Ohio. We built a wonderful, all bells-and-whistles-included bear in exchange for this post. Thank you again to the beary kind and generous folks at Build-A-Bear!
Our poor little girl had a rough week recently. It started with a bad fever and sore throat, then the infection spread to Zoe's ear leaving her in huge amounts of pain. Then, just when we thought we'd seen the worst of it, her poor little eardrum ruptured – I cannot even imagine how badly that must have hurt. Through it all, she was an absolute champ, taking her medication like a big girl, sleeping tons and not asking for much more than a Disney movie and a lap to cuddle into.
To top it all off, just when Zoe was feeling well enough to go outside and play again, E and I both came down with the bug. So then, she had to put up with her mom and dad being sick and full of fever too, so she still wasn't able to have any fun! What a rough time for our family.
That's why it was such an absolute pleasure last week to take my little sweetheart out for an extra special treat: a trip to the fantastic new Build-A-Bear Workshop, in the heart of Easton Town Center's new family-oriented Fenlon Square, so she could build her very own bear for the first time. She loved our special morning at Build-A-Bear and so did I! And no one deserved it more than my little long-suffering sweetheart who had such a tough time with her ear and barely complained one bit.
The Anticipation
Zoe loves going to Easton and especially adores the new "fairytale fountain" in the heart of Fenlon Square. We parked, visited the amazing (super clean, gorgeously designed) family restrooms just off the parking garage, and then went straight to her favorite fountain. She knew we were going to Build-A-Bear, but she had never been there before so she didn't have a good picture in her mind of how fun it would be. I was losing my mind to get to Build-A-Bear, but I didn't want to rush her – this was Zoe's special day. She was excited about building a bear, but still wanted to stop at the fountain. When she had played for a little while with the frogs and water jets, I asked her to turn around and showed her the super-fun new Build-A-Bear Workshop directly across the street. Immediately, she wanted to run over there and go right inside.
You can tell it's a terrifically fun place even before you set foot inside. I almost felt it should be staffed by elves or fairies!
The Experience
We were met by the wonderful Paula who assisted us throughout the whole experience. She greeted Zoe by name and made us feel very welcome. The first step in the process is to choose your animal – a tough choice when faced with a myriad of colorful friends including many bear varieties, a kitty, a gorgeous red panda or any number of other critters. Zoe made her decision pretty quickly, choosing a rainbow tie-dye teddy bear. It's a little odd seeing the empty, un-stuffed version of your soon-to-be friend, but part of the fun is seeing them come to life! Costs for the stuffed animal (30 varieties) range from $10- $30.
Next, we went to the sound station where Zoe got to hear different sounds and decide if she wanted to put a sound chip in her bear. We had talked about the beating heart she would put in her bear, so when she found out they had a heartbeat sound chip, she decided she wanted that. I personally could have passed on the sound chip – and since we've been home, I don't think she has pressed her bear's paw to hear the heartbeat even once – but she was caught up in the excitement and wanted it, so we went for it. Zoe got to decide where the sound chip would go – in one of her bear's front paws or in his feet. She chose the left front paw. I didn't notice the cost for this sound chip but I'm guessing it was probably around $5 – $8 depending upon the sound(s) chosen.
Then, we went over to the stuffing station. This was my favorite part! First, Zoe determined how much fluff she wanted in her bear – soft and squishy vs firm and sturdy. Then, she got to hold a little satin heart in her hands and do a very special ritual with Paula, who directed Zoe to rub the heart in her hands to warm it up, tap it on her head to give her bear smarts, rub it on her arm to give her bear strength, and rub it on her own heart to give it love. Zoe loved the ritual and giggled as she followed along with Paula's instructions, filling her bear with good thoughts and warm wishes. Zoe got to place the heart right inside her bear along side a special "beating" (vibrating) heart – and then to my surprise, Paula helped Zoe select a special scented heart to go inside as well.
I was a bit skeptical about the scent and probably would have skipped this personally, but I have to admit that Zoe loves her bear's scent (she chose bubblegum) and I like it, too. Whenever Zoe shows off her bear, she tells people proudly that she made it and that she smells like bubblegum – so this continues to be a hit. I'm not sure what the cost of the scent was, but I'm guessing again around $5. Also, Paula made sure to let us know they use only nontoxic scents, which is obviously a plus. It's not a super-strong, overpowering scent – just a nice fragrance you can smell if you hug or kiss the bear.
The last part of the stuffing process involved Paula neatly stitching shut Zoe's bear – but first, she tucked a small barcode inside so that once registered, the bear can be scanned at any Build-A-Bear Workshop and returned to Zoe. What a cool idea – similar to the microchip our dog Autumn wears. I was a bit nervous there would be a visible seam on the back, but the stitches virtually disappear – very cool.
The Bear!
It was so fun to see Zoe hug her rainbow bear for the first time! She absolutely loves her. She smelled her scent, pressed her vibrating heart in her chest, and listened to her heartbeat by carefully pressing her paw. Then we took her bear over to the cleaning station where we brushed her, pretended to give her a bath and soap her up, and then dried her. So fun! Zoe loved this part as well – and I had fun taking photos. Then, it was time for another favorite part: dressing the bear! I had done a little research online before our visit, so I knew there was a sparkly Halloween outfit Zoe would love. I showed that one to her and sure enough, it was a hit. I helped Zoe get her bear dressed and we picked out the adorable matching shoes. Then, Zoe saw the panties and absolutely HAD to have a pair for her bear. (Personally, I thought the panties were a little bit overkill, and again if it was on my dime, I probably would have said a hard no. But, this was Zoe's special day so I let her pick out a pair. They are cute, honestly – they have a little slit in the back for the bear's tail to poke through!) I sort of lost track of pricetags around this point, but I believe outfits and shoes vary from $15 – $30 in price. I'm sure it's possible to go a bit overboard with the clothes because they are SO stinking cute – but as you'll read later, they fit far more than just Build-A-Bear friends, so maybe it's worth it to splurge a bit on the outfits?
Once her bear was all dressed and gorgeous, Zoe's excitement knew no bounds. She could hardly hold still enough for me to take a good picture of the two of them! Then, Paula took us over to the naming station where Zoe answered a few questions about her bear's gender, name and personality traits. This was another cool process where she got to use the computer screen to select which traits match her bear – including sporty, fashionable, cool, smart, cute, etc. Zoe literally chose them all!
Last but not least, Paula presented us with Zoe's new bear (Happy)'s birth certificate and carrying box. We were told about the online experience, Bearville.com, which will allow Zoe to play with a virtual version of Happy the rainbow bear. (We haven't logged on yet, but I probably will – I used to be a big fan of Webkinz world online back when our nieces and nephews were a bit younger!)
The entire experience took just a little less than an hour. I'm sure we would have spent more time had Zoe not chosen her animal so quickly and had I not researched potential outfits ahead of time. We thanked Paula for her wonderful assistance, walked back out into the sunshine, and Zoe immediately wanted to take Happy the rainbow bear over to the frog fountain to show her the water. I jumped at the chance to get some more pics of the two girls together!
You know, in googling other bloggers' coverage of the Build-A-Bear Workshop, I was surprised to find some negative posts from parents who felt the experience was too over-the-top or expensive. All I can say to those folks, whom I won't even dignify with a link, is to each their own. No, this is probably not the place to come if you're on a strict budget – but then neither is Disney! For Zoe and I, this was a magical time and a super fun way to celebrate a special day together. I can absolutely see making this an annual occurrence for our family. Childhood is all too short – I read recently there are just 940 weekends between a child's birth and when she leaves for college.
How long will a little girl believe she can rub and tap and tickle a small stuffed bear's heart into life?
I can honestly say I enjoyed our morning at Build-A-Bear as much as Zoe did. The experience was a very special one, and one we'll both remember for a long time. I highly recommend it for others with little ones in the three and up range.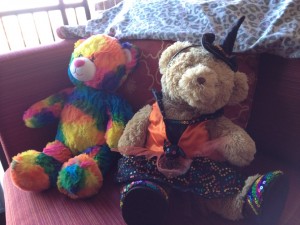 And, as a postscript, Happy the rainbow bear continues to be a favorite, special friend for Zoe. She took her along on a recent weekend trip to Louisville, basking in the compliments people bestowed upon such a colorful, obviously special bear. Happy no longer wears her super-cool sparkly rainbow outfit, because Zoe likes her best sans attire (all the better to feel her heart beat and smell her bubblegum breath). The great news there is that all the Build-A-Bear clothes fit any standard teddy bear so our poor old forgotten ordinary bears now have a stunning new wardrobe to help them feel special, too. And really, isn't that what all this is about?
What about you – have you been to Build-A-Bear Workshop? Did your kids love the experience? And did your bear's clothes migrate onto other stuffed animals as well?! I'd love to hear in the comments below.