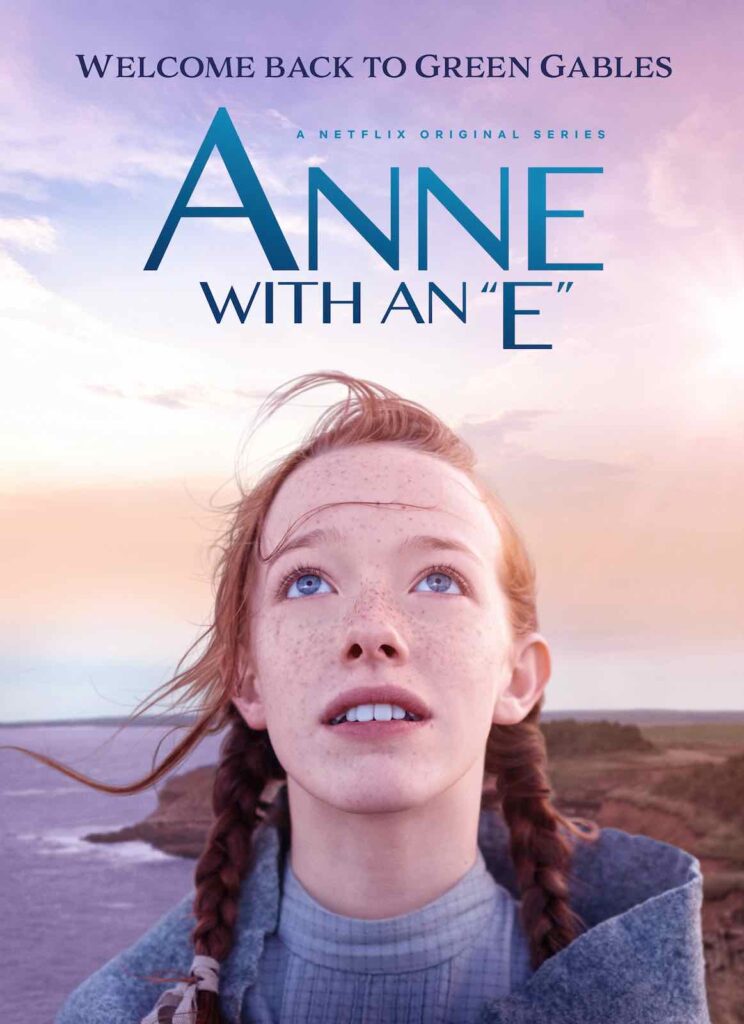 This winter, Z and I stumbled across Netflix's 2017 Canadian gem, Anne with an E. We swiftly fell in love with its fiery, passionate and eloquent heroine, Anne Shirley Cuthbert.
I don't know how I managed to never read the classic Anne of Green Gables books by L.M. (Lucy Maud) Montgomery while growing up – or ever watch the other film and TV adaptations of the Anne of Avonlea stories.
But I'm so eternally glad that Z and I discovered this latest version of Anne together. We spent many happy winter weekends enjoying her escapades over the lamentably short 3-season show – and since the Corona quarantine hit, we've watched them all again at least once.
In preparation for writing this post, I was surprised to find several negative articles about Anne with an E. In my mind, Anne is an overwhelmingly positive character and role model – as are many of the other characters. And the show is truly watchable and enjoyable by the whole family!
But I understand that, compared to its source material (the books) and other adaptations, this Netflix version is a bit modernized and updated. In the words of its opening theme song, it's "ahead by a century." I guess that explains why there are critics vociferously bashing it (side note: Anne herself would have truly appreciated my use of that word).
All that aside, there are also passionate fans who adored the show and begged for it to continue. So, without further ado, here are 10 things we love about the show Anne with an E – many of which are true to the original host material, and some of which are unique to the 2017 Canadian/ Netflix version.
Kindred spirits (aka friendships). Anne and Diana's friendship is a splendid and lovely thing, but so is the fact that Anne makes friends so easily with an uber introvert like Matthew, imaginary friends, people who were considered "less than" at the time (gay folks, people of color) and just about anyone. I adore the idea of seeking out and finding kindred spirits, no matter the age, race, gender or past life experiences.
Family. Family is everything in Anne with an E – but family can mean so many different things. For an orphan like Anne, family means being adopted by an aging brother and sister, Matthew and Marilla. But their little family also adopts Gilbert, along with Sebastian, Mary and their baby. Anne is quick to develop lasting bonds and call friends family – perhaps because she has been missing both for so very long.
Nature. Anne's love of the green spaces and natural wonders around Green Gables is so endearing. Her nicknames for the White Way of Delight, Lake of Shining Waters and other natural sights are charming. The scenes of Prince Edward Island's cliffs, shores and rolling green hills are breathtaking. We love nature at our house, so it's no surprise we love a show that celebrates it, too.
Reading and writing. Anne has a passion for reading and it shows in her vocabulary. She also loves to write, and in fact creates a wonderful secret clubhouse for her friends to gather and work on their stories, tales, writings and art. I so want to be in Anne's club! This, in fact, was part of what inspired Zoe to create her own kid writers club, Imagination Nation Columbus. More on that soon.
Inclusion and love for all. Orphans, introverts, people of color, GLBT folks and even rude gossips all end up getting mad love from Anne with an E. She embraces differences in others and ends up celebrating what makes her different, too. I love the messages of inclusion, kindness and compassion for all. The one thing I hate about the show, though, is the way the heartbreaking Native American storyline is left as such a cliffhanger – I truly wish that could have been resolved somehow.
Girl Power! Anne is a glorious early feminist and positively influences others in this regard. There are other great feminists in this version of Avonlea, like the wonderful teacher Ms Stacey. Even Marilla comes around and becomes quite progressive in her thinking. There are so many strong female role models here – Aunt Josephine is my hero for real.
Romance takes the back burner (but is lovely – if a bit "tragical" – when it does happen). I could write another entire blog post about why Gilbert Blythe is so amazing. Throughout the series, it's hard to tell if he and Anne will end up together – and I absolutely love the way their story plays out to the very end. Talk about a satisfying conclusion! I'm a huge fan of the emphasis on education and life goals first, love and romance second.
Community. The third season storyline with the Avonlea community rallying together unexpectedly around Mary and her daughter is truly heartwarming. Although Avonlea wasn't quick to welcome Anne at first, she bettered them all by modeling compassion and inclusion. I love the character development in all the characters once Anne entered their orbit – and the way the community becomes like an extended family.
Triumph over trauma. Anne is a perfect example of how a positive attitude, grit and determination can raise someone up even after unspeakable traumas. I hate all the scenes depicting her past horrors and sadness, but at the same time, the show does such a great job showing how she overcame and learned from her past hardships to become the brave, compassionate and level-headed leader she is.
Drama. As a girl mom accustomed to a fair amount of age-appropriate drama in our household, I can so appreciate Anne's penchant for dramatic moments, tears, hysterics and shouting fits – as well as the way she always recovers with grace, apologies and lessons learned. Big words express big ideas, and sometimes big theatrics are necessary to express big emotions. That's the Anne with an E way!
If you haven't watched Anne with an E yet on Netflix, give it a watch during your stay at home time this spring/summer! And if you have watched it, I'd love to hear your thoughts in the comments below or over on Facebook. It will always be one of our favorite shows.