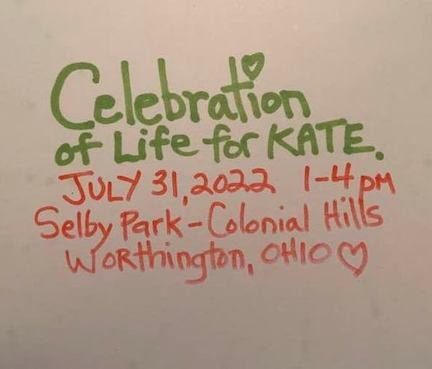 Facebook is a terrible way to learn that a friend has passed.
That's how I found out that on March 13, 2022, one of the coolest chicks I've ever met left this earth after a long and brutal battle with liver cancer. She gave it hell.
Kate Wright was my hairstylist when I first moved to Columbus. She was at a salon called Lennonheads back then, but I soon followed her to several other Aveda salons.
Kate and I clicked immediately, right off the bat. We bonded over tattoos, parenting our only kiddos and being gen Xers. We called ourselves cool moms – completely unironically.
Kate, however, was way cooler than I could ever be.
Kate gave me rich, luscious, glorious red color along with great haircuts over the years. We both had an affinity for the edgy-cute brand Tokidoki. She had style with a capital S.
I don't have any photos of Kate, which shocks me. I can't believe we never took a selfie together.
Kate and I were kindred spirits in the Anne with an E sense of the phrase. I thoroughly enjoyed my time in her chair. We always gave each other recommendations for books to read, websites to visit or movies to watch. We shared a mutual love of Bowie.
I still have guilt over leaving Kate for a stylist closer to home. Kate never did a thing wrong – I loved her both as a human being and for how she colored and cut my hair. I just happened to find another stylist who is also truly awesome and who has the added benefit of working much closer to where I live.
As a working mom who spent the bulk of each weekday away from my little one, those extra minutes of time saved meant everything. I know Kate understood, even though it sucked to lose a good client.
I stayed in touch with Kate over the years through Facebook. We would exchange messages now and then or like each other's content. It was always my intention to make an appointment with her and go catch up again in person at Square One "one of these days."
But "one of these days" has a bad habit of never coming around.
When Kate was diagnosed with cancer several years back, she was open and real about her journey. The last time I saw her, she was svelte and had the cheekbones of a goddess. I remember thinking that I will gladly stay chubby all my life if I can avoid the weightloss that accompanies a cancer diagnosis.
Kate and I continued to share Facebook messages and Gen X content with each other. I continued to feel guilty about not going back to see and support her in person. But then, before I could actually do it, things got really bad with her health.
It's so unfair. Kate was younger than I am. She was a wife and mother and daughter. She had so many friends and varied interests. She had a career she loved. But cancer doesn't care about any of that.
So I'll support the Gofundme fundraiser that was set up for Kate's husband and son. I'll pretend it's me finally making that appointment and getting my hair done by one of the most talented hair artists I've ever met.
I can picture it now – we'd commiserate about how our kids have grown up right in front of our eyes. We'd gush about how lucky we are to have such awesome kiddos and husbands.
Then, she'd send me back out into the sunshine with glorious red color and a promise that this time I will actually do more than wash and comb my hair, even though we both knew I never will learn to style it myself.
I miss you, Kate – and I'm so sorry I never made it back in to see you in person. I treasure you and the times that we did spend together. I will be thinking and praying for the family you left behind with a huge hole in their hearts.
I know your legacy of awesomeness will live on forever.