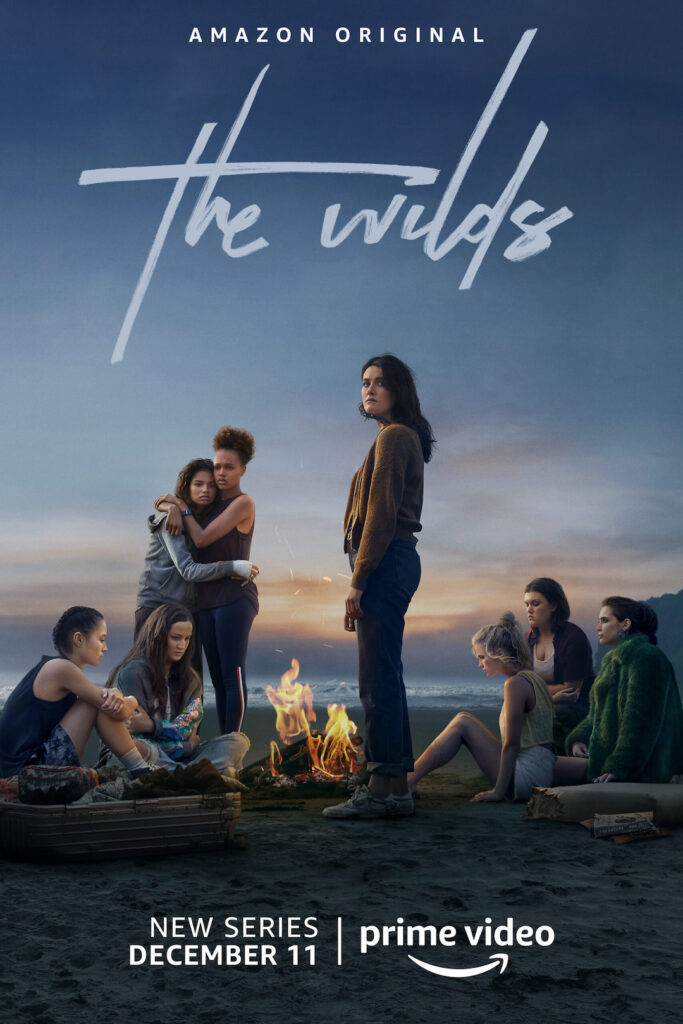 We watched way too much TV over winter break. There, I said it.
I know we can't be the only ones. It was cold and/or rainy, the Covid – Omicron variant seems to be dropping people like flies, and we neither traveled nor hosted family this year.
It was just us three for most of Xage's two-week break from school.
I'd love to say we played board games, sat by a fire and baked cupcakes together as a family, but that's simply not what went down.
Instead, E mostly worked on his cars while Xage and I watched lots of TV together.
Way, way too much TV.
But we enjoyed ourselves and I do love bonding with Xage over a great TV series.
Here's a look at what we watched in case you're looking for some good tween-friendly bonding with your own kiddo.
The Wilds on Amazon Prime – this is a brand new show about, and targeted to, teenage girls. The acting is superb, the story is intense and it's kind of like Lost meets Alexa & Katie (both of which are also shows we love). The Wilds is rated for 16 and up, and there are some mature themes including a high school girl who has an intimate relationship with a much older man, a teen girl who suddenly remembers being molested as a child, plus struggles with bulimia and issues with a parent cheating and sexting. That said, it's nothing our almost-12 year old couldn't handle and it never felt exploitative to me.
The Voice on Hulu – when we need a break from TV drama, we love coming back to the Voice for a unicorn chaser. We enjoy the coaches' banter, we love Ariana Grande and the singing is always easy on the ears. One of our favorite parts is seeing how close the contestants and coaches get – it seemed like Ari was besties with her whole team and they all have her cell number and can text her anytime. It's fun seeing big celebs go googly-eyed – and fight each other – over unknown artists. I guess that's the power of a great voice!
Stranger Things on Netflix – yes, we re-watched the entire series again in preparation for the new season coming in 2022. I believe this was our third (possibly even my fourth?) time through the entire series. It's amazing just how great it is, how authentic the 80s theming is and how well it holds up to repeat viewing. If you haven't watched Stranger Things, what's stopping you? It's definitely in my top 10 favorite shows of all time – and may even be in my top 5. This show definitely deserves a deep dive and its own blog post here.
Sort Of on HBO – this is a new show with a gender fluid main character. I watched it first to be sure it was appropriate for Xage; there is one "sex party" scene that was a bit too adult, but I warned kiddo beforehand and then skipped ahead when it came on. Otherwise, the show is delightful with diverse characters, clever writing, whip-smart dialogue and a unique story. The main character, Sabi, is played by a trans woman named Bilal Baig who also wrote and co-created the series. I highly recommend this for anyone, but especially parents of nonbinary and LGBTQIA+ kiddos.
Harry Potter 20th Anniversary: Return to Hogwarts on HBO – okay let's be honest, Xage didn't watch this with me and that's a good thing because I literally sobbed my way through it. I've never seen a better reunion show. All the stars and several other key players came back to pay homage to their 10 years working together on the eight Harry Potter films. The close-up view of the friendships, real emotions and behind the scenes footage all added up to an amazing treat for any HP fan. Plus, they included just enough clips from the movies to bring all the magic right back. Two thumbs up; this show really made me grateful and happy to have been part of the HP phenomenon as it was happening and before JK Rowling put a damper on things by being transphobic. I love the art, not the artist.
If all that wasn't enough TV-watching, hubby and I also marathon-watched the entire Resident Evil movie series over Christmas weekend. And yes, I blogged about it!
What did you watch over winter break, and do you have any recommendations for Xage and I now that we're in between shows? I'd love to hear your tween-friendly suggestions in the comments below or over on Facebook or Instagram.