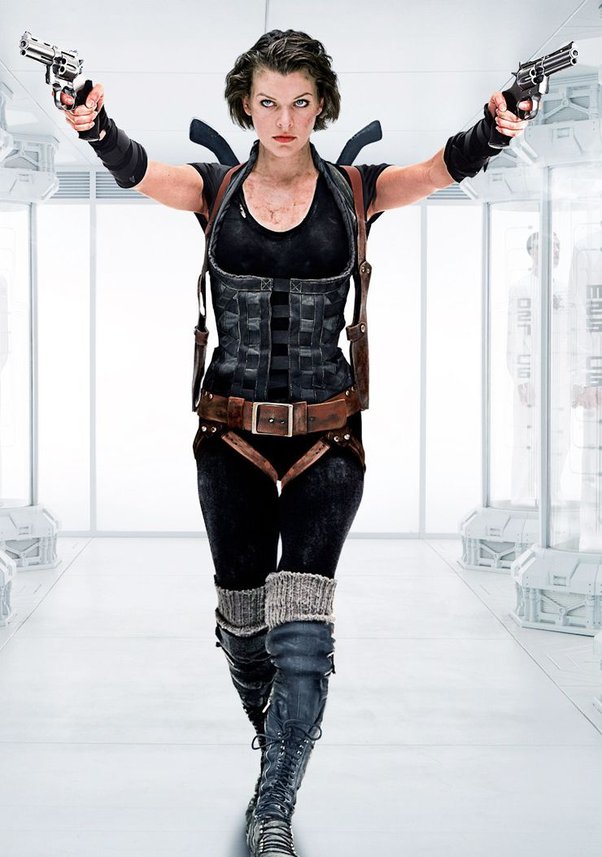 Have you ever noticed how many strong, admirable women in movies and TV are named Alice?
I'm all about girl power in movies, TV shows, books and real life.
When we found out we were pregnant with a girl, hubby and I immediately teamed up to figure out the most awesome, girl powered name we could think of. Xage's middle name, Bellatrix, literally means "female warrior" in Latin.
But little did we know, Alice would have also been a good name for a kickass chick.
I came to this realization over Christmas when hubby and I marathon-watched the Resident Evil movie series. The main character's name is Alice, and she is pretty much the ultimate warrior woman badass across six searing titles.
That got me thinking about how many other strong, fierce characters are named Alice across pop culture.
Case in point:
The Alice who makes my case the strongest, though, is definitely Alice from the six Resident Evil movies.
"Project Alice" is literally unstoppable despite facing hordes of zombies, mutated monsters, clones, evil AIs, killer laser beams and so much more. Across the film series, Alice has both awesome moments – and a few that are a little too ridiculous to believe.
Alice struts her stuff in:
Resident Evil (2002), in which the Umbrella Corporation kills all its employees and they turn into zombies
Resident Evil: Apocolypse (2004), in which Alice goes on a rescue mission to save a little girl stuck in a city overrun with monsters
Resident Evil: Extinction (2007), in which Alice discovers the Umbrella Corp. has made a bunch of clones of her
Resident Evil: Afterlife (2010), in which Alice and her clones team up to defeat Umbrella Corp.
Resident Evil: Retribution (2012), in which Alice bands together with old and new friends to defeat even more clones and Umbrella Corp. bad guys
Resident Evil: The Final Chapter (2016), in which Alice learns she herself is a clone and then burns Umbrella Corp. to the ground once and for all
While re-watching the six Resident Evil films, E and I had a discussion about what genre they fall into. There are definitely horror and scifi elements, but they are also action movies at their core. Alice – as played by the stunning Milla Jovovich – is certainly an action hero.
One of my favorite things about Alice is the way she befriends people, clones and little kids during her multiple Resident Evil adventures, offering warmth and support to absolutely everyone – except, of course, the evil minions of the Umbrella Corporation.
I also like that Alice never has a love interest. She may share a hurried kiss with male characters in a few of the movies, but she is far too busy kicking ass and taking down Umbrella Corp. to waste time on a boyfriend. Plus, on some level Alice probably knows that everyone is ultimately going to die except her, anyway.
Here's to badass warrior women named Alice. Long may they reign! And if you haven't watched all six Resident Evil movies, the series makes for an entertaining binge watch if you spread it across a couple of days.