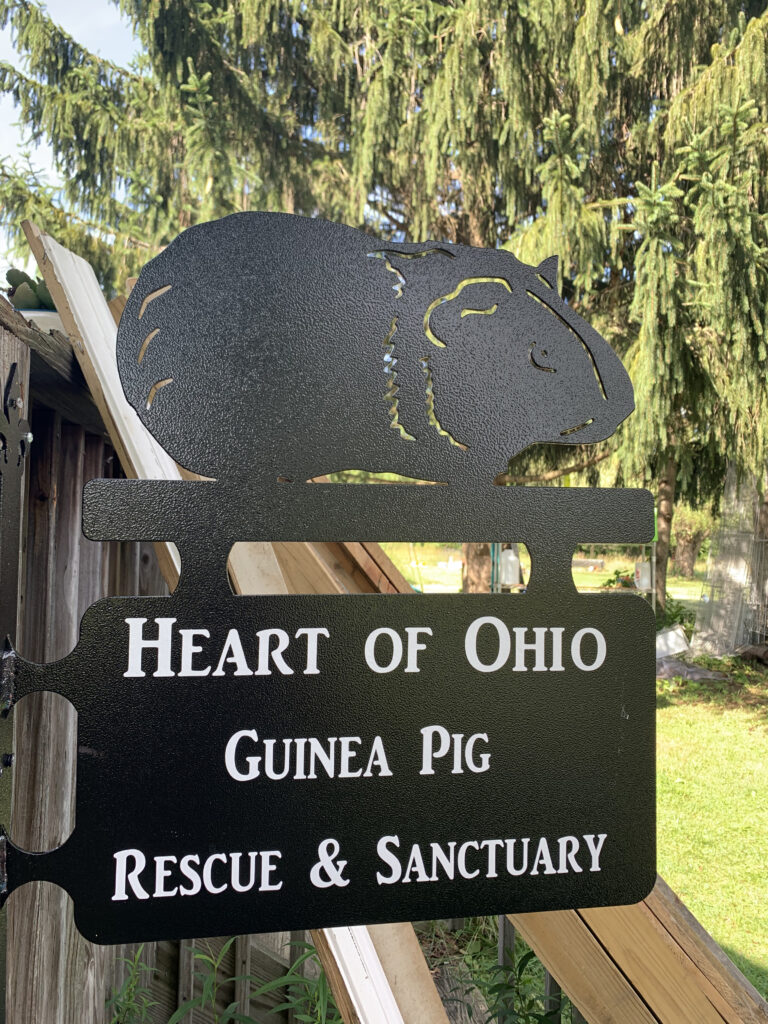 We drove up to northeast Ohio this week to find Xage the perfect guinea pig companion.
We had heard great things about the Heart of Ohio Guinea Pig Rescue & Sanctuary in scenic Hiram, Ohio. It's only about 30 minutes away from beautiful Cuyahoga Valley national park.
It's a terrific place to find the perfect pig, as they have more than 100 guineas in all ages, colors and hair types to look at, hold and talk to!
When we arrived on a sunny August day, we were greeted by two volunteers who were hard at work scrubbing cages. We then met owner Ashlee, who asked us what we were interested in and immediately directed us to enclosures where we could find piggies who might be a good fit.
At first, Xage thought they wanted a hairless or mostly hairless Skinny Pig. Ashlee breeds these bald beauties and had many young ones and adults to choose from. They are adorable and feel so velvety and neat to touch!
Ashlee spent some time sharing the pros and cons of Skinny Pigs vs. traditional guinea pigs. While both varieties make great pets, after hearing some of the additional maintenance needs of skinnies, Xage decided to start with the furred version.
E had guinea pigs as a kid so he was in heaven at the rescue, walking around and talking to all the chirping, purring piggies. I am new to guineas for the most part – I helped take care of a family friend's pig when I was about Xage's age, but it wasn't my choice, so it was a less than stellar experience.
Now, I'm a huge fan of these sweet, gentle little critters! I absolutely love the variety of sounds they make but my favorite is the contented cooing which sounds a lot like mourning dove calls.
Xage fell in love with one bigger rescue piggy right away. He's mostly black with smooth, straight fur shot through with pale peach notes. He's simply gorgeous and had the sweetest personality from the first moment we met him – he became Xage's number one pick and is now known as Charlie.
Ashlee only adopts out guineas in pairs or small groups, because they are herd animals who don't do well on their own. For that reason, Xage got to pick out a companion for Charlie.
They picked a beautiful little red Abyssinan with a pretty, swirly coat of red and white. His fur looks like cowlicks standing up in all different directions. He's a baby, about three months old, and he is the cutest thing! He's now called Bean, lil Bean or baby Bean. He's not quite as friendly as Charlie, but Xage says he's starting to come around.
Conveniently, Heart of Ohio sells cages and all the supplies you need to make a new home for guinea pigs. The minimum recommended enclosure size is 8 square feet – four feet long by two feet deep – even though most pet stores sell starter cages for guineas that are quite a bit smaller than that.
We were really pleased with our experience at Heart of Ohio Guinea Pig rescue. The selection of pigs, the prices, the knowledge and insights Ashlee shared with us, and the ability to get absolutely everything in one place really made our two hour drive (each way) well worth the time. Plus, it's always better to get pets from a rescue whenever possible because of the important work they do!
Xage couldn't be happier with their new little friends. E is happy to have guinea pigs in the house again, since he has such happy childhood memories of his as a kid. And I know these are two lucky piggies to have landed in such a loving forever home.
Did you have guinea pigs as a kid, or does your family have them now? I'd love to hear your piggy tales in the comments below or over on Facebook!