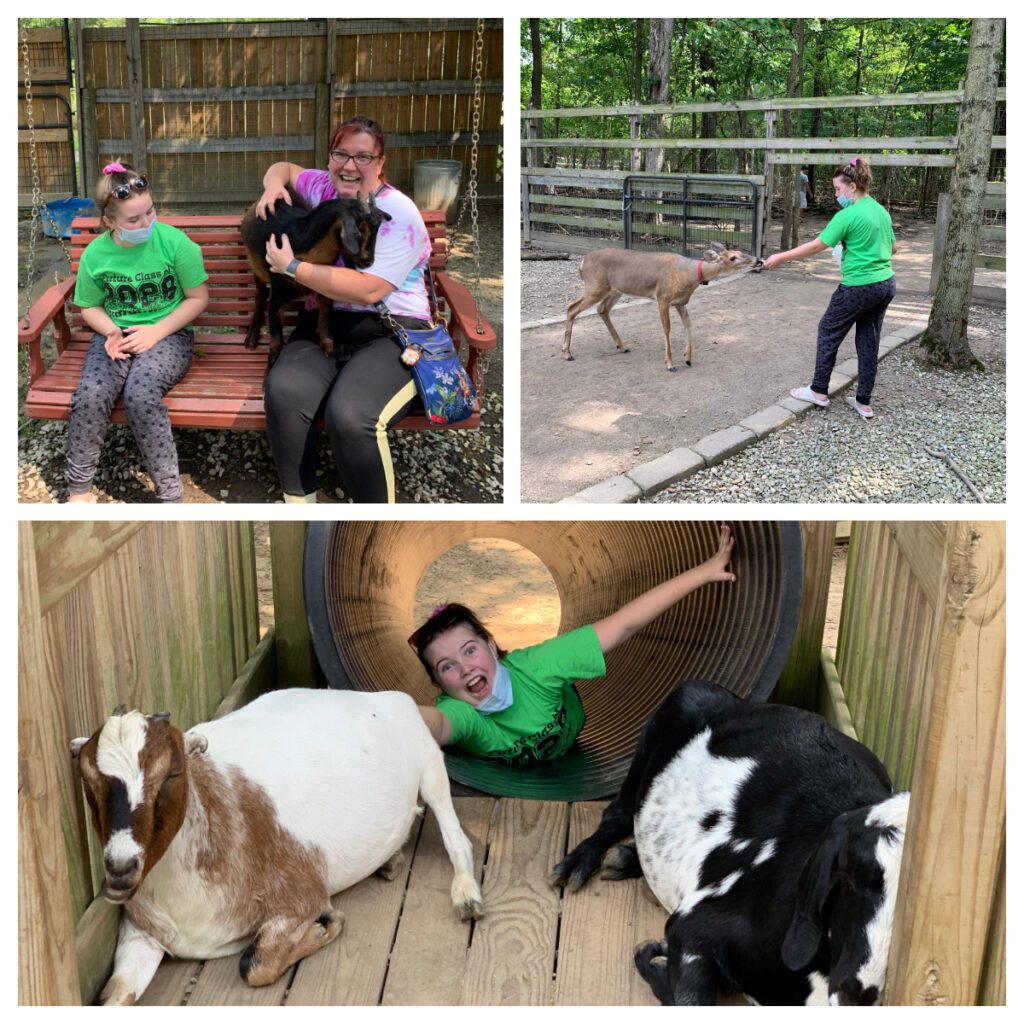 Who doesn't love a good petting zoo?

There's just something about petting and feeding cute critters that makes our hearts happy.
Our family is always in search of our next wonderful animal encounter. We've visited some great ones over the years during various travels. It's simply not a good time until we've been slimed by large cow tongues and nibbled on by goats.
But you know the funny thing? The very best petting zoo we've ever visited is just minutes from our home, at Olentangy Indian Caverns.
Most people go to Olentangy Caverns to visit the caves underground or to go gem mining, which is another of our favorites. They've also added a treasure maze and cool new playground – plus there's always mini-golf.
But for us, one of the biggest draws to Olentangy Indian Caverns is the large, well-run petting zoo. They have a gorgeous piece of property with many acres of wooded land, and they've carved out a huge section to serve as an animal and kiddie playland.
When you first enter the farm animal side of the petting zoo, there's a "safe zone" where kiddos can feed the animals without fear of getting crowded or trampled by eager and hungry goats. Then, once you have fed them, you can enter the large enclosure and explore.
The farm animals have loads of room to wander and play, with an entirely separate, equally roomy area for the herd of gentle, tame whitetail deer. We could spend hours roaming the property and petting and feeding the animals on both sides – plus there are slides, things to climb and more.
There are even swings you can sit on to watch the fun – although be warned, a couple of the goats are cuddlers and will hop right up into your lap. Only sit on the swings if you're prepared for company, a little mud and a very close encounter of the goat kind!
Z and I really enjoyed watching the goats play, the pigs wallow in mud and the sheep wander around looking for a sunny spot to lie down. As for the lovely deer next door, they are a treasure. If you haven't spent time around whitetail deer, they have the most incredible wild, gentle and timid energy. I just love them.
It makes me happy that all the animals have so much land to explore in such a pretty, natural setting. They are obviously well-fed and well cared for. And they clearly enjoy people!
I've been to petting zoos with more animals, and with more exotic animals. But the Olentangy Indian Caves zoo takes the prize for happiest and friendliest animals, best natural habitat and most scenic and inviting setting to spend a few hours.
What's your favorite petting zoo or animal encounter in Ohio, and why? I'd love to hear about it in the comments below or over on Facebook. We're always looking for our next animal adventure!