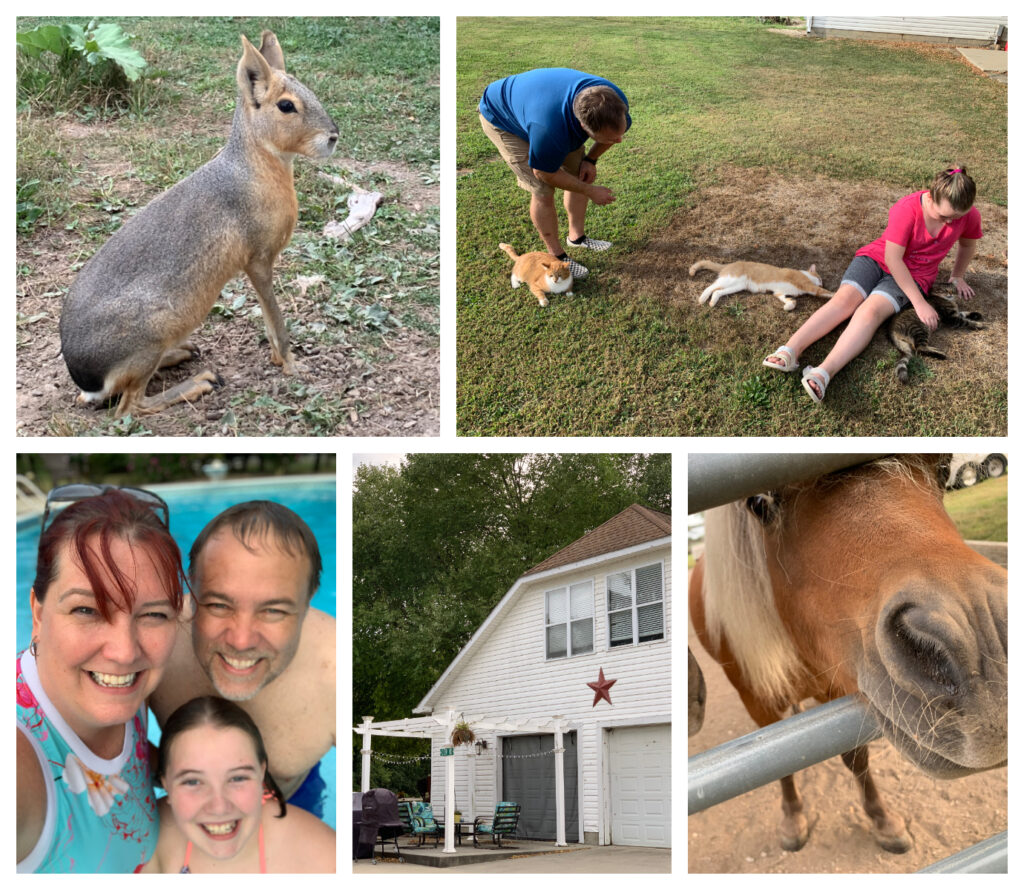 Do you love swimming and animals as much as we do? Have we got a treasure for you.
Our one-night getaway to Splash Harbor and the Ohio State Reformatory last week was such a hit for our whole fam that we decided to do another one before school starts.
This time, we knew we wanted a pool plus something else fun to do or see. Our only other requirement was a place with less than an hour of travel time so we could maximize our fun in the limited time we had.
I checked AirBnB for nearby accommodations and voila, right away "the Barn" in nearby Delaware, Ohio spoke to me. Get this: it's a family-friendly studio in a converted barn with a private pool and a "small scale animal rescue" on the premises.
Photos of adorable horses, mini ponies and what looked like possible wallabies sealed the deal for our little family of animal lovers. We checked availability and booked our night. It was on!
Thursday, we headed up to our AirBnB after a very fun zoom call with Z's new teacher and a herd of fifth graders. On the way, we did a quick drive-through at her school's official clap-in to welcome everyone back. It was so great seeing teachers and staff again, although I'll admit, it can be tough to identify people in masks.
It has been so hot and muggy lately, so we were all looking forward to a nice, cool afternoon dip in the pool. When we arrived, the pool was sparkling, everything looked just as it did online and our host was quick to welcome us and give us the lay of the land.
Before we had even made it upstairs to our 2nd story studio, Z had fallen in love with multiple kitties roaming the premises. They were all super friendly and sweet. My eyes instantly went to the back of the property, where I could see several equine faces looking inquisitively in our direction, including some adorable mini horses or ponies.
"The pool can wait!" yelped Z and I as we made a beeline for the animals. We walked all around, meeting dogs, greeting cats and calling hellos to a pig, two horses and four minis. That's when the mystery critters caught my eye, and we had to go over for a closer look.
Two sweet little faces looked up at us shyly, seemingly a cross between a guinea pig and a deer. They were adorable – but definitely not wallabies. What could they be? Thankfully, our hostess soon explained they are Patagonian cavies and she hand-reared one of them from a bottle.
Curiosity satisfied, we finally changed into our swimsuits and hit the gorgeous pool. We spent the late afternoon and early evening hours lounging in the cool, clear water. I even had pizza delivered so we could eat outside by the pool – what a life!
The scenic countryside setting, and watching the sunset from the swimming pool, was heaven. Our host had told us we might see deer at dusk, but I think our pool shenanigans may have kept the deer away. We did see many bats though, swooping and diving above our heads to keep the bugs away. Thanks, bats!
When we finally rounded up the pizza boxes and headed in, draped in towels, it was getting dark. That's when we saw yet another animal friend: a chubby raccoon eating from one of the cats' bowls. We stood quietly and watched from a respectful distance as he took a handful of cat food, washed it in the bowl, ate it and then washed his hands. He did this over and over – so cute! We love raccoons.
But then, when he had finished eating and washed his hands one last time, he looked up at us and took a step in our direction. Then another. Z had the camera going, and in the video you can clearly hear me say, "Huh, maybe he's friendly if he was hand-raised? Or… possibly he has rabies." The raccoon waddled closer and closer to us, until finally he was so close I got nervous. "Let's run!" I yelled in the video – and run we did, right into our apartment.
The next morning, I mentioned the raccoon to our hostess and she told us we had met Tootsie, a raccoon she hand-raised from a baby and who stays around even though she has the freedom to leave. So now, we will greet Tootsie properly should we meet her again next time we stay.
And we will definitely be back! This little slice of farm heaven was custom made for our family. We came for the pool and the proximity – but we'll return for the animals. I don't know when I've last seen our little critter lover so happy!
The studio accommodations themselves were comfortable as well, with a full size bed and twin, plus nice sized bathroom and even a desk area for E who had brought his laptop. Our hosts left us snacks and a nice welcome note, and everything was spotlessly clean.
If you haven't tried AirBnBs, they are absolutely wonderful and we've only had great experiences so far. Before Coronavirus, I never would have thought to look for AirBnBs close to home, but now I'm hooked on this new way to staycation.
Have you enjoyed visits to AirBnBs or other new ways to get away during this unusual year? I'd love to hear your travel tales from near or far in the comments below. Or over on Facebook!