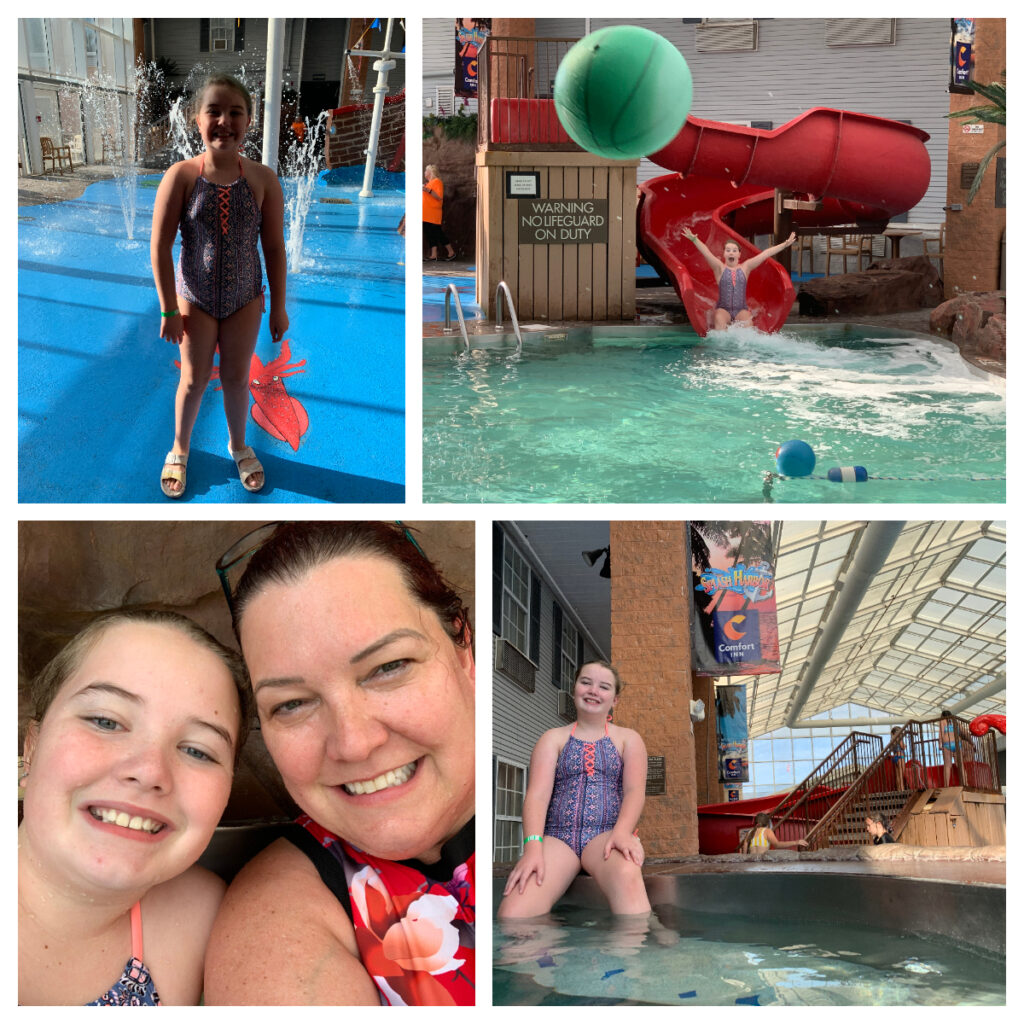 Lately, do you feel like you'd do almost anything to spend a day lounging at a pool?

Yeah. That's about where we were. This has been a truly rough summer for those of us who normally have pool access but had it brutally yanked away by the 'Rona.
This summer, those who own backyard pools – even the inflatable variety – reigned supreme. And the rest of us suckers just looked on mournfully, wishing we had one.

Well, we finally took matters into our own hands this week. We checked into Comfort Inn Splash Harbor in Bellville, Ohio for one night with our very own pool – and even better yet, a mini water park.
It was a relaxing, close to home, pandemic pool getaway!
Less than an hour from Lewis Center, the Comfort Inn Bellville is an ordinary little hotel just off the highway. But tucked right inside is Splash Harbor, a 6,000 square foot indoor water park with a good sized pool, kiddie play areas, two hot tubs and a 49-foot looping slide.
When we first made the reservation, we booked it for two nights. Then Z saw pictures of the water park and said "um, could we maybe just go for one night?" I get it – it's not Volcano Bay, and may skew a little young for her. (They promote their water park for "young families" on their website.)
So, we cut our stay back to one night and instead we'll do another one nighter somewhere else. I'm actually thrilled she suggested it – how fun to have two mini getaways instead of just one. This was our family's first-ever one-night-only vacation, but we all agreed it still felt like a real escape.
Even better, Z had a blast at Splash Harbor once we got there. I'd recommend it for ages up to 12. Kids can just be kids there, and that's more important than looking cool for TikTok. Plus even I had fun going down that water slide a couple of times – check out my Instagram for the proof!
If you decide to leave the water park, there's plenty more family fun to be had nearby. Splash Harbor is located near Ohio's Amish country, all of Mansfield's charming attractions and many natural resources like state parks and gardens.
In addition to plenty of swimming, splashing and hot tubbing as a fam, we took advantage of the proximity to Mansfield to do something E and I have wanted to do for years: a tour of the Ohio State Reformatory, aka the old, haunted, gothic prison where The Shawshank Redemption was filmed.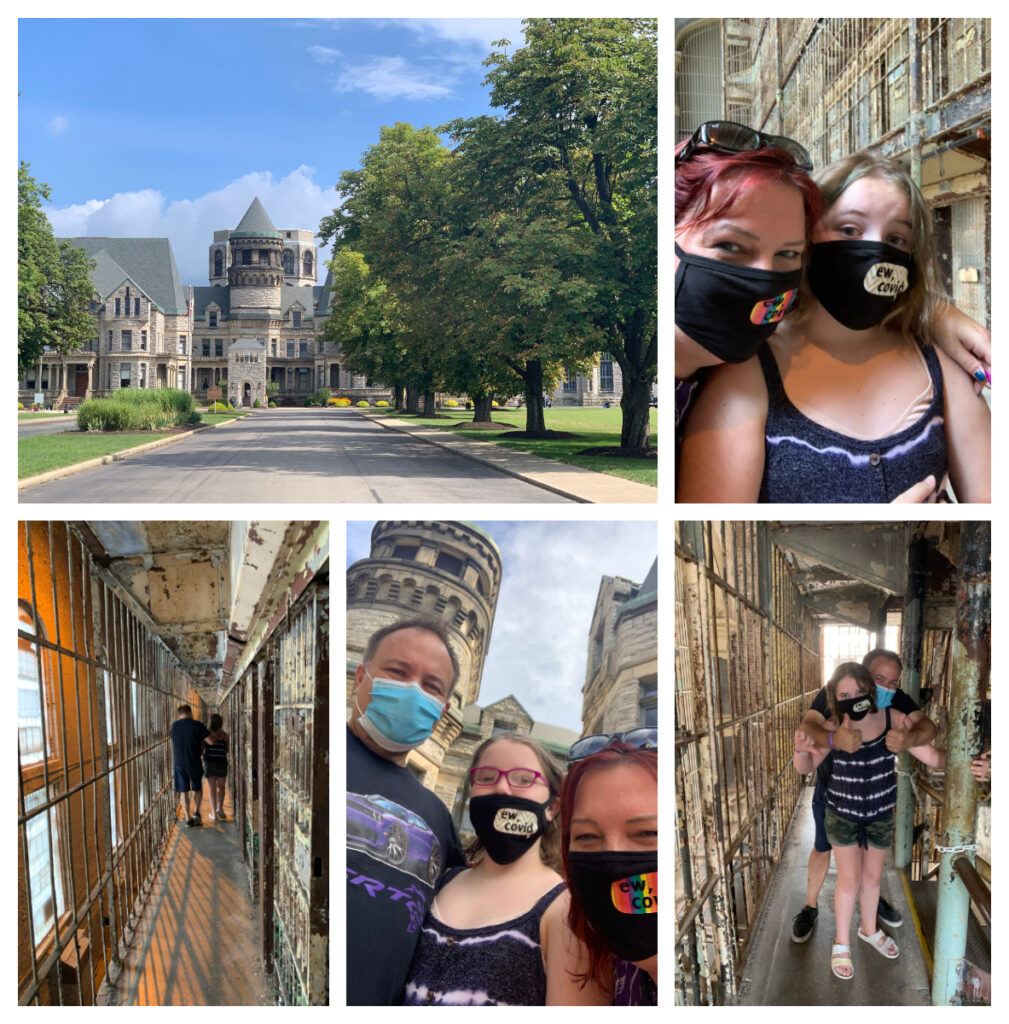 The prison is majestic and beautiful from the inside, but inside is another story. Touring through it is a terrifyingly creepy experience. All three of us absolutely loved it!
We did a self-guided tour with help from an audio device ($5 rental) that shared useful tips and info. There was also a very helpful and friendly tour guide roaming the premises who answered all our questions and shared some great stories about various paranormal activity she's encountered in her years there. Or was possibly she a ghost herself? We may never know.
I took a ton of photos and videos, but none of them can do justice to the spooky feel – and dare I say, trauma-fueled negative energy – of that place. I would not recommend this tour for anyone younger than Zoe's age (10), as there were some scary moments both from a haunted atmosphere perspective and due to frightening heights during the tour.
The prison tour starts out easy in the museum and administrative area, and gets tougher and scarier as you go. By the point in the tour where you leave the administrative building and head into the prison wing, it's like literally stepping through the gates of hell.
Suddenly, you transition from the prison chapel, which is huge and ornate and stately (though still utterly creepy, like the entire place), out onto a steep metal staircase platform that feels about six (but likely is only three) flights up. As you tentatively venture out toward the prison cellblock before you, you can see dizzyingly straight down to the ground through the metal bars and stairs.
This adventure was not without some drama. There were a few tears (Z), bigtime fears (both of us) and a lot of trembling (both of us), but somehow E got us calmed down enough to leave the safety and security of that chapel and walk around the rest of the prison with him! What a guy – he is our rock, and definitely the one you want with you while touring a haunted, creepy, towering and dilapidated prison that is seemingly decaying and crumbling before your eyes and beneath your feet.
Walking out onto that rusting metal platform – not to mention visiting the haunted prison cells and descending those metal staircases – ranks as one of the top three scariest things I've ever done.
By the time you make it down those rickety, rusty stairs to the ground floor of the cellblock, you feel like a different person. The experience changes you! The rest of the tour – including the torture chambers used for solitary confinement – barely leaves a mark on you, as your psyche is already saturated from the shock and awe of traversing that rusty cellblock from the top down.
In summary, our little one-night getaway had everything: thrills, chills, dinner at Der Dutchman and all the chlorine-soaked splashing around we had craved. Even though we were only gone 24 hours, it felt like a true vacation and really gave us a sense of escape. Best of all, the dogs and Galaxy seemed totally relaxed and happy when we got home since we were only away for one night.
I have to say, I never would have dreamed a one-night vacation could give us everything this did. Have you ever gone away for just one night, and did you feel it was enough to truly relax and feel the benefits of a true vacation? I'd love to hear your travel stories in the comments below or over on Facebook.