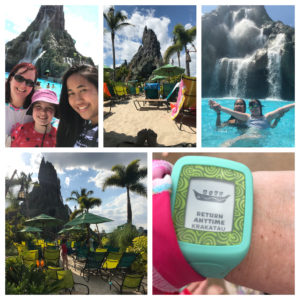 Aloha! Our day at beautiful Volcano Bay, Universal's epic Polynesian-themed water park in Orlando, was the absolute highlight of our spring break trip.
Theming is Universal's strong suit, and the Polynesian vibes are plentiful here: in the gorgeous sights and sounds of the volcano and waterfalls, the Hawaiian music playing softly, the hibiscus flowers blooming and the wonderful island-inspired treats and meals. Volcano Bay really makes you feel as though you are on an exotic island getaway for the day.
If you like water parks, you'll love Volcano Bay. And even if you don't like water parks, you will still probably love this place!
Since there are already several great "know before you go" type posts about Volcano Bay out there, my girls and I teamed up instead on a list of our top five favorite things about Volcano Bay.
Tapu Tapu wearables
Upon entering Volcano Bay, each person is issued a wearable watch-like device which you strap securely around your wrist and then use for the rest of the day as a way to sign in to rides and get a place in virtual lines. This allows you to keep exploring and playing while waiting for your time to ride the most popular attractions. There was literally no waiting the day we went – each time the Tapu Tapu told us to go to our ride, we were able to get right on it!
The other cool thing about the Tapu Tapu wristband is that you can use it to unlock fun interactive experiences in the park, like light shows or water sprayers, as well as to pay for anything you purchase at Volcano Bay. This allows you to leave your belongings in a locker (or at your chairs, if you're trusting like we are). Very cool device that makes for a great experience! And if you lose your Tapu Tapu, you can get a new one at guest services. Or just dive around in the pool until you find it, as my daughter did.
Te Awa the Fearless River
We found ourselves going back to this attraction over and over. You know those lazy rivers you can find at most water parks? Well, this isn't that. Instead, it's a strap on your life vest, wild and crazy tumble through rapids while being chased by giant waves. It is so fun!!! We rode it multiple times and always went around several times before getting out.
Fearless River is a blast – but be sure participants are VERY comfortable with water and swimming before they enter! Also, know that the tempo of this river can change from one experience to the next. We rode it several times in the morning and found only medium-sized thrills – but then in the afternoon, we rode it several times and found it extremely wild and crazy! Of course, we loved the latter experience best of all.
Waturi wave pool
I'm a huge fan of wave pools in general, but this one has views to die for with that huge, waterfall-covered volcano, a scenic sandy beach and the Cabana Bay hotel towers in the background. We spent quite a bit of time in this wave pool and got very familiar with the super fun dance/ ritual that happens each time the waves are about to start.
About twice an hour, a drumbeat sounds and the lifeguards begin to lead the crowd in a ceremonial dance or ritual involving arm movements and clapping. The tempo speeds up until one of the lifeguards yells or howls, the entire crowd goes wild screaming and telling, and then the volcano rumbles and the waves start pouring forth. It's really fun!
Shaded loungers
There is plenty of seating at Volcano Bay, including an option to pay for premium or VIP seating. Thanks to a great tip I read on another blog, we knew to bolt first thing for loungers with shade, stash our stuff there and stake out our claim for the day. Sure enough, we followed that blog's advice and ran straight to a prime seating area, where were able to get three loungers with an umbrella in a great spot near the Waturi wave pool with volcano and palm tree views. This became our home base for the day and the place we left all our belongings (we felt very safe and others obviously did too, since it seemed like a lot of people did this).
Krakatoa aqua coaster
Last but certainly not least, our unanimous favorite thing at Volcano Bay was the biggest ride: the Krakatoa aqua coaster! This is one of my top five favorite rids anytime, at any park. Unlike most log flumes, which go quite slowly when climbing hills, this one races up into the volcano super fast and then shoots down again, with water spraying and misting all throughout. It is a wild ride and sooooooo much fun!
We rode the aqua coaster twice and would have ridden it once more, except we gave up our last shot so the girls could ride something else instead. This is definitely one to "Tapu Tapu" into right away so you can maximize your chances of riding multiple times during your visit.
Other rides with confusing names
There were certainly plenty of other slides, raft rides and body plunges throughout the day, but the above make up our collective top five favorites. I will say that the Polynesian naming convention makes it really hard to remember the names of the rides… they all sound the same to us non-native islander types. You will probably find yourself giving nicknames to the rides, like "the crazy river" or "the turtle slide" or "the blue ones!"
What about the food?
We really liked the variety of foods at the different restaurants and snack stands in Volcano Bay. We ended up having island-themed burgers for lunch and then finding unique snacks like guava pastries for late afternoon. One thing that is either a positive or a negative, depending on your view point, is that each restaurant and snack stand serves something different and you won't find the same menu twice. This means that if you see a food item you want to try, you're better off getting it when you see it – as you may not see it again later in the day if you're on the other side of the park!
Those are the highlights from our day at Volcano Bay. We would have loved to stay longer and see that beautiful volcano all lit up for evening, but alas the spring hours were 10 am to 6 pm. Next time, I hope we get to go during summer when there are longer hours. I will say that even though we went during peak "spring break" season, the park was not overcrowded and we never felt overwhelmed by people, which was nice. I highly recommend Volcano Bay for anyone who loves water and an island vibe!
Have you been to Volcano Bay, or do you have another favorite water park? I'd love to hear your stories in the comments below or over on Facebook.