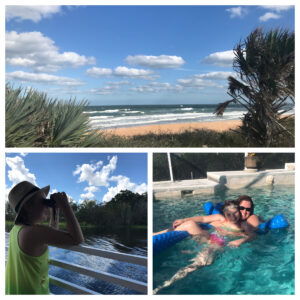 Most everyone I know loves heading down to Florida when it gets cold in Ohio.
Many of us have fond childhood memories of vacationing in Florida, whether at the beach or the "House of Mouse" aka Disney.
I'll admit that the sunshine state's oranges, ocean waves and tourist thrills do call to me at times!
Since we're lucky to have family who live in Florida, we get down there at least once each year. With winter stretching ahead of us for many long, cold months, here's a sunny blast of the best of Florida to help keep you warm as you plan your next vacation.
We love Weeki Wachee Springs! – A little north of Tampa on the Gulf coast is a tiny town called Weeki Wachee, also known as mermaid city because of the amazing Weeki Wachee mermaids. You have to see it to believe it.
A day in paradise at Volcano Bay – Dreaming of a Hawaiian vacation but can't afford the airfare? Take the family to Universal's Volcano Bay for island vibes all day.
Our favorite Florida beaches – What's a visit to the sunshine state without a day at the beach? Here are some of our Florida favorites.
Take your kids to NASA's Kennedy Space Station – why focus on imaginary thrills when space, the planets and our solar system are such an incredible reality?
A wild time at Gatorland Orlando – I'm fascinated with Florida's state animal and you should be too – gators are awesome. Get up close and personal with lots of them at Gatorland, a classic for a reason!
Visiting the Wizarding World of Harry Potter – All about how we researched and planned our first visit to Universal Orlando's HP world. And, if you want to read our review of our first time there, it's in Muggles no more: our day at Harry Potter world.
We miss our vacation cat – We love the cozy AirBnB where we stay in Deland, FL – but we love the resident cat, Ramses, best of all.
What are your favorite vacation memories of Florida – or where are your favorite places to visit there? I'd love to hear in the comments below or over on Facebook.