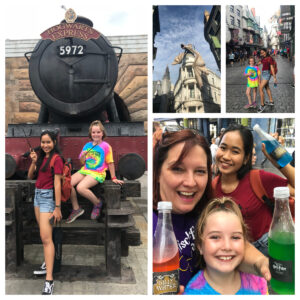 Last October, we took a whirlwind fall getaway to Florida, the pinnacle of which was a full day at Universal Orlando split between its two halves of the Wizarding World of Harry Potter.
Here, we'll share our review of Hogsmeade Village at Universal's Islands of Adventure, Diagon Alley at Universal Studios Florida, and all the other fun stuff we did in the muggle part of Universal Studios.
Are you ready? Wands up – let's go!
Before we even left Ohio, I had channeled Hermione and thoroughly researched both Universal Orlando parks so I had a planned approach and knew where to find which delightful aspects of Harry Potter world. My research served us well, so before you go, be sure to read my post about what to know before you visit the Wizarding World of Harry Potter at Universal Orlando.
When our big day came, E drove us to Orlando and dropped us at the Universal entrance. Walking into the park past all the eye-popping restaurants and attractions of Universal CityWalk, we knew we were in for an amazing day. I managed to get our two excited girls to stop for a few photos at the iconic entrance, and then we were off!
Our mission was simple: head straight for HP world and hit the big rides first, before they got too crowded.
We entered the main Universal Orlando park and made a beeline for Diagon Alley, following several groups of wizards and witches so we knew we were in the right place. I had prepared Z to walk past many, many exciting muggle things in our quest to reach Harry Potter world. I wished I could have put blinders on her!
We did end up slowing down a bit en route, so she could check out the giant shark from Jaws and a few other things, but we convinced her to leave the muggle rides until later. This mom was in full HP mode and single-minded of purpose!
Finally, we saw telltale signs that we were in wizard territory. First was the big, skinny, purple Knight Bus. We stopped there to talk to the driver and get heckled by the shrunken head – very funny guys. We took a few pics and that's when we saw Kreacher the house elf in the window of 12 Grimmauld Place. This was super creepy and fun – at this point, Zoe started to get really into it!
We found our way to the "hidden" entrance to Diagon Alley and made our way through – and suddenly we were in the cobblestone, shop-lined streets of magical London (and very reminiscent of our time in York, England last year!)
At this point, I whipped out our borrowed wand ($50+ for an interactive wand that only works in the parks? I'm a huge HP nerd, but that's a little steep for my blood) so Z could start making magic. We all took turns holding the wand and saying spells; Napa enjoyed it so much that she went to Ollivander's and got her own.
The theming at Harry Potter world, and throughout all of Universal, is just spectacular. There are so many magical little details that help you suspend disbelief and really feel as though you're actually in a magical place. The huge dragon roaring and belching fire atop Gringott's Bank made everyone scream the first time – even though we knew it was coming!
We headed right toward that fire-breathing dragon and entered Gringott's to get in line for our first ride of the day, Harry Potter and the Escape from Gringott's. Lines were not bad at all yet – we were elated! We all loved the ride itself and the fun theming all the way through the line – including the wacky, wizard-y 3D goggles each rider wears.
We had worked up a thirst so we stopped at Eternelle's kiosk in Diagon Alley to pick up some Gilly Water and colorful Elixirs. Although one blog recommended against this purchase, we absolutely loved our Gilly Water and it was one of our favorite purchases that day. The elixirs are pretty, delicious and the flavors and colors mix and match so well; Z had fun playing chemist.
It didn't take us long to explore all of Diagon Alley – it's actually pretty small – so we headed into King's Cross station and prepared to board the Hogwart's Express to the other park. This is both an interactive ride and a means of transportation to Hogsmeade and Hogwarts. There's a cool photo opp on your way to the train where you magically "pass through" to Platform 9 and 3/4, but alas I was not able to capture a pic as we came upon it too fast and Z didn't want to go back. Next time, we'll nail it.
When you disembark at Hogsmeade Station, there's a very different feel – much more peaceful and chill than the bustling streets of magical London you just left. While we visited, crews were busy building the new Hagrid's motorbike coaster, as evidenced by plenty of "magic at work" signs from the Ministry of Magic. Another example of the terrific theming.
We took a few photos in the village of Hogsmeade, enjoyed our first taste of frosty Butterbeer (delicious!), and then headed for the imposing and familiar castle of Hogwarts. It looked fantastic – just like the movies, and just as I imagine my parents' schools looked back in England. We stowed our belongings in a free locker, then headed to queue up for the big event: Harry Potter & the Forbidden Journey.
We loved EVERYTHING about this ride. The line itself moves you through different themed rooms within Hogwarts with little video clips, interactive moments like talking portraits, and so much more. It is awesome! Then the ride itself… wow. It's got a little bit of everything. It's wild and fun and the second we got off, we had to run around and get on line to go again!
We also did the former Ride of the Hippogriff, which we all felt was too short for the amount of time we spent in line (the park was getting pretty crowded by this time). We took a look at food options in Hogsmeade, but nothing really appealed to us. The food out in muggle Universal is more kid-friendly, for sure.
We took a few more photos and headed back to the Hogwarts Express for the return journey, which includes a whole different set of interactive experiences and fun.
While we were in Hogsmeade, we could have stayed at the Islands of Adventure park and done the muggle rides over there, but Z had seen many of the Universal rides on our way in that morning so she had her heart set on going back and doing those. We also grabbed a meal over in Universal, and some ice cream, before diving into the rides.
On the muggle side of things, our favorite rides were the Revenge of the Mummy (wonderfully themed and exciting – all three of us loved it and rode multiple times) plus the girls adored the Hollywood Rip Ride Rockit coaster (I did not grace this one with my presence, as it looked alarmingly high and I hate heights). We also enjoyed the afternoon parade through the streets of Universal.
In the evening, we headed back to Diagon Alley for a visit to Honeydukes (butter beer fudge is delish!) and some more souvenir shopping and wand-waving to perfect the spells. We loved both Diagon Alley and Hogsmeade/ Hogwarts equally, but alas we did not have time to head back over to Hogsmeade for another dip through the village and Hogwarts. Again, we'll save that for next time.
All in all, it was a fabulous day and we were so glad we had decided to do both parks. It's expensive, sure, and there's no way to fully experience everything in both parks in one day – but getting tickets for both is the only way to ensure you get to experience all of Harry Potter World. Now, my goal is to surprise Z with a day at Universal Studios in LA so we can check out their smaller version of HP world.
Have you been to Universal Orlando's Wizarding World, and did you find it as magical as we did? I'd love to hear your stories in the comments below or over on Facebook!