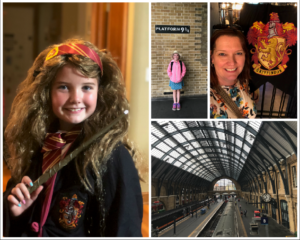 Typically I blog about our family's travel adventures after the fact, but this time I thought I'd get out in front of one of our trips and share a bit about my planning process. As I've blogged before, researching and mapping out a trip is absolutely one of my favorite things to do! When that trip involves immersion in the magical world dreamed up by one of my all-time favorite authors, even better still.
Our family is about to take a fall 2018 getaway to visit my in-laws in Florida – and one full day of the trip is dedicated to our first-ever visit to the Wizarding World of Harry Potter at Universal Studios Orlando.
I'm excited for a number of reasons. First, I adore JK Rowling's Harry Potter book series and the corresponding movies. Second, I love theme parks – and our family doesn't typically visit many theme parks. Although I've long been a Disney fan, my darling family does not share my love of the house of mouse. We went to Disney a few times when Z was very young, but at age four she eloquently let me know she'd much rather go to the beach than to Disney because she hates crowds and long lines. We haven't been to Disney since!
But now, she's a little older and pretty into Harry Potter – she's being Hermione for Halloween this year, plus we had some incredible Harry Potter experiences in England this past summer, as you can see in these photos. So I think it's time to brave another theme park and hopefully find something new we can bond over. I'm hoping that she falls madly in love with Diagon Alley and Hogsmeade the way I already know that I will!
Still, a visit to Harry Potter world is not cheap, so in order to get the most bang for our buck, some serious pre-planning and research is required. For example, which of the myriad forms of butterbeer will you indulge in?!
My research thus far
I've been doing some googling, reading and planning for this trip to make our one day at the parks – yes, there are not one but TWO Harry Potter themed parks at Universal Orlando, and you have to see them both – as fantastic as it can possibly be. I've found and compiled some great resources which will hopefully be useful for anyone else planning a day at the Wizarding World. Here are the articles I've gotten the most information from – and which have gotten me the most excited about our upcoming adventure:
Our general 2018 park strategy
After compiling my resources, reading through the articles and clicking through all the relevant links, I've devised a basic plan for our day which ensures we won't miss out on any of the high points or hot spots – and also allows flexibility if we decide to spend more time in a particular area than we had initially planned. I've also already purchased our tickets, since nearly every resources I found online recommended doing so in advance to cut down on waiting in lines. Following are the attractions we want to hit in each of the two parks, treats I know we'll want to keep our eyes open for and possibly try, and even a list of possible souvenirs that are recommended by other bloggers.
Universal Studios Florida/Diagon Alley:
Ollivander's for wands and then interactive spell casting
Escape from Gringotts (coaster/3D sim)
The shops, shows, and dining of Diagon Alley
The Leaky Cauldron
London Waterfront – Knight bus inside & out, taxi huts, Kreacher in window
Carkitt Market, Gringotts bank
Horizont Alley, Knockturn Alley
King's Cross Station & Hogwarts Express (different both ways)!
Islands of Adventure/Hogsmeade:
Forbidden Journey (ride/flight sim)
Flight of the Hippogriff (kiddie coaster, great views)
The shops, shows, and dining of Hogsmeade
The Three Broomsticks
Frog Choir and Triwizard spirit rally
Honeydukes for sweets!
Treats to try:
Butterbeer: frozen, cold, hot, ice cream, fudge or potted!
Fishy Green Ale
Gilly Water with Elixirs
Sticky Toffee Pudding (Leaky Cauldron)
Possible souvenirs:
Gringotts bank notes ($10)
Fizzing Whizzbees or Chocolate Frogs (Honeydukes)
Adopt a Pygmy Puff ($19) from Weasleys' Wizard Wheezes
Postcard and Hogsmeade postmark ($1) from the Owl Post
This is about as far as I'll take things between now and when we leave for our trip, although the girls and I may daydream a little by watching YouTube videos of the Harry Potter parks in order to pique our interest even more and amp up our excitement. Plus, there are a few things I'll continue to check on. For example, Universal Studios Orlando only posts show times a few weeks in advance, so I don't know yet which nighttime events will be going on while we're there. I'll keep checking the show times link to see if we'll get lucky and see the Nighttime Lights at Hogwarts show – I'm certainly hoping so.
What have I missed? Have you been to the Wizarding World of Harry Potter, and do you have any tips to share? I'd love to hear your stories in the comments below or over on Facebook!