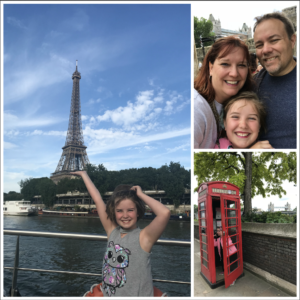 Our lucky little family has just returned from possibly our most fantastic travel adventure yet: 10 glorious June days in Europe spread across three great cities. We visited London, York and Paris – each with its own marvelous look, feel, culture, cuisine and personality. Best of all, we connected with members of my extended family on two of our stops, rekindling relationships with my dear cousins whom I hadn't seen in more than 20 years and introducing them to E and Z. It was a joy!
I'll likely spread this travelogue into multiple parts, with this first bit focused on trip planning, a pair of posts about our stops in England, and a final installment on visiting Paris with an 8 year old.
Are you ready? Allons y (let's go)!
How the trip came about
Since long before we were married with a kiddo, E and I had always talked about visiting Europe one day – specifically England, where I still have relatives and where I spent so many fun childhood holidays with my family. As I've shared before, my parents came to America from the UK as a young married couple only planning to stay two years – and ended up staying for the rest of their lives, and ours! So England is very near to my heart, although I hadn't visited since my cousin's wedding about 25 years ago.
As Z has grown up traveling, and has been on many long trips including Maui twice (at 18 months and at age 5), we have often talked about when might be the best time to take our family's first Europe trip. We always agreed that around age 8-10 is likely the earliest – so for me, it was still a bit on the horizon and not something to actively plan. But my beloved hubby changed all that when, in January, he surprised me with a sweet and loving card that had two sealed notes labeled option 1 and option 2. He told me to choose wisely, but wouldn't offer any hints about what might be inside. Instinctively, I knew it had to do with our next big family vacation!
Z was pushing me hard to choose option 2… but I turned to E and asked him which one he thought I should choose. When he said option 1, it was a no-brainer. I opened the note and it was a tiny map of England. He was taking us to London and to visit my family in the north of England! I was overjoyed! But…
That's when Z got quite upset that I hadn't chosen the note she wanted. Turns out, option 2 contained a tiny map of France. Z has long dreamed of visiting the Eiffel Tower – we're not even sure where this came from as France is fairly far down on my personal bucket list and we've never talked about it. When E saw how disappointed Z was, and when I mentioned that Paris is just a two hour train ride from London, we agreed to shorten slightly our time in England and add two days in Paris at the end. That way everyone got their dream destination for this vacation! (Experts agree that it makes sense to let kids take part in choosing destinations for family travel.)
Planning the travel
One of my favorite parts of every trip – especially a big fab vaca like this to a new or faraway place – is planning it. I don't like to over-plan days and I'm always sure to build in free time to explore, but I do like to map out the must-dos and build a fun, flexible itinerary with something for everyone in the family. In this case, we also had to figure out where were the best places to meet up with my cousins – and what to do with them once we all got together.
We knew London and Paris were on the docket, but we also needed to choose a base in the north of England where most of my relatives are. We researched a few cities and ultimately ended up choosing York – a wonderful, ancient and bustling town with lots to do and see, but with a significantly quieter pace than London and Paris. We thought it would provide some good balance – and it was convenient for my relatives to join us there for a visit.
Once we knew our three cities, we figured out how much time to spend in each: 4 days in London, 3 in York and 3 in Paris – and we booked our flights, trains and hotels. We initially consulted with a travel agent friend, but ultimately ended up booking everything ourselves as for this trip, there wasn't much to be gained (or money saved) in booking through a pro.
For hotels, I always google "best (city name) hotels for kids" and then search TripAdvisor, local experts and family travel blogs until I've determined the best fit. For this trip, we went with Novotel hotels in each of our cities and were pleased with the choice. In London and York, the Novotel hotels were in great locations and had great amenities. In Paris, we liked the Novotel location but it ended up being a bit less well maintained than the other two. In all three locations, the Novotel hotels were indeed kid-friendly and each provided Z with a small toy or gift at check-in, which was a nice touch.
The trains between cities were fairly simple to book. When the cost wasn't prohibitive, we splurged for first-class accommodations on the trains and it made for a really nice experience. If it's not more than $40 additional per person, I'd recommend doing that – the first-class amenities included a bit more room in the seats, seats grouped around a lovely table for doing art or enjoying snacks and tea, free snacks and beverages served at your seat, and charging ports at each seat for phones and other electronics.
For things to do in each city, I polled friends and family, searched TripAdvisor and researched local experts and family travel blogs (my favorite is Travel Babbo) until I had a great list of far more activities, sights and must-dos than we could ever fit into our short visits. Then, I pulled all my research together on a wonderful little project management platform called Trello. I created a Trello card for each of my three cities, plus a card for each day of our trip – and then I was able to drag activities and must-dos from each of the city boards into my daily activity lists. It worked out perfectly and I even kept it updated it during our trip via the Trello mobile app so now it stands as a lovely record of our entire European adventure.
If you're interested in seeing my specific Europe trip Trello board, shoot me a note and I'll be glad to share the link!
The week before the trip
I've learned from past experience that it doesn't do to get Z too excited about a trip weeks or months in advance. I generally start out slowly – for example, we might read books or stories about the places we'll go, or watch movies based there (so many great ones for London and Paris, including Paddington Bear, the Harry Potter books and movies, Ratatouille and so many more!).
Then, about a week before the trip, we start to watch actual travel videos together on YouTube. We found some great ones for each of our destinations that helped give her a flavor of what to expect – and she was able to start getting really excited and say "Oooh, I want to do that!" or "No, I don't want to do that" which then helped me further tailor my Trello boards for the trip and ensure we were all on the right track for a fab family experience.
We also pack together for big trips – sometimes I'll lay out outfits for her and give her choices, but other times she insists on choosing her outfits herself. Either way, we lay out everything on a bed, count up the number of outfits and undies and socks and shoes, add in some PJs and accessories, and get everything packed. We always leave room in our suitcase for any souvenirs we may pick up along our travels – you know it's bound to happen!
It's truly hard to believe that just ten days ago, we were packing up and ready to head off on our great European adventure. We were excited, eager, maybe even a bit anxious about certain aspects of the trip (Paris and the language barrier, especially!). Little did we know that the trip about to unfold before us would be as wonderful and enriching as any travel we've done before. Be sure to read my whole series of posts about our European adventures!
In the meantime, I would love to know about your travel experiences as kids or with kiddos of your own. What are your favorite destinations? What's on your travel wish list? Let me know in the comments below or over on Facebook!