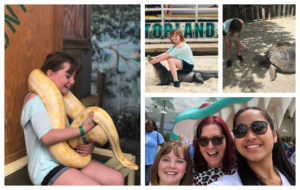 During our recent spring break trip to Florida, our family spent a day adventuring at Gatorland in Orlando and we're still talking about the jaw-popping sights and experiences. If you or your kiddos like reptiles, this is the place to be!
If you're not into scaly or slithery critters, you may want to sit this one out – but you'll be missing out on a whole lot of adventure, excitement and fun!
I've always been fascinated by Florida's ubiquitous gators and we learned so much about them at Gatorland, the self-proclaimed alligator capital of the world. They have their gators housed according to age like a preschool, so you see the little 1-2 year old swamp puppies first, then the medium-sized 3-5 year old doggo lizards. Once you're acclimatized to seeing cute gators all around you, you progress onward through the park until you're basically surrounded by whopping giant monsters that literally make your jaw drop – we're talking 10 to 14 feet long and weighing hundreds of pounds!
Some of our favorite interactive experiences are as follows:
Alligator "meet and greet" at the Alligators: Legends of the Swamp arena where, before and after the show, kids and adults are able to sit on a medium-sized alligator, hold its head and get their photo taken. The gator's mouth is taped shut and a trainer is nearby, but otherwise it's a real live gator and could take you for a wild ride if it chose to!
Feeding the gators "Gator Chow" (aka turkey hotdogs) was a lot of fun. You simply find a willing, hungry gator – easy, since they're everywhere you look – and toss a hot dog into its waiting trap! It was also fun throwing the hot dogs to a pack of alligators and yelling "to the victor go the spoils!" Pro tip: break each hot dog into pieces to make the experience last longer. The alligators won't mind.
The shows were educational and entertaining. The Gator Jumparoo show was definitely the most thrilling, as some of the park's hugest gators were enticed to leap out of the water in order to snap their jaws around a raw, whole chicken. It was scary, exciting and truly awe inspiring – and seeing the trainers hand-feed these giant dinosaurs in the second part of the show was way too nerve-wracking!
The Up Close Encounter show was a lot of fun as members of the audience were coerced into opening mystery boxes with creepy critters inside. It's very funny and well done! Z wished she had been chosen – but she did get to hold and take a picture with an absolutely enormous white python afterward. TheAlligators: Legends of the Swamp show was basically an old school alligator wrestling show which, while entertaining, made me feel a little sorry for the medium-sized (6 to 8 foot long) gator being manhandled into submission and then having its mouth taped shut for photo opps.
Another favorite was the Junior Jumparoo area, where kids pay $5 to get fishing poles with a fish tied on with cord. Then, you're able to "go fishing" for the small alligators, teaching them to jump out of the water and grab the bait. After watching the giant gators do their thing in the Jumparoo show, it's easy to see that these mini gators could one day use these same skills to get themselves a whole raw chicken! But for now, it was fun seeing the little guys go into a frenzy and climb on each other to get their jaws around a little minnow. We had a lot of fun in this area!
I guess my only word of warning is that there's a bit of a shakedown happening at Gatorland in the form of asking you to pay extra for many of the photo opportunities and animal encounters. We were fine with a few of these – and in fact, we paid extra for the Gatorland Grunt Package in order to have a few of these close-up experiences – but we declined most of the paid photo opps, choosing instead to take our own.
Gatorland is billed as "Orlando's Best Half-Day Attraction" and I can whole-heartedly agree with that. We had a terrific morning there and thoroughly enjoyed ourselves. Also, the gift shop is a riot if you have gator lovers in your family – there were so many alligator themed gifts and goodies, it was hard to leave without buying something!
Have you been to Gatorland, either as a kid or adult – and are you a fan of Florida's alligators, too? I'd love to hear your stories in the comments below or over on Facebook!