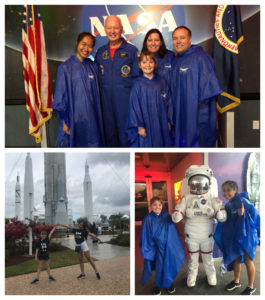 We had so many fun adventures during our recent Florida spring break trip, but among my favorites was our day at NASA's Kennedy Space Center. As background, my husband's father has been trying to take us there for years but I always put him off because, to be totally honest, I didn't think my daughter or I would have fun there. Boy, was I wrong!
The Kennedy Space Center is a must-see Florida attraction that I'd rank right up there with Disney, Universal and other fun theme parks – only with the added benefit of also being super educational and inspiring!
If you have a space nut in your family, the space center was likely already on your Florida wish list. I can attest that absolutely everyone will find something to like here – even if you don't think you're super into space. Learning more about the US space program, and all the global cooperation that is involved in the international space station, was absolutely fascinating! This is a perfect rainy or too-hot activity – and you know that, for all Florida's sunshine, there are those days where you just want to be indoors.
During our visit, we got to meet a real live astronaut, hear him speak about his time in space and ask him questions. Then we even got to take a family photo with him! Astronaut Brian Duffy was funny, smart and a great speaker – we all really enjoyed his talk about life on the space shuttle and his four successful missions to space.
We also got to watch several super-cool iMax-type movies about space travel and exploration. We enjoyed lunch at the Orbit cafe, and nearly jumped out of our skin when the space man we thought was a statue turned out to be an actual person in a space suit – it was hilarious!
One of our favorite experiences was visiting the Space Shuttle Atlantis. First you see a movie about it, and then big doors open up and you get to see the actual space shuttle itself, right there in front of your eyes! It's way cool and there are many interactive exhibits and elements in that building, including a super fun slide that the kids loved.
As an admitted Instagram-mom, I loved the Rocket Garden where cool photo opps abound. Honestly, there was so much to experience and enjoy that we didn't even get to it all in our day at the space center. We'll be sure to return and next time, the bus tour is definitely on our list as it came highly recommended.
If you're not convinced yet that the space center would be a fun stop for your family's next trip to Orlando, here's the hype video that may change your mind: Look up!
So, have you visited the NASA Kennedy Space Center or would you consider it? I'd love to hear your thoughts in the comments below or over on Facebook!