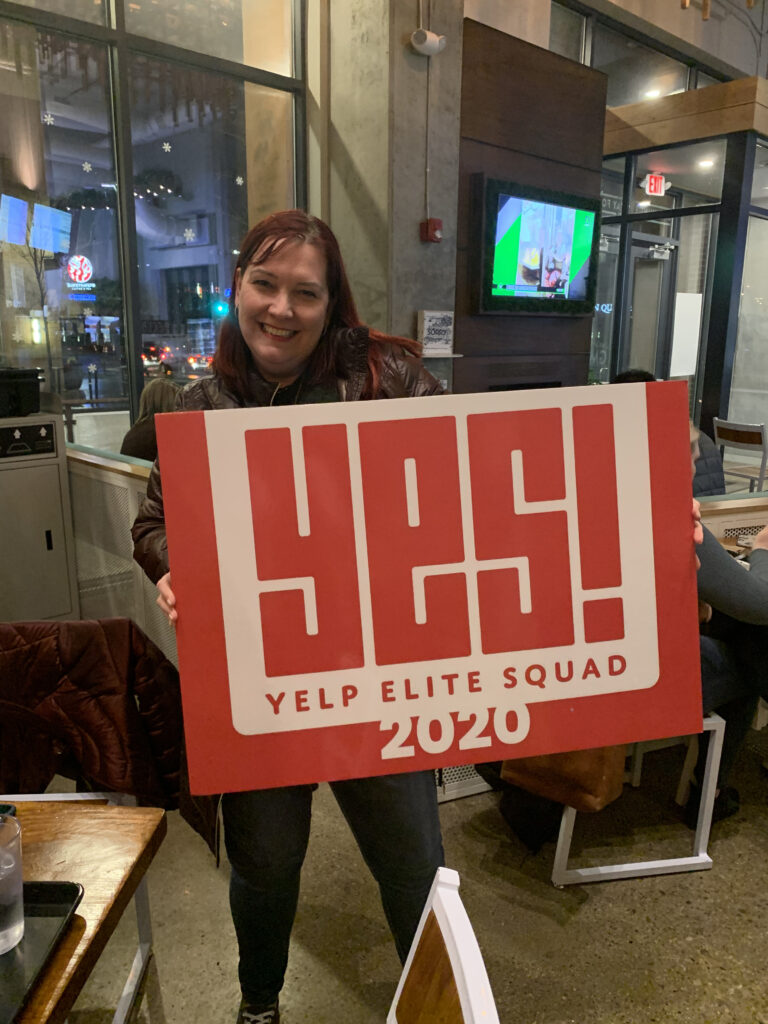 Did you know there's a way to stay in the loop about the latest restaurant and bar openings in Columbus, meet and hang out with cool people and get invited to great events – all at no cost to you?
For non-local folks, I'm talking about getting involved with my local, thriving Yelp community – but there's likely one in your town, too.
Friends often comment on my Instagram to ask how I manage to do so many fun things. Well, I'm about to tell you how:
Yelp events and the Yelp Elite Squad (YES) are one of the best kept and coolest secrets in town.
Yelp events are a curated series of experiences by our awesome local Yelp Columbus community manager, Jayme. Let's just say you want to be at these events; they are fun, the people are great and often there are fabulous free perks.
Taking it up another level, the Yelp Elite Squad is a group of local influencers who are passionate about this community and its small businesses.
We attend Yelp events and other VIP experiences, such as grand openings. We check in, post photos and review local restaurants and other entities on Yelp. To thank us, Yelp Cbus treats us like royalty with even more experiences and perks. It's a great little symbiotic relationship.
I first discovered YES and Yelp events in 2012 and was thrilled to make the squad that year. Since then, I've made it a priority to regularly review local businesses and keep up my stats in order to stay active as a Yelp Elite from 2019 through 2021. I've gotten to see, taste and experience some fabulous things in my four years on the squad!
Curious about what's involved? You simply show up as an active member of the local Yelp community: you check in, share photos, review local businesses and participate in Yelp Columbus events as you are able. Many times, there are additional perks and freebies to make attendance worth your while, such as treats, free meals and other fun experiences.
Here's a sampling of some of my favorite Yelp Elite events from my years on the squad:
Yelp's Short North Dessert Hop – possibly my favorite Yelp event ever, this consisted of wandering up and down High St. in the Short North sampling desserts and sweets as we went. We visited Jeni's and so many more places. As much as I love sweets, even I had to tap out before the end. There's no better way to spend a summer night than this – and it would be very easy to recreate the event yourself, except of course that there wouldn't be any freebies.
Exclusive Elite Eats with Rebol & Kilwins – last winter, just before Covid hit, the Elite crew got to visit Dublin's cool, new Bridge Park for a healthy dinner at Rebol followed by dessert at Kilwins. It was another great night – and guess who won a $50 gift card to Rebol? That's right, lucky little me! If you haven't checked out Bridge Park yet, it's perfect for a fabulous family outing or date night.
Yelp Defies Gravity – on a summer night, Yelpers took over the grounds of Gravity, a very cool apartment and retail complex in downtown Columbus. We were treated to an epic night full of "delicious bites, creative concoctions and hands-on activities with amazing local businesses from all across the 614." I got Euphoria-style makeup done, sampled many treats and loved getting to explore this cool urban space with hubby as a date night adventure.
Yelp Perk with Donna's Delicious Dozen – just this spring, Z and I ventured down to Gahanna for a lovely Yelp perk: two free donuts from Donna's Delicious Dozen. We ended up having lunch at the pizza place next door and making a fun little outing of it. And of course we ended up buying more donuts from Donna so we could take some home to E!
In 2020 and 2021, many of the Yelp events naturally had to go virtual. Still, hats off to Yelp Cbus for keeping the fun events coming via Zoom. Even virtual events are fun with the Yelp crew – you might be pleasantly surprised.
If you're interested in being in the know on hot new restaurants, bars and happenings around town, nominate yourself for the squad today: just go to the Yelp Elite page and scroll to the bottom right to learn how to nominate yourself or someone else for the squad.
If you have any questions about being a Yelp Elite, I'd be happy to answer them – just drop me a note in the comments below or friend me up over on Yelp!