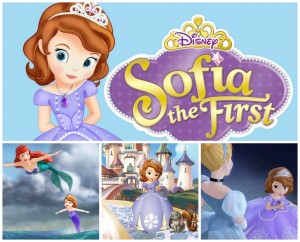 Zoe and I were relative latecomers to the phenomenal kids TV show that is Disney Junior's Sofia the First. I'm an old school Disney Princess fan and didn't like the idea of some new upstart joining their hallowed ranks. Zoe, on the other hand, just didn't seem to fancy the show much when we first stumbled upon it – she was more into Mickey Mouse Clubhouse, Jake and the Never Land Pirates, and the Backyardigans.
But, sometime recently, all that changed. First, Zoe caught the princess bug after two years of me wondering if it would ever strike. Then, she decided after watching one full episode that she does like Sofia after all, and I began to watch it with her. Now I can't believe there was ever a time when we didn't love Sofia – she's the best! Here are our top six reasons for being obsessed with this show:
6. The music is pretty darn good. Every Sofia episode has a song, and many of the songs are actually quite catchy and memorable (listen to samples for free on Amazon). Not every song is great, but there are quite a few that have become favorites around our house – including "Blue Ribbon Bunny," the "good little witch" song from the Lucinda episode, and "Princess Things," which is the one where Sofia defies tradition to try out for the flying derby team even though no princess ever has before. Sofia decides she doesn't care if it's a "princely" thing and not a princess thing – she still wants to try out for the team.
How about these awesome lyrics: "I believe that anything can be a princess thing!"
5. Sofia is both kind-hearted and empowered. I love that no matter her current royal surroundings, Sofia remains true to herself and her humble beginnings. She is a kind-hearted girl who also believes she can do anything if she works hard enough. Sofia always wants to help and empower others, do the right thing and try her hardest. These are wonderful qualities for anyone to emulate, and I like Sofia as a role model. I also like it when she stands up to the sometimes bossy and shallow Princess Amber, her new step-sister. Amber has a good heart too, for the most part, but she's way too into material things and does not have the same strong values as Sofia so she and her snobby friends can sometimes be a negative influence.
4. Sofia can talk to animals! This is the super power I'd wish for if I could, and Sofia has it thanks to her magical purple amulet. Who wouldn't want to talk to animals?! Especially since Sofia's best friend, Clover the bunny, is voiced by the hilarious Wayne Brady. Every time Clover has a big role in an episode (like "Finding Clover" and "Blue Ribbon Bunny"), I find myself thinking about that classic Dave Chappelle sketch with Wayne Brady. Epic – but most certainly not kid-appropriate, so alas, I will not be linking to it.
3. Enchancia's royal family is a great role model for step-families. I love the way this awesome royal family came together "overnight." It's very sweet that Prince James and Princess Amber call their new step-mother "Mom" – and Sofia calls King Roland "Dad." He is a super awesome dad to Sofia, too – and although we don't see as much of Queen Miranda, we know she's a good mom and step-mom, too. I love how in the first episode, Queen Miranda acknowledges that although there's not much of a precedent for kind and loving stepmothers in fairytales, she plans to be one nonetheless. So cute that the show's creators went there!
2. Baileywick is the bomb. If I didn't already love this show, Tim Gunn is absolutely incredible as Baileywick, the indispensible palace steward. This role was made for Tim Gunn and he does an awesome job. He even incorporated his catch phrase from Project Runway, "Make it Work!", into the role of Baileywick. Clearly, having Tim on the show was Disney's nod to moms, and boy does it work – but my daughter adores Baileywick, too. Zoe won't even watch the "Buttercups" episode where Baileywick gets the show's version of poison ivy – she doesn't like to think about him being itchy and uncomfortable!
1. The other Disney princesses make cameo appearances! Surely, the above are reasons enough enough to convince you to watch and like Sofia, but if not, here's the kicker: every handful of episodes, one of the classic Disney Princesses drops in for a cameo to help Sofia in some way! So far we've seen the episodes with Jasmine, Belle and Cinderella – and I am beyond excited to see upcoming episodes with Ariel (November 2013), Sleeping Beauty's Aurora (December 2013) and Snow White (spring 2014). Funny story about these Princess cameos. Recently Zoe and I were sick with fevers and feeling lousy, so we were watching a lot of TV together on the couch. That's when we caught up on many missed episodes of Sofia, and we saw the Princess cameos. I was so sick, feverish and out of it that at first I thought I was dreaming when I saw Princess Jasmine show up and start talking and singing to Sofia. Then, in subsequent episodes where Belle and Cinderella unexpectedly showed up to help Sofia, I literally got so excited in my fevered delirium that I started bawling! Poor Zoe must have thought her mommy was nuts. So anyway, yes, I'm a little girl at heart and when the Original Princesses (OPs) appear, I lose my mind with excitement. I've got my fingers crossed for a Rapunzel sighting on Sofia someday, believe me.
So, there you have it! If you're like me, there are a lot of adult TV shows you miss watching (or can only watch once the kidlets are in bed), but thankfully there are high-quality programs like Sofia which you can enjoy watching with your little ones. Often I'll put an episode on for Zoe so I can finish getting ready or fix dinner, but then I'll end up sitting down with her to watch because it's so darn entertaining!
What's the favorite show du jour in your house – and is it one you like too, or is it one you find unbelievably annoying? Believe me, I've got the latter as well! I'd love to hear about yours in the comments below.