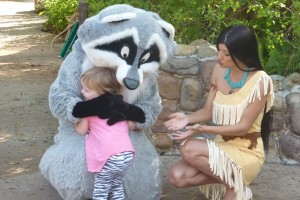 Zoe showed signs very early on that she's a huge animal lover.
Even as a tiny infant, she always preferred stuffed animals over dolls.
If presented with a human friend and a kitten at the same time, she would always go to the kitten. She can be a bit stingy with kisses and hugs at times for the people in her life, but will shower affection and love on our puppy or any other random, friendly dog she meets.
This is never more evident than during family trips to Disney.
Zoe will step over a princess in her rush to get to an animal character like Mickey or Donald. Her heart beats faster when she sees Chip & Dale.
This photo of Zoe with Meeko, sidekick to Pocahontas, is classic. Zoe didn't even give Pocahontas the time of day – just headed straight for that raccoon! (It's worth noting that my husband offered to console Pocahontas after our daughter dissed the lovely lady. Isn't he sweet?)
Poor princesses. They don't stand a chance. I wonder if this will change as Zoe gets older, or if she will continue to prefer critters?