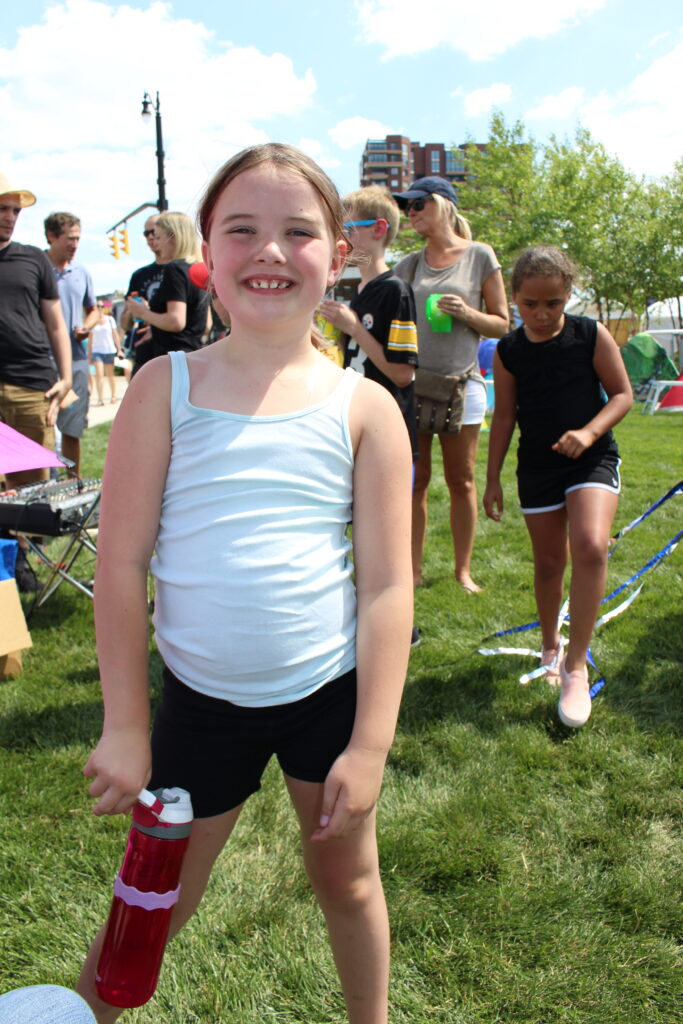 Columbus has more than our fair share of festivals during the summer months.
On any given weekend, there are multiple open-air events to choose from and it can be tough to know where to go.
That's why I'm telling you now that Columbus Arts Fest is one you don't want to miss. Located downtown on the riverfront, this free arts festival has something for everyone – including the littlest art collectors in your family.
The Columbus Arts Festival happens the weekend of June 9 – 11, 2023 and takes place along the Scioto Mile, Columbus' signature riverfront park, on both sides of the Rich and Main Street bridges, in Dorrian Green Park and in front of COSI, the Center of Science and Industry.
We visited the arts festival for the first time several years ago when Z was still doing children's theatre with the inimitable Ms. Candace. The kids put on a fabulous play in a grassy area right on the river. It was super hot that day, but the performance was terrific and we were so glad to be introduced to this terrific event.
Here are five things you should know before you hit downtown Columbus' annual "welcome to summer" event.
Columbus Arts Festival is huge. The event spans both the Main and Rich Street bridges downtown, as well as most of the surrounding streets. More than 500,000 people attend each year. You'll want to take a look at the online map and maybe even download the app before you go. This way you can figure out ahead of time where you plan to park, which live events you want to hit, and where your family will meet up if anyone gets separated.
There are three stages for live performances. This year, the main stage is at Genoa Park due to construction at the Bicentennial Park and fountain. Stage performances will run from late morning through evening and include dance, music, theatre, poetry, spoken word and even a fashion runway show this year. Headliners on the Genoa Park Main Stage include Dehd, Ghost Shirt and MoJoFlo.
There are special low-cost art galleries for children and young adults. In addition to hundreds of artists vending their work, there is a popular Children's Art Gallery where the youngest collectors can walk through and purchase art for their collections for just $5. For the first time this year, there will also be a Teen Art Gallery for young adults to walk through and purchase donated original art for $5. There are no adults allowed in these galleries other than the volunteers staffing them and assisting kids with their purchases. All other grown-ups must wait outside!
There will be food and drinks a-plenty. Columbus has an incredible food truck scene and there will be lots of them on hand at the Columbus Arts Fest to satisfy your every taste craving. Check out this guide to which food vendors will be where at the festival. In addition, beverage stations throughout the festival site will be serving beer, wine and frozen cocktails, as well as smoothies and fresh squeezed lemonade. You may also want to bring bottles of ice and water from home, especially if you've got kiddos in tow, as these summer events can get pretty toasty.
Come prepared to buy some art! We have purchased amazing art for our home and garden at the festival. There will be dozens of local artists here as well as artists from all over the country. There is no better place to find amazing, one-of-a-kind artwork than at this annual celebration of all things artistic. Columbus is a huge arts town and this event showcases it all. Be ready to support some local artists and beautify your life!
Hopefully I've convinced you to head down to Columbus Arts Festival this year for a great day celebrating the arts.
Do you have other favorite local festivals? I'd love to hear your suggestions in the comments below or over on Facebook or Instagram.