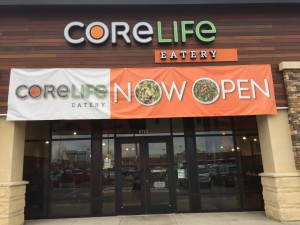 Recently I wrote about my excitement over a new salad cafe opening up in my northern Columbus suburb. Now, I'm even more pumped up because a second, even healthier restaurant has opened near me: CoreLife Eatery just off Polaris.
You might be thinking, why are you even eating out at restaurants anymore – aren't you on a major, life-changing health and fitness program? Yes, I am, but for me the number one most important element of a health and fitness program is that it be sustainable over the longterm.
Straight talk: in no way could I ever give up eating at restaurants for good. It's one of my favorite ways to relax, unwind, enjoy a delicious meal and treat myself. Plus, as a dual career family, eating out is just a necessary part of our reality sometimes.
Having healthy, clean, nutritious restaurants open up near my house is a huge plus!
CoreLife Eatery is amazing. You can choose from healthy, clean greens bowls (salads), grains bowls (salads with healthy grains like quinoa) or broth bowls – both bone broth and vegetarian options. Our first time in, E had the spicy tortilla broth and I had the chicken rice noodle broth. Both were delicious and packed with healthy, nutrient-dense veggies like kale. Both had a nice, clean, healthy flavor – in other words, a little bland compared to the usual salty foods and soups you get at restaurants but that allowed the true flavor of the healthy ingredients to shine through.
I also tried a sample of the CoreLife falafel balls with a delicious Thai Cashew dipping sauce. These were amazing and I plan to make a meal of them next time I go in!
The restaurant is clean and bright and open, the staff were incredibly helpful and seemed totally psyched to be there, and the food tasted good and is good FOR you. It doesn't get much better than that. I'm thrilled we have this option and can't wait to go back. Now I just need a CoreLife to open up in Grandview where I work, and I'll be set!
Although, I do need to figure out what on earth I could convince Z to eat there. While we were at CoreLife, we saw several families with young kids and I was just about straining my neck trying to see what their kids were eating. With everything so clean, healthy and veggie-filled I'm not sure I could find anything for our somewhat picky (but also totally normal) 6 year old! But I'm sure going to try.
You'll be hearing me talk about clean eating a lot in the months to come. I'm on a journey and this is all new to me. Right now, my diet is about as far from clean eating as you can get! But I'm hoping to overhaul first my eating, and then my family's nutrition, a little at a time.
Have you tried CoreLife Eatery on Polaris? Let me know what you thought!