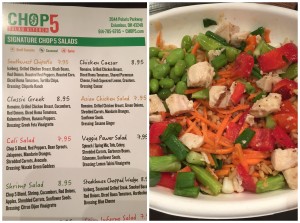 I just stumbled into the brand new fast casual restaurant Chop 5 Salad Kitchen today on Polaris after my workout and had an amazing, delicious and healthy lunch. It was the perfect post-gym meal to keep that strong, energized feeling going. I am so glad to find this restaurant and can't wait to visit again. It is seriously the yum.
But perhaps the best part about my fresh, healthy and delicious lunch is that Chop5 is not even officially open until tomorrow. I have been watching the place for a while now as it's on my path to and from Rock N Shock Fitness. Today on my way past, I was craving a fresh healthy salad and saw some activity, so I stopped by. On my way in, I asked someone standing outside in a Chop5 shirt (later found out he is the franchise owner – and also the area's Papa John franchise owner) if they are open. He said "Not yet, but we're having a special preview event today for employees so please go on in and enjoy a free lunch – just be sure to tell us all about it!"
And that's how I got an amazing free lunch at Chop5 on the day before they even open to the public.
You can ask my hubby – this type of lucky scenario is not unusual for me. I have a special knack for being in the right place at the right time. Some people call it luck – I prefer to believe that because I try to put a lot of positive out into the world, this is the universe's way of sending some positive my way.
But anyway, back to Chop5! As I said in my Yelp review, if you like fresh, healthy food and especially chopped salads and wraps, you will love this place. The quality is superb from what I've seen so far. I had the Asian Chicken Bowl and was truly impressed with the quality and freshness of the ingredients. The chicken tasted like real, white meat chicken someone would prepare at home – not like the diced, pre-frozen, dry or pre-prepared chicken you sometimes get in restaurants. The veggies were fresh, flavorful and as colorful as Christmas morning – and the sesame ginger dressing was applied sparingly so as to not overwhelm the bowl (or add too many unwanted fat calories). I would order this again in a heartbeat.
I basically want to try everything on the menu. All the ingredients are listed so you can easily spot if you want to add or remove anything. Everything is made fresh right in front of you. In addition to the signature Chop5 salads and bowls, you can create a custom salad, bowl or wrap from an impressive list of greens, meats/proteins (including tofu and avocado) and other ingredients. There are a range of dressings, including wonderful-sounding custom dressings and classic, familiar ones. There are also a number of Chop5 "drizzles" like sriracha, fresh squeezed lemon and balsamic which are obviously intended to satisfy the clean eating crowd.
Bottom line, if you want a healthy, fresh lunch that will make you feel incredible and energized and not weighted-down or overly full, this is the place. I am beyond thrilled to find such an innovative spot so close to my home, gym and usual stomping ground. I will definitely be a Chop5 regular! Granted, I'll have to go without the kidlet, as I did not see much her veggie-hating self would enjoy. This will become mommy's new hideaway for those rare moments when I get to sneak out by myself – or pre/post visits to Rock N Shock!
Big thanks to the Chop5 folks for the free lunch today – love that you were so gracious and generous to a random post-workout lady on the street. You had no way of knowing I'm a blogger. I truly appreciated you letting me "crash" your grand opening lunch and I will absolutely be back soon for more Chop5 deliciousness!
To everyone else – get over to Chop5 starting tomorrow for an amazing chopped salad, bowl or wrap. Don't forget to let me know what you thought in the comments below or over on Facebook.