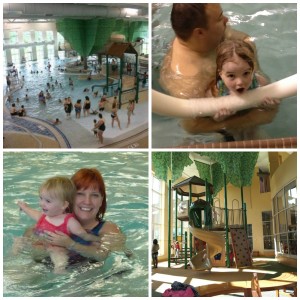 The other afternoon, Zoe and I lazed in the pool, played on water slides and swam until we were both exhausted. Was I dreaming or having summer flashbacks? No – we escaped to an indoor water park for a blissful and fun getaway. The best part? It's just minutes from our house!
I'm talking about the wonderful community resource known as the Westerville Community Center, and specifically the high quality, 96,000 sq. ft. indoor aquatic facility known as The Watering Hole. For $7.50 per person ($6 for Westerville residents), you too can swim in the pools, slide down the slides, ride an inflatable ring raft through the lazy river, soak in the hot tub or brave the whirling vortex.
We highly recommend an afternoon at the Watering Hole – it's a fun escape from winter's chill and the variety of water play activities makes it well worth the cost!
Ever since our community pool closed at summer's end, our little mermaid has been asking to go to the "inside pool." It's where she has taken winter swimming lessons twice in the past (I'd love to sign her up in fall or spring, but alas we are non-residents and so we can never get registered unless it's the "undesirable" swimming season, aka the cold dark dead of winter). I had all but forgotten that Westerville's Watering Hole is not just available to swim lesson folks, but also to anyone who wishes to purchase a daily pass. At Zoe's urging, we finally checked it out – and I'm so glad we did. We had a blast!
Next time you're looking for something to do with your little ones during cold or unpleasant weather, consider a dip in the Watering Hole – or any of the other indoor pools and water parks around central Ohio. Changing facilities are clean and spacious, if you go during weekdays it's not at all crowded, and lifeguards are attentive. We spent two hours and Zoe would have happily stayed longer, as there's so much to do and so many ways to play. Best of all, instead of going straight out into the cold with wet hair, there's also an indoor play area at the Westerville Community Center where Zoe loves to climb and play until she's dry again – and, by that time, hungry enough to eat a bear. Then, and only then, do we go back out to brave the elements!
Check the website before you go – they have certain hours that are open to the public. You want to hit the "All Ages Open Leisure Pool" hours.
What about you – do you like to swim in the winter, too? Do you know of other nearby community pools and water parks worth checking out? We'd love to hear about them in the comments below.