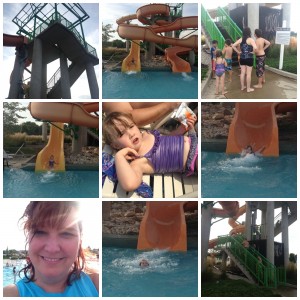 I've blogged before about our pool and how much we love it. I have shared countless tales about our little water baby and how much she has always loved to swim and spend time around the water. And recently, I even blogged about my new invention this summer, #PoolDayOnaSchoolDay, which won me the coveted "Wow Mommy, you're a nice mommy!" award from Ms. Zoebelle.
But alas, all good things must come to an end – even summer itself. And so it was with both bliss and sadness that we heralded the last day of summer, and the last day of the pool, over this Labor Day weekend. Let's now observe a moment of silence…
But it's not all sad. We have so many happy pool memories from this year's swimming achievements. You may recall that last year, on the last pool day of the summer, Zoe got to achieve her summer-long goal and dream of going off the big diving board into the deep end of the pool. She rocked it like a champ, and sure enough she has spent this whole summer going off that diving board and rocking out at the deep end of the pool like the big girl, super-duper swimmy mermaid that she is.
And that brings us to yesterday – Labor Day. It was an absolutely perfect last pool day – sunny, not too crowded, and the lifeguards seemed to be really relaxed. So relaxed, in fact, that I happened to notice some rather small tykes – Zoe-sized kids – heading up the steep staircase to the giant slides. I called E's attention to them and asked him excitedly, "Is that kid in the green shorts any taller than Zoebelle?!"
Yes, he said. That kid is way bigger and older than Zoe. What are you thinking? But I know that E, like myself, sometimes suffers from kid size dysmorphia. It's like neither of us can believe how big Zoe has gotten right before our eyes. So I asked her to hop out of the pool and go stand by that kid in the green shorts – and do you know what? He had maybe an inch on her, tops.
So I asked her if she'd like to try out the GIANT slides on this, our last pool day of the summer. And she responded with an enthusiastic "YES!" and bolted for the stairs! E went up with her, doubting my judgement and fearing that they'd be turned away at the top… but the lifeguards at the top were smiling and not measure-sticking the kids, so Zoe and more than a few other under-sized tots had a blast all evening riding the giant slides down into the pool. It was a total riot!
(I still maintain that the pool slides should be for kids who can demonstrably swim, not kiddos of a certain height. But alas, they don't let me make the rules.)
It was an absolutely perfect last pool day. Getting to do the giant slides was the perfect crowning glory for Zoebelle – she felt like such a big girl! She was strutting and sauntering her way from pool to stairs each time she went back up for more. She went to sleep last night on time and utterly exhausted after so much activity!
So now, I'm sad summer is over, but super happy that our favorite fall activities are right around the corner – and that we have access to an awesome indoor pool we can frequent in the cooler months – and that our very own beach vacation is just a month and a half away. Life is good.
And I'm so very, very happy that Zoe's last pool day of 2014 was as special and memorable as her last pool day of 2013 was!
How did you celebrate the end of summer with your kidlets? As always, I'd love to hear in the comments below.