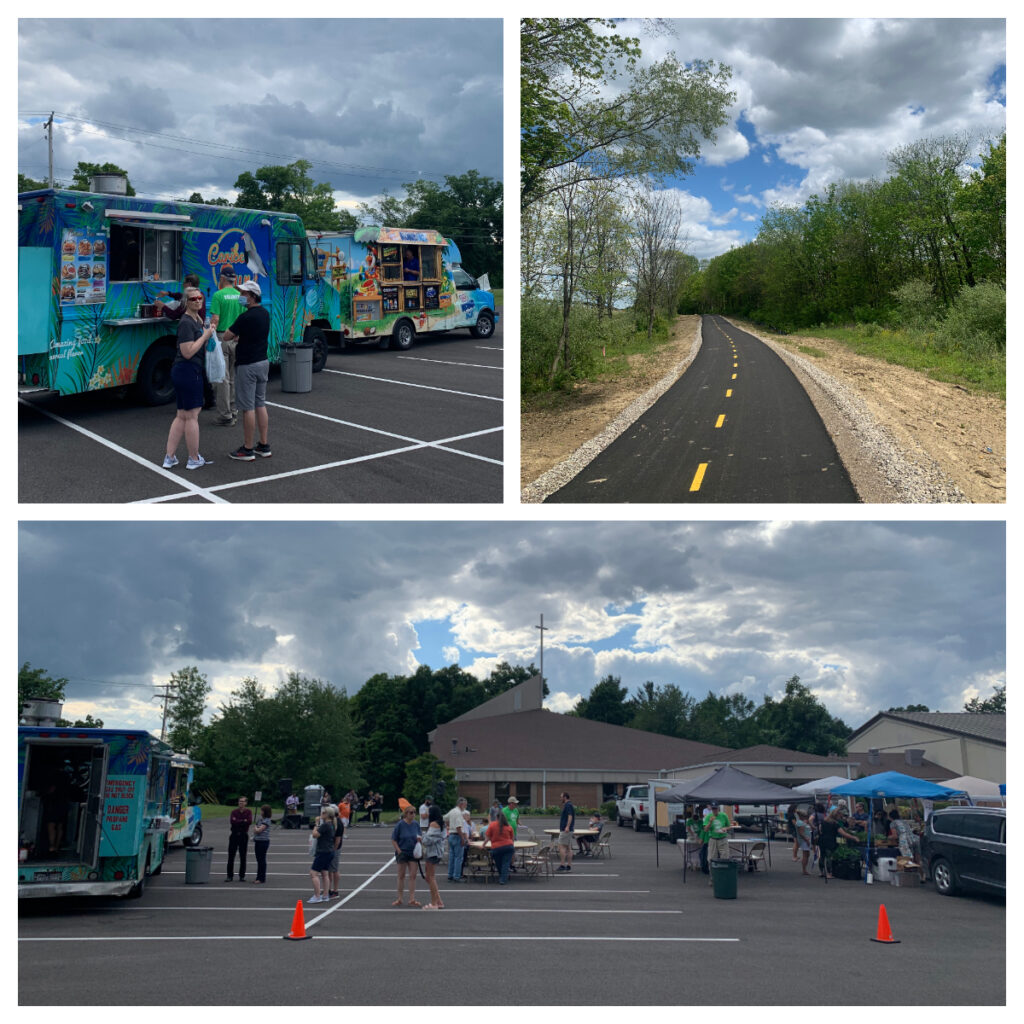 Even though I recently changed the name of this blog to Midlife Mama, I'm still a Lewis Center mom who is passionate about our community.
That's why it's my pleasure to share two cool, fun new happenings in Lewis Center that your family may love as much as mine. I'm not the kind of person who likes to keep gems like these to myself; I'd far rather share them!
The summer of 2021 is off to a great start in our community with these two new additions:
1. The new Lewis Center Rd. bike path or walking trail
We already had some great bike trails in the LC, but now we've got a brand new one. Starting at the Waukeegan Rd. entrance to the Lakeshore neighborhood and rolling down to the Alum Creek Below Dam Recreational Area, this trail is a delight to ride down. Kids will love that they can finally, safely ride bikes down to the "dam park," as most of us locals know it. This bike trail is really fun to ride down because it's a nice, gentle downhill glide plus it's super smooth and pretty.
When you arrive at the end of the trail, you can cross over and turn right to keep riding along Bale Kenyon Road (which already had a nice bike path/walking trail on one side) or you can turn left to cross over to the dam park. Of course, you can also turn back around and head up to where you started – but be prepared to engage those leg muscles if you do! Riding or running back up the new trail is a fun challenge, for sure.
2. The new Lewis Center farmers market
Making its inaugural debut this year, the Market on Orange takes place Tuesday nights from 5 – 8 pm at the Orange Friends Church on Orange Road, just off Bale Kenyon. There are typically one or two food trucks, a live band performing and multiple local farmers selling their produce and wares.
When Xage and I rolled up to the church parking lot this week, we were pleasantly surprised. It was our first time there so we didn't know what to expect, but I think Xage captured it succinctly: "Mom, this place is a total vibe!"
The Market on Orange is not big, but it's adorable and a must-see. There are tables and chairs so you can bring the family, grab dinner and make a night of it. Do you remember how good it feels to wander around a parking lot in the sunshine, smile and say hi to folks without masks, and browse local produce and goods for sale while you listen to live music? Be sure to mark your calendar for every Tuesday evening through October.
So what do these two new LC happenings have in common?
Lucky LC folks who live in the Shores, Villages of Alum Creek, Park Shore or Lakeshore neighborhoods can actually ride their bikes to the new farmers market using the new trail I mentioned above. Simply head into the Shores neighborhood, cruise over to the Waukeegan Rd. exit and then turn right onto the bike trail so you don't have to ride in the scary, super-fast traffic on Lewis Center Rd.
Cruise down the new bike trail, cross over Bale Kenyon at the bottom and turn right onto the Bale Kenyon bike path. Take that down to Orange, cross back over to head up Orange Rd. for one block (you'll definitely feel that steep hill heading up!) and voila, you're at the Orange Friends church and the farmers' market.
That's exactly how Xage and I spent our Tuesday evening this week – we rode all the way there, browsed and purchased some local produce and honey, then cruised back to the bike trail and headed back up to the Shores. It was a great workout, a fun ride and all in all, a terrific evening. I can't wait to do it again.
Please let me know if you decide to take the new bike trail to the farmers' market – it's a perfect Tuesday evening activity for the whole family.
And if you have other favorite happenings around Lewis Center, or new additions like the ones in this post, let me know that, too. We love to help keep neighbors and friends informed about all the amazing things happening in our community!