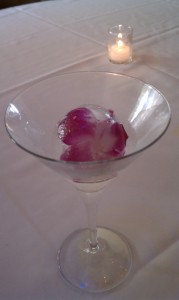 I don't drink alcohol. When I say that in social settings, I tend to get a gasp of shock or notice people recoiling in horror, but really it's no big deal. Alcohol just doesn't agree with me. That said, I still enjoy a good adult beverage – just sans alcohol. I like fancy drinks, but not necessarily fruity ones – just really good ones. Here, without further ado, are my top picks for the best drinks in Columbus. Most of these also happen to be at places where you can get great food. And yes, each of these would probably be equally delicious with a little alcohol added.
The Horchata at Fiesta Jalisco. This amazing, Latin American drink is best described as cinnamon vanilla rice milk. It may sound odd, but trust me it's scrumptious – not a thick drink like a shake, but rather a thin drink served over ice. It's not filling or super sweet, just tasty and super refreshing. I love it any time of the year. Major hat tip to Alejandra, my little sister through Big Brothers Big Sisters, for turning me on to this amazing beverage. I feel like I have major street cred now when I order it at Mexican restaurants – the servers always look at me in wonderment like "how does SHE know about horchata?!" because it's not usually on the menu. Also, if you find a restaurant doesn't have it, it generally means that Mexican people don't eat there, in which case it's probably not a truly authentic or awesome restaurant and you should probably go to our favorite, Fiesta Jalisco, instead.  (Honorable mention on this one goes to Cazuelas downtown because they not only have horchata, they provide free refills. All you can drink horchata – can you say yum?!)
The Fresh Ginger ale at the Northstar Cafe. You can order almost anything off the menu at Northstar and you'll love it, but I am especially partial to their fresh ginger ale. The ingredients are ginger, organic cane sugar, lime juice and mint – plus something fizzy, of course. It's so refreshing and tastes amazing. It's not cheap, but well worth the price.
The Black Orchid at M. To get the full effect of this drink, you should really read my completely over-the-top Yelp review of our M experience last year. Suffice it to say that I was blown away by M's food, service and yes – drinks. The photo here is of my beloved Black Orchid. They have happy hour specials if you don't feel like springing for a pricey meal – just sit at the bar, people watch and suck on an orchid-encased ice ball. You know you want to.
And my #1 favorite drink in Columbus, as of last week… the shrub at Till Dynamic Fare. I had been wanting to try Dragonfly neo-V for ages when alas, it closed. Then I heard the owners/chefs had opened a new, similar place and this time I wasted no time getting in there, especially after reading this glowing review on Columbus Underground. The meal was great, the company superb and oh, that shrub – a vinegar and sugar concoction that was unlike anything I've ever tasted. Shrubs have apparently been a hot trend in NYC for a little while, and clearly the folks at Till are all over it. Get over there and enjoy an amazing, reasonably priced meal (and free shrub with Yelp check-in!) quick, before it becomes so popular you can't get in.
So there you have it – my favorite drinks in Columbus. What's your favorite way to wet your whistle – with or without alcohol?