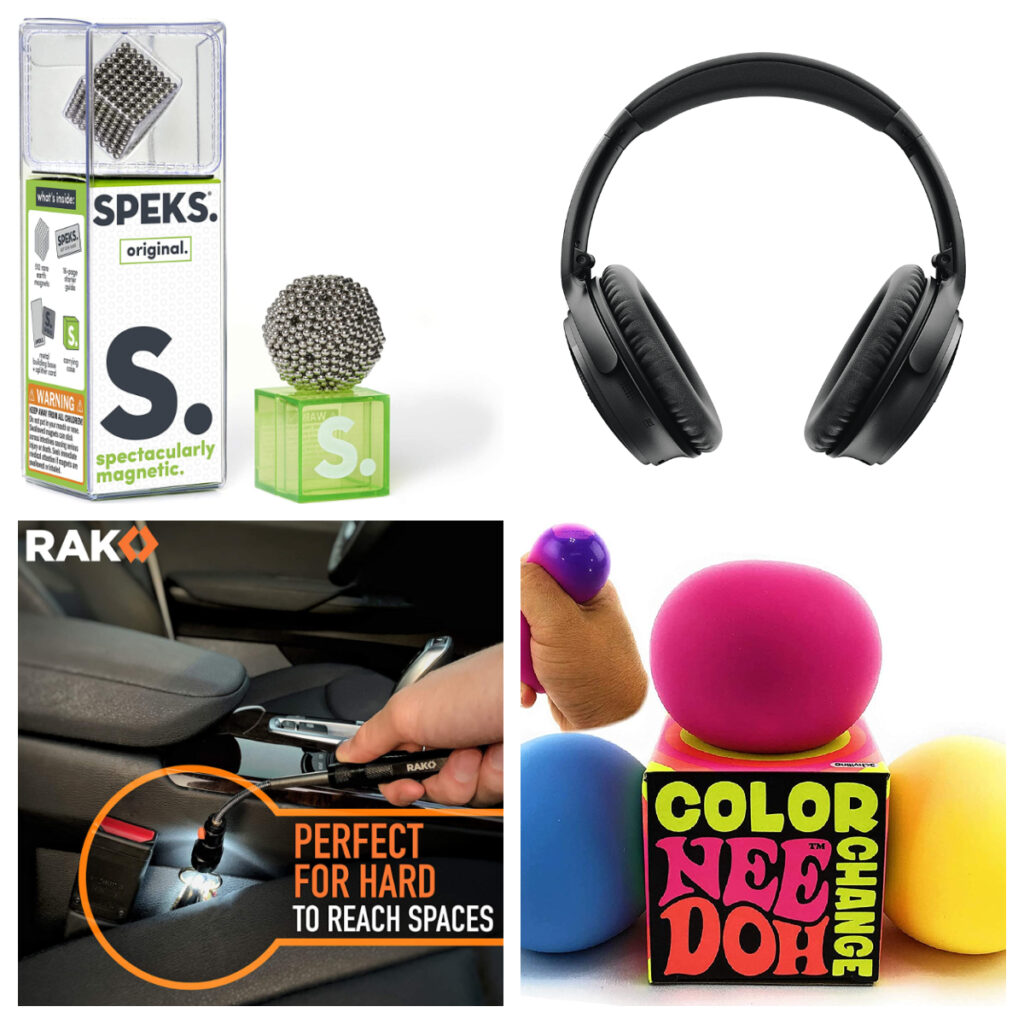 Is it me, or are guys are perennially hard to buy gifts for?

Too often, they either don't have a hobby or they already have everything they need for it… or it's just too impossible to figure out what they need for their hobby (hello, car guys like my hubby!)

So that's when it's time to get creative. Z is a huge help to me and always comes up with some fun suggestions for her dad every year for birthdays and Christmas.
Without further ado, here are our best holiday gift ideas for the guys in your life. Hope they help!

1. Desk toys/fidget toys. With so much of 2020 spent on neverending zoom calls, fidget toys for the home office have gone from a fun option to an absolute necessity. We love these magnetic balls, squishy dough balls or this cool infinity cube.
2. Massage pad for his desk chair. Following on the points made above – this has been a stressful year. Guys often aren't the type to go for an actual massage, so bring the stress relief right to their chair. We got this model for Z's dad for his birthday and he LOVES it. Great for releasing tension after a long day of working from home!
3. An Amazon Explore experience. I've already raved about our walking tour of Taiwan, but there are so many different types of experiences to choose from. Think about what your guy is passionate about and find an Amazon Explore virtual experience that will help bring that passion to life. Take a look at the options – there's truly something for everyone.
4. A magnetic, lighted pickup tool. If your guy is handy at fixing things around the house, he'll love this. You may even hear less swearing when they drop a nut, screw, nail or another small metal object in a hard-to-reach space. Not that anything like that EVER goes on at our house!
5. Bose noise-cancelling headphones. E once told me these were the best gift I'd ever given him. Dads like quiet sometimes to listen to music, watch a movie or simply shut out the constant sounds of the household. These are pricey but worth it – anytime I've gotten to wear them, I've been amazed. Side benefit, these are fantastic for travel once we get to do that again someday.
6. Retro snacks or candies. Take them straight back to the happy days of childhood with a gift of candy or snacks that were popular back in their decade. A gift like this will bring out the kid in any grown man!
There you have it – our best ideas for holiday gifts for the man in your life. If you have other great tips and ideas, I'd love to hear them in the comments below or over on Facebook!