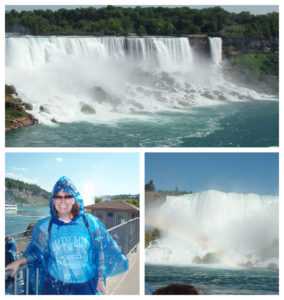 There are many great summer road-trip destinations accessible from central Ohio, but among our favorites is Niagara Falls, Canada. If you're looking for a quickie international romantic getaway that won't break the budget, my money's on Niagara.
You can drive from Columbus to the popular Canadian side of Niagara Falls in about 6 scenic hours, leaving plenty of time to enjoy a sunny afternoon at Clifton Hill and the Falls.
We researched parking online beforehand and the choices are pay a lot (as much as $20) to park close, or pay less ($5) and walk a lot farther. Since there's already a lot of walking involved in a day at the Falls, we decided on the middle ground and paid $10 to park as long as we liked near the giant Niagara Skywheel in the heart of Clifton Hill. It was moderately close and we enjoyed the walk down the hill to the Falls.
Gosh, Niagara Falls on a hot, sunny summer's day – can there be anything more glorious?! The water is almost a Caribbean shade of turquoise and the mist and Falls themselves are such a pure, bright white. We took a ton of photos and several friendly passersby took pity on us taking selfies and offered to take pictures of us together with the Falls behind us. Is it me or does Niagara bring out the romantic in everyone? We saw lots of couples holding hands – and likely not just newlyweds, either.
We walked around the top of the Falls area for a while, taking in all the touristy sights. Then, we bought our tickets for the Falls boat tour – which, since we were on the Canadian side, was the Hornblower Niagara Cruise. The route into and around the Falls is exactly the same as the iconic Maid of the Mist boat ride, only the rain ponchos are red for the USA and blue for Canada.
Fun fact: until 2014, both the US and Canadian side boat tours were run by NY-based Maid of the Mist. At that time, the Canadian government awarded the contract to a Canadian company called Hornblower.
We made our way down the long flights of stairs to the Hornblower boat ramp. Darling hubby was ever skeptical and felt it was a high priced tourist trap, but I couldn't wait for our boat ride close to the Falls. We donned our provided rain gear and jostled for a good spot at the rail on our Hornblower boat.
It was a magnificent experience to be so close to the Falls, hear the roar of the water and feel the mist on our faces and in our hair. We saw rainbows all around us and it was a fantastic adventure! Even hubby had to admit he had a great time once it was all over. We took lots of pictures and ooh'd and ahh'd along with our fellow passengers. It was well worth the cost and the wait in line (about 15 minutes). I'd do it again in a heartbeat – and have, since, with Zoe!
Finishing out our day, we headed to our hotel on Lundy's Lane. This is off the main Niagara Falls tourist strip, but it was a good deal cheaper and we found our accommodations to be more than adequate. I recommend staying on Lundy's rather than shelling out a fortune to be nearer the Falls. Unless you're willing to really "spend big" for a Falls view room, why not save some money and stay where it's a bit quieter and less touristy? We loved the Bonaventure Travelodge and even got a complimentary bright red, heart shaped tub in our room. Talk about romance!
All in all, Niagara Falls was a great birthday weekend road-trip for my hubby and we were so pleased with the experience that we've done it again several times since with kiddo in tow.
Have you ever been to Niagara Falls – and do you prefer the US or Canadian side? I'd love to hear your stories in the comments below or over on Facebook.