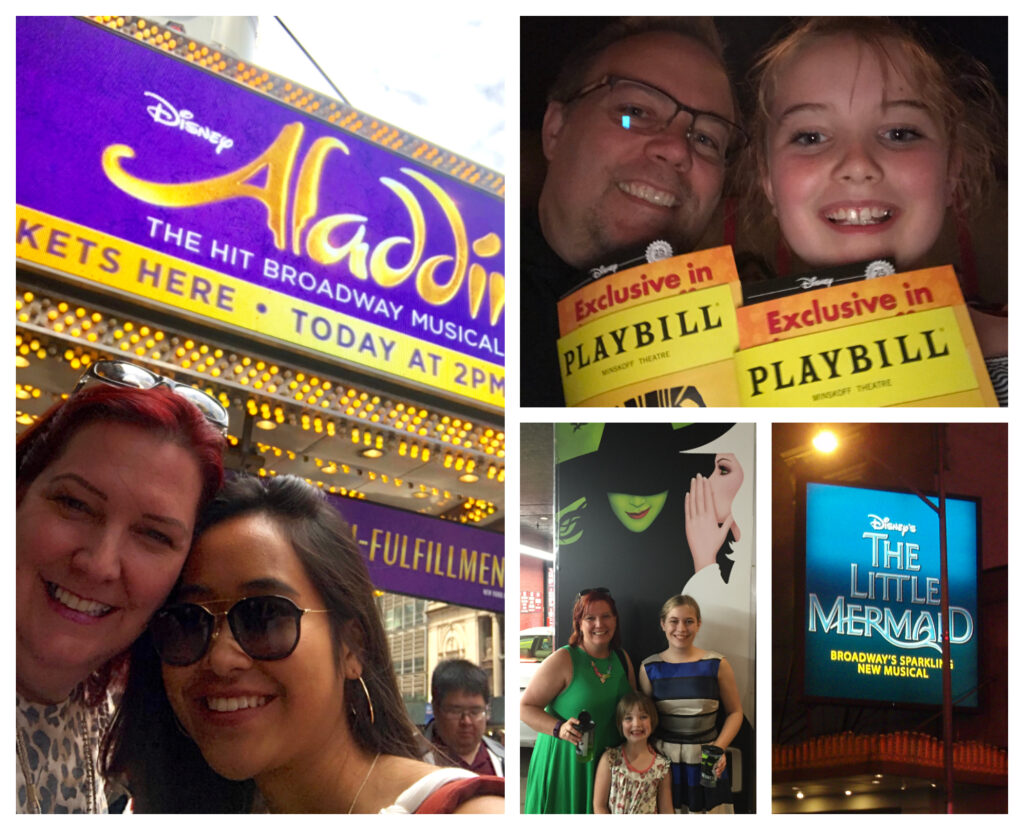 I've always been a huge fan of musical theatre. Nothing can transport you to a happier time and place like a musical!
I love to sing, and seeing live music and dance performances – especially on Broadway – has always enchanted and inspired me.
I like plays, too, but my favorite has always been the use of music and songs to tell a story. Vocal performances seem to capture and transmit emotion like no other medium ever could.

I grew up watching Sound of Music, Mary Poppins and The Wizard of Oz on the small screen, as well as being enraptured by Disney animated musicals on the big screen.
Even better, I was lucky enough to grow up in New York, where I was able to see live Broadway shows every year, starting quite young.
In elementary school, I had an incredible, well-connected music teacher who went out of her way to take us on annual field trips to NYC for various performances. After seeing Annie on Broadway in the late 70s, our class got to meet the cast and ask questions.
Then when I was about Zoe's age, in the early 80s, our class got to meet and ask questions of Leonard Bernstein, international superstar composer and conductor, and the mastermind behind one of my favorite musicals, West Side Story. You can see why I caught the musical bug early!
Growing up, my parents were huge Andrew Lloyd Webber fans and constantly blasted the Broadway soundtracks to their favorite musicals. I knew the librettos of Evita, Cats, Phantom of the Opera and many more by heart before I even finished junior high (now known as middle school).
I've seen classics like Annie Get Your Gun, off-Broadway musicals like the Fantasticks and even the most recent spate of Disney musicals on Broadway. I honestly love them all.
Now that I've outed myself as a musical theatre nerd, here are my top ten (plus) favorite musicals in order. Many I've seen live, but some I've simply fallen in love with through listening to the soundtracks over and over.
10. Three-way tie between Miss Saigon / Starlight Express / Mamma Mia. Miss Saigon is based on Giacomo Puccini's opera Madame Butterfly. Set in the 1970s during and after the Vietnam War, Miss Saigon is a beautiful love story and haunting tear-jerker that I saw on Broadway during its original run, many years ago when I was still in New York. It has stayed with me ever since – especially Lea Salonga's beautiful, haunting vocals.
Starlight Express is an Andrew Lloyd Webber musical staged on roller skates that I never saw in person, though my parents did. However, I've always loved the music and knew it by heart as a teen. I am the Starlight, baby!
As for Mamma Mia the musical, first I fell in love with the original songs by Abba throughout my childhood, then adored the show on Broadway. I've since seen it in traveling performances, too, and it's always a fun time. As a lifelong Abba fan, this one is a no-brainer! I do enjoy watching the movies as well.
9. Les Miserables was the world's longest-running musical for a reason. "Les Miz" has it all – love, tragedy, redemption and triumph – set amidst the French Revolution and with one of the most unforgettable scores ever written. I loved it the multiple times I was lucky to see it on Broadway, listened to the soundtrack for years and sing along any time I watch the movie or catch an epic Les Miz number at Ellen's Stardust Diner in NYC. It's a perennial classic and had to be in my top 10! I even liked the movie version.
8. Phantom of the Opera is another somewhat obvious choice, being the world's most popular musical and all, but I can't help it. It's gothic, it's over the top and I love it! I adored it on Broadway (saw it twice) and I've caught the traveling tours here in Ohio. Talk about music that stays with you for days – thank you, Andrew Lloyd Webber, for this masterpiece.
7. Evita is yet another ALW favorite of mine. I fell in love with the soundtrack alone, for I never saw the show on Broadway although my parents did at least once. I didn't get visuals to go with the splendid soundtrack until Madonna put her movie version out. I love Madonna's version too, but I'll always be a Patti LuPone girl – she was the original Broadway Evita and always will be in my mind.
6. Chess was masterminded by the guys from Abba with lyrics from Tim Rice, the rockstar lyricist behind many other favorite musicals. I never saw this performed live – few did – but the music rocked my world. I still love to listen to this soundtrack in the car on road trips. And even if you've never heard of the musical Chess, if you were alive in the 80s you likely remember one of the songs from it: One Night in Bangkok by Murray Head. It peaked at number three on the U.S. pop charts in 1985.
5. Tie between Jesus Christ Superstar / Xanadu. I adore both of these musicals so much that it's hard to believe they're only tied in fifth place on my list. There are SO many great musicals in the world!
JCS is one of the first Andrew Lloyd Webber musicals I ever fell in love with, and I fell hard. I've seen it live more times than I can count and with a dizzying array of talents, including Dennis DeYoung from Styx and Ted Neeley, who played Jesus in the movie version (which I also love). It's rock, it's camp, it's the Bible (loosely) and it's just plain awesome.
Xanadu also brings plenty of awesome to the table – the 1980 film was the stuff of my teenage dreams mainly for the music, but also for the fact that Olivia Newton-John was in it. It shocks me that I've never seen this performed live by adults, but Z and I took in a killer kids' version a few years ago at Catco for Kids and she loved it too!
4. West Side Story owns my heart, period. I love the music, choreography and the fact that it's based on Romeo and Juliet. I've never seen it live but the 1961 film has been a favorite all my life. The romance, the action, the 60s style – it's just the best. I tried to get Z hooked on it too, and she liked it but got a little bored. I'll try again in a couple of years. (Side note: Z now loves it too, thanks to the 2021 movie version.)
3. Wicked. I'm lucky enough to have seen Wicked on Broadway three times, and Zoe has seen it twice! When our nieces and nephews turned 16, we took each of them to NYC for a weekend and let them choose a Broadway show. Three of the four of them chose Wicked, and I can't blame them. Loosely based on the Wizard of Oz, it is at its core a story of friendship and being true to oneself. I love the original Broadway soundtrack but I've also enjoyed every performance we've seen.
2. Rent. Back in the early 2000s, E and I fell in love with the music, characters and story of Rent. We saw it on Broadway and also caught the touring show when it came through Ohio. We absolutely love this 90s take on the classic Bohemian love story of Puccini's opera, La Boheme. We are fans of the movie version too, but a live performance of Rent is where it's at. The 90s are alive and well in Rent!
1. Hamilton. Yes, all the hype and buzz are totally warranted: Hamilton is amazing! As a fan of hip hop, rap and musicals, this is a triple threat for me. I am late to the party, having fallen in love at first viewing just this month when it came to Disney+. I've watched and listened to the show about a dozen times since. If you like American history, rap, hip hop, poetry, clever lyrics, a beautifully diverse cast and/or musical theatre, Hamilton will most likely be your jam, too. (Edited to add: we finally saw Hamilton live in Columbus in 2022 and the Angelica touring cast was amazing! Truly an unforgettable night.)
There you have it – my top ten (plus) favorite musicals of all time. What are yours? We may not be able to go to live shows right now, but I'm always up for listening to a new musical and falling in love all over again!