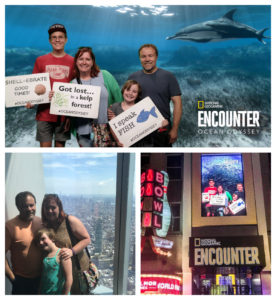 This is the third post in my blog series about traveling to NYC with kids. Each trip, we've taken a 16 year old niece or nephew along with our own little Z – starting when she was just one, then again when she was three years old.
The great thing about NYC is that there's so much to do, each one of these trips has been totally distinct, memorable and different!
If you're planning a trip to New York with your family, here are some highlights from our last visit that both our 8 and 16 year old loved. Our 2018 NYC adventures included:
So that sums up our fourth trip to NYC with a not-so little one – and 16 year old – in tow. It's hard to believe that the next time one of Z's cousins turns 16, she'll be pretty darn close to that age herself. Fortunately, we won't have to wait that long for our next trip to the Big Apple, because we've already promised Napa we'll make her NYC dreams come true this year.
What are your favorite things to do and see in NYC, and have you made the trip with kiddos? We'd love to hear in the comments below or over on Facebook!
And be sure to read our other NYC with kids posts while you're here.