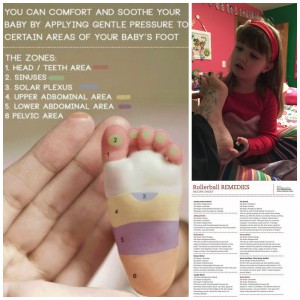 Wouldn't you love to have a magic potion you can pull out at bedtime and anoint your kids to guarantee a swift, effortless and peaceful transition to slumber?
Yeah. So would I. That's not what this blog post is about, but if you know of something like that, would you please hook a mom up?
Seriously, bedtime can be the worst. She's all wound up and crazy, primed for a fight. I'm all wired and tired. It's been a long day for me, but somehow not long enough yet for her – she just wants to go go go! It's been pretty clear since day one that my darling daughter is a night owl, unlike her early-to-bed, morning person of a mommy. Oy. But I digress!
This post is about essential oils – not because they're some miracle cure for everything, but because we have made a really nice nighttime ritual out of anointing each other's feet with some lovely oil blends. Have I noticed an easier bedtime since we started doing this? Not necessarily – but I can tell you that it smells nice, feels really good and proves to be a really nice connection point and bonding ritual at the end of the day. And I should add that there's no disclaimer necessary with this post, because I neither sell oils nor have any stake whatsoever in any particular brand. But I'll happily share with you what little I know.
How I first heard about essential oils
Several years ago, a dear friend of mine and her family came to stay with us. Her son, who is about Zoe's age, is medically fragile for life – he had a heart transplant at the age of one. While staying with us, my friend had a diffuser running at all times with lovely aromatic oils in it. I fell hard for the scented mist and pretty, colorful glow of that diffuser. She said it was good for everyone's health, but especially helped to keep her son healthy. I knew I had to have one! Soon after their visit, upon her recommendation, I got my first diffuser and the "family physician" starter set of DoTERRA oils. Yep, you can get 'em on Amazon – crazy, right? But I personally can't stand multi-level marketing and complicated purchasing schemes, so I am glad that option exists. If you want a local Columbus person to talk to about DoTERRA, I recommend Essentially Trish – she definitely knows her stuff.
How I use them
At first, I only diffused the oils because that was the only way I had seen them used. I started to read and learn more, and I gradually began to experiment a bit more. I've used a few drops of certain essential oils (lemon, oregano) in cooking and baking. A tiny bit goes a long way! Diffusing is definitely my favorite and I find it very calming and soothing.
Just recently, after participating in an educational session on Facebook with some friends, I decided to make my own rollerball bottles of essential oil blends diluted with fractionated coconut oil. I know, it sounds like voodoo, but I got all the ingredients from Amazon and it was super easy to throw them together after finding some recommended "recipes" on Facebook. And that's when my daughter started calling my little blue bottles "Mommy's magic potions" and we got into the nightly ritual of anointing each others' feet. It's soooo nice! Together, each night we choose which blend we'll use based on how we're both feeling. I'm starting to incorporate a little amateur reflexology, too, to make it an even better experience. It feels great, the bed and bedroom smell terrific, we have a nice calming routine and I have to believe it's been good for my "old, dry, wrinkly feet" as Zoe calls them. I figure we can use every bit of help we can get at bedtime to soothe her into sleep mode!
Where to go for more info
One thing about essential oils, everyone's talking about them but some say true experts seem to be few and far between. I now have several friends selling and teaching about oils so I usually post a question on Facebook if I have a specific need. I know there are also good books out there – and this website seems to have a ton of great info. I've seen a lot of people recommend that it's best to just start experimenting with the oils and figure out what works best for you and your family, so I have done that to some degree (while still following the recommended uses DoTERRA provided in my oil kit).
Bottom line, I don't know that I'm a true believer – I'm still somewhat skeptical about some of the alleged benefits of using essential oils – but I do like the way they smell and I figure they likely aren't going to do any harm. What about you – what has been your experience using oils with your family, and do you have a favorite "recipe," formula or potion that I should give a whirl? As always, I'd love to hear from you in the comments below or over on Facebook.