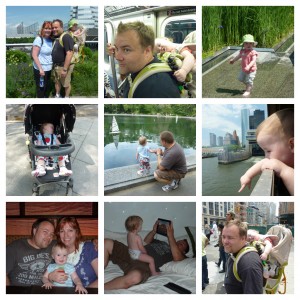 Once upon a time, before E and I had kids of our own, we vowed to be the very best and coolest uncle and aunt ever. We loved visiting NYC whenever possible, and we realized there was a good chance our young nieces and nephews may not have that opportunity, so we made a commitment to take each and every one of our nieces and nephews to NYC, one at a time, for their 16th birthdays. Cool, right?
Fast forward to today. We now have a child of our own, and six (yes, 6!) nieces and nephews. But we're true to our word and we love the opportunity to visit our favorite city with a different, excited young teen in tow each time. We have one trip under our belts so far, taken last Memorial Day weekend, and it was a great success. Now, we can't wait for our next Big Apple visit in 2013 (hurry up and turn 16, Malachi!). Without further ado, here are some highlights from our trip last summer with our oldest niece Emily – along with some tips and tricks for any parents considering a NYC trip with kids.
Airport and airplane
Because Zoe wasn't yet two, we did not buy her a seat of her own. Fortunately, she had flown before and we knew she'd do well. We let her run all over the airport before the flight, in the hopes of tiring her out, and then I made sure to nurse her just as we were getting ready for takeoff. We did get a little flack from the flight attendants – they don't like you nursing during takeoff, they prefer you to hold the baby in your lap facing away from you – but I just smiled, nodded and kept doing what I needed to do. Among all the flights we've taken with Zoe, we've only had one flight attendant really drop the hammer on us and absolutely insist that we obey her exact orders. She got compliance, but she and the others on the flight also got to listen to a screaming, wailing toddler as a result.
Travel light? Ha!
In an effort to travel fairly light for our three-day weekend, we made the tough decision to leave behind the car seat and just take Zoe's stroller and baby backpack. We decided on the latter two and skipped the car seat (I can hear the safety pups out there wincing and calling me a bad mom) because we knew we would be spending so little time in cabs. It was a calculated risk. Zoe absolutely loved traveling without a car seat – she thought it was the coolest thing ever! We did use both the stroller and backpack a ton, so we were glad we had brought both. It was nice to be able to vary Zoe's means of touring the city and also give E's back a break on day two after a long first day of carrying her around on his back. Dragging the car seat along for what amounted to just three short cab rides (to and from the airport, plus another quickie cab ride from the Met back to our hotel) just didn't seem to make sense, and fortunately it all worked out okay. We had heard that some NYC cabs have car seats in them just in case, but we never found that to be true.
Plan ahead
With just two full days to show Emily as much of NYC as possible, we did a lot of pre-trip figuring, research and mapping to determine our best plan of attack. After asking Emily what she'd like to do, and factoring in a few other things we knew would be hits for everyone, we put together our wish list for the trip. Then, we strategized that we'd tackle all our uptown sights and activities on day one (highlights included Central Park, the Metropolitan Museum of Art, FAO Schwartz and Dylan's Candy Bar) and all of our downtown touring on day two (memorable moments included Chelsea market, the High Line, Chinatown, Little Italy and the Staten Island ferry). There were a few things that we weren't able to fit in – like walking across the Brooklyn Bridge, which I've still never done (maybe next trip!) – but all in all it was a fabulous couple of days.
Our uptown day/downtown day strategy worked out really well – as did Zoe napping on the go in both the backpack and stroller on our respective days. She didn't take her usual long, high quality naps, but she got enough of a rest to make the rest of the days bearable and ensure a nice early bedtime. We also factored in times out of the backpack/stroller to stretch her legs (walking along the High Line, exploring FAO Schwartz, climbing on and off benches on the ferry ride, and running around the cool marble floors of the Met) after periods of time spent cooped up. We timed it pretty well so that Zoe didn't get too terribly restless or fussy at any point. We also always made sure she had snacks and plenty of water to drink – and a hat on – so she stayed in good spirits.
Resting our heads
Zoe let us know very early on in life that she loves staying in hotels. NYC was no different. We did have a hard time finding a king size bed for a reasonable price, though – city rooms are small and you have to pay a premium to get a large bed. With three of us cosleeping, however, we see a king bed as a necessity rather than a luxury. We ended up getting a good price on bookings.com for a room with a king size bed plus a pull-out double couch bed for Emily at a cute, quirky little Times Square boutique hotel that has become part of the Best Western chain. One nice bonus of being a cosleeping family is that Zoe sleeps well no matter where we are. As long as mommy's on one side and daddy's on the other, she feels she's home sweet home. In general, when booking a hotel in NYC, we always opt for a nice, central location over fancy features since all you really do there is put your head on the pillow and go to sleep. Prior to Zoe, our favorite was the affordable, charming little Herald Square Hotel, but alas they don't have a single king size bed in the house!
Pleasing everybody
One challenge with this trip was figuring out how to keep everyone happy. The trip was Emily's birthday present, so she was a huge focus – but we also knew that if the one year old wasn't happy, no one would be. Hence, we worked in breaks and stops that we knew Zoe would enjoy, too. We only broke up the group once, and that was during a long afternoon at the Met. Zoe enjoys a good art museum as much as the next toddler, but her limit was about an hour. Our niece, on the other hand, could happily spend an entire week at the Met! So, about an hour into our time there, I texted E (who was walking around seeing the old masters with Emily while Zoe and I played and nursed downstairs in a kid-friendly lounge) to let him know we'd be heading back to the hotel early. Turns out that was a great decision, although managing Zoe, her massive stroller and a cab by myself in NYC traffic was an adventure I won't soon forget.
Planning ahead for our next trip to NYC in 2013, when Zoe will be 3, it's likely that we may need to split up more often in order to keep all parties entertained and happy. I think we got lucky the first time around – Zoe was so blown away by the sights and sounds of the city that she was pretty happy just being along for the ride.
Don't miss this
Probably my favorite part of the whole trip was getting to see Wicked on Broadway with Emily.  I had always wanted to see the show, but figured there was no way I could leave my little cosleeping, night-nursing darling with her daddy for several hours at night in a strange place when we hadn't even brought a pump along. For months before and even during our NYC trip, we always planned on E taking Emily to the show and having a nice uncle-niece night out. But then the time came to leave for the theatre and Zoe was happily immersed in the iPad, sitting comfortably on her daddy, so he motioned for me to go. Zoe didn't even notice an ecstatic mommy creeping out the door! It was such an awesome surprise being able to go, getting texts from E at intermission that all was going well, and then coming home to find them both sleeping happily in the big hotel bed. That show and evening out were the sweet, sweet icing on the cake of an already awesome trip! I highly recommend taking in a Broadway show anytime you're in NYC as it's just an unforgettable experience. Tickets are pricier than ever, but if you're not picky about what show you see, you can often find great deals on same-day tickets.
All in all, our NYC trip with 16-year-old Emily and one year old Zoe was a huge hit for our whole family. Some might say we're nuts for taking such a young toddler to the Big Apple, but as you can see from the photos she loved every minute of it. She may not remember this one, but we've got some great pictures and videos to remind her. And, as the rest of our nieces and nephews turn 16 one by one, I know Zoe will grow to love these trips as much E and I do.
What's your favorite big city to visit? Have you taken a baby or toddler there – or would you? I'd love to hear in the comments!