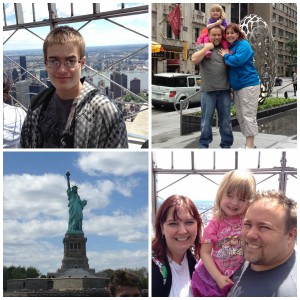 This past May, our family embarked on the second of six trips to NYC in celebration of each of our nieces and nephews' 16th birthdays. This year was Malachi's turn and marked our attempt to take on the impossible: a family roadtrip to NYC that would please both our 16 year old nephew and three year old daughter.
You should know that I had several horrible nightmares in the days leading up to our trip. I dreamed that Zoe darted out into NYC traffic (worst of all, in front of a yellow cab). I dreamed that she squirmed out of our arms atop the Empire State Building. And I dreamed that she cried and screamed for the entire 11 hour drive from Columbus to midtown Manhattan. I'm delighted to report that none of the above happened and that we all had a great trip to NYC over Memorial Day weekend 2013!
The Drive
I was inordinately worried about the drive. We had taken long roadtrips with Zoe before, but that was when she was a lot younger and easier to manage. This was our first long car trip since she said goodbye to diapers, meaning lots of stops in unpleasant public restrooms. In addition, we had Malachi to think of – would he be horrified if she cried and screamed the whole time? Turns out, I needn't have worried. She had a few rough spots but overall handled that car ride better than most adults would have! She was a champ.
My secret weapons were lots of healthy snacks, the iPad loaded with apps and movies she loves, a few favorite old toys and a couple of very cool new ones. My favorite new toy was this Safari toob full of tiny NYC landmarks – she loved it and we made it a point to try and see everything in her tube so this became a great reminder of the trip as well. During the drive, I had hoped to give her one tiny NYC toy out of the tube each hour, but she got so excited after the first that I caved and gave her the whole tube at once. She enjoyed them for the entire drive, plus the rest of the trip, so it was a good move.
The Stay
It's getting harder than ever to find a king-size bed in Manhattan. I booked a room at the Club Quarters Midtown based solely on the fact that we could stay in a room with a king, and lo and behold it turned out to be a queen. I was so annoyed! But, it turns out the hotel did away with all of their kings when they upgraded to new beds. So, we made do – and otherwise the hotel and our suite were reasonably priced, in a good central location and with discounted parking nearby. We liked being so close to Bryant Park, which became our go-to place in between other activities. Zoe liked Bryant's fountain, the carousel and of course, every kid's favorite NYC activity – chasing the pigeons.
The Plan
As with our last trip, I left no stone unturned in researching things to do with kids in NYC. I had a couple of cool "teen guy" things in mind for Malachi, but overall planned for us to spend one day doing downtown activities and one day doing uptown activities. What I hadn't planned on, however, was unseasonably cold and rainy weather that made being outside truly unpleasant on our first day! So, the plan evolved into more of an "indoor day" and "outdoor day" approach. We made the best of it. On our cold and rainy day, Zoe fell in love with the Toys R Us at Times Square, where she got to ride her first Ferris wheel. That day we also visited Rockefeller Center, FAO Schwarz, the Apple Store, Nintendo World and took a subway down to Little Italy for lunch and cannolis. That night, E and Malachi took in a Broadway show (the Lion King, which they loved) while I entertained Zoe in the hotel room with free wireless and Amazon Prime streaming video.
Day two rewarded us with sunshine and blue skies, so we walked down Fifth Ave. and hit the Empire State Building – including the relatively new SkyRide movie/ride, which Zoe really loved. Turns out this is a little bit of a scam – you get approached on the street by uniformed, seemingly legit Empire State Building salespeople and they make it really hard to turn down their "deal" – actually they work for a totally separate outfit and it's much cheaper to skip the SkyRide and just do the Empire State Building. Still, in hindsight it was a cool thing to do for a newbie NY visitor like Malachi because SkyRide is a "virtual aerial tour" of NYC, narrated by Kevin Bacon (who sounded as if he was phoning it in – not his most compelling work). It shows some of the highlights and from a viewpoint you ordinarily wouldn't get – plus you are sitting strapped into a ride unit that shakes, rattles, tilts, bumps and overall elicits major giggles from Zoebelle for the length of the ride. All in our party gave it a thumbs up – so I guess I shouldn't feel bad that the dudes on the street got us to pay up under somewhat false pretenses!
After the morning's fun, we separated so the guys could go check out the Intrepid and ride the Beast, a high speed boat that gives you good scenic views of Lady Liberty and lower Manhattan. Zoe and I headed back to the hotel for lunch and a nap, then met up with the guys again in the afternoon for a visit to the NY Public Library, more time at Bryant Park and a cab ride to dinner that ended up being one of our most awesome NYC moments ever: we drove right past the set of the new Spiderman movie during filming, getting to see burning taxis, overturned cars and Spiderman standing on top of a cop car!
On our final morning, we stopped at an authentic NY bagel place for bagels and black & white cookies, then we hightailed it home to Columbus as we had visitors arriving the next day. All in all, a very fun trip and I can't wait for our next niece to turn 16 in three years! I'm sure visiting NYC with our then six year old (!!!) and her cool sixteen year old cousin Rachel will be an adventure well worth waiting for.
You Forgot What?!
Inevitably, something gets left behind despite my best efforts to plan and pack for each trip. In fact, E almost always asks me "what did you forget?!" when we leave the house to begin our next travel adventure. This time, it took us until the state of PA to realize I had forgotten something VERY important: our stroller! A new one I had bought just for this trip, darnit! I was so upset but Google, as always, saved me: I found a link to several organizations renting strollers and other baby gear, and we had rented and paid for a stroller before we even arrived in NYC. Gotta love living in a modern world – it was even delivered to and picked up from our hotel at no extra charge.
What's been your favorite travel adventure with a little one or teen (or both!) – and what's the worst thing you ever left at home?! I'd love to hear in the comments below.