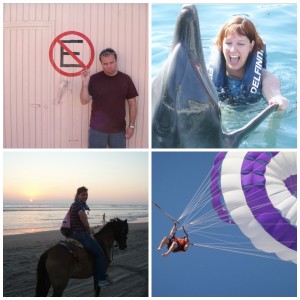 I love to travel.
I crave adventure.
It's in my blood – I grew up crisscrossing the Atlantic visiting my grandparents and other family members in the UK at least once each year until my 20s. I flew from JFK to Heathrow at the age of 12 as an unaccompanied minor.
My childhood's family vacations consisted of sailing trips instead of road trips (and believe me, at the time I didn't appreciate that, but I definitely do now).
You see, my parents are soulless gypsies who travel the world and move across continents and oceans when the whim strikes.
Okay, perhaps "soulless" is a bit harsh – but they really do travel like it's their job (they're both retired now, so perhaps it is). And they really did leave their home in the UK to start over on America's East coast while in their 20s. And, then they did it all over again in their 50s when they moved to the West coast, leaving their grown-up kids behind as they started over in a whole new life as empty nesters. Yep, they left both their parents and their kids, plus all their friends, 25 years apart – you see what I mean about soulless? (Just kidding, Mommers and Dad. Love ya, and I think you're the coolest.)
I'm a born traveler, too. But not this year. This year, for our little family, is the year without travel.
I married a reluctant traveler. When E and I met, he traveled for business only – he didn't share my love of airports, planes and foreign lands. He preferred to spend his vacation time at home doing DIY projects and endless chores around the house. So I made it my mission to convince him that traveling is the life!
For ten years now (we celebrated our first wonderful decade together in February 2013), I've dragged him on anywhere between three and five trips per year. That adds up to between 30 – 50 trips together! We've ridden horseback on Acapulco beaches, stayed in a ramshackle cliff-side room overlooking Rosarito beach in Mexico, cruised up Pacific Coast Highway from LA to San Francisco. We've trekked around cities ranging from NYC to Chicago, DC to Tampa. We weddingmooned in the Turks & Caicos islands. We babymooned in Maui.
But E taking all of these trips with me has truly been a labor of love on his part. Because do you know what? It took me until the latter part of these ten years to realize that he still doesn't like to travel. He'd still rather spend his vacation days at home and work around the house. He took all of those trips with me – and, what's more, for the past several years, took trips with a baby or toddler in tow – because he loves me. So this year, for our ten-year anniversary together, I knew it was finally time that I did something for him. And I did: I vowed that we would spend a year without travel. It's the least I can do, right?
So in 2013, apart from the occasional business trips, there have been no airports. No airplanes. No exotic locales. No fun anticipation or planning things to do in new cities. No sweating over what to (and what not to) pack. No quarrels over heavy luggage and too many carry-ons. Not even trips to visit our own families (his in FL, mine in CA). Other than our long-ago promised NYC trip for our 16-year old nephew, and my impromptu roadtrip up to Buffalo to see Zoe's cousins while E was away on business, there has been NO travel for our family in 2013.
And it has nearly killed me.
It's not that I hate staycations – I love Ohio, and I'm a champ at finding new and cool things for our family to do. I just miss the excitement and uncertainty and adventure of travel. Now that we're more than halfway through the year, the end of this self-imposed travel famine is blissfully in sight for me. I'm itching to get out there and travel again!
I am not ashamed to admit I've already begun scouting out the best dates for our CA and FL trips in the spring, and I've also been scheming for a possible third trip sometime in 2014 – where, I almost don't care, as long as it's away. The planning is often the best part of any trip!
I know I owe it to E to spend more vacation time at home, too. It seems only fair to spend about half of our vacation time at home "staycationing" or doing projects around the house, and the other half traveling. I had it my way for the first ten years – I definitely want our travel arrangements over the next ten years to be more equitable.
But at the same time, I want Zoe to grow up having fabulous travel experiences like I did. I want her to be familiar and comfortable with airports, in airplanes, with other forms of currency and in strange cities. I want her to see England, where I spent so many happy childhood memories. I'd love for us to visit new places and make all new memories together as a family. I want Zoe to meet people who look and dress different from us, hear accents and languages that are different from our own, and grow up feeling like a citizen of the world.
In addition, I don't feel that I've gotten a true vacation from work this year. Sure, I've had days off – but I haven't had a true opportunity to unplug, disconnect and leave work email behind. It's all too easy on days off at home to stay plugged in and connected – to answer client or colleague emails, to "keep up" so that coming back the next day won't be as tough. I've not given myself a single chance so far this year to truly recharge my batteries – and I can feel the strain.
So, how to find the right balance between my wanderlust and his fondness for home? And which of us will Zoe turn out to be more like? She already loves to travel. She's always asking when she'll get to go on an airplane next, and when can we go visit her Cali cousins or her Florida grandparents. I have a feeling our little Zoebelle is another travel bug in the making.
As a working mom, in future years I'm glad we'll have some good vacations away from our usual sights and sounds to truly rest, unwind, learn and grow. I'll try my hardest not to check work email or (gasp) do any work while we're away on those vacations… and I'll try to help E do the same.
What do you think – are you a travel nut or a reluctant traveler? How does your family decide how many trips to take each year, and where you'll go? And how do you unplug or disconnect from work when you stay home instead of traveling? I'd love to hear your thoughts in the comments below.