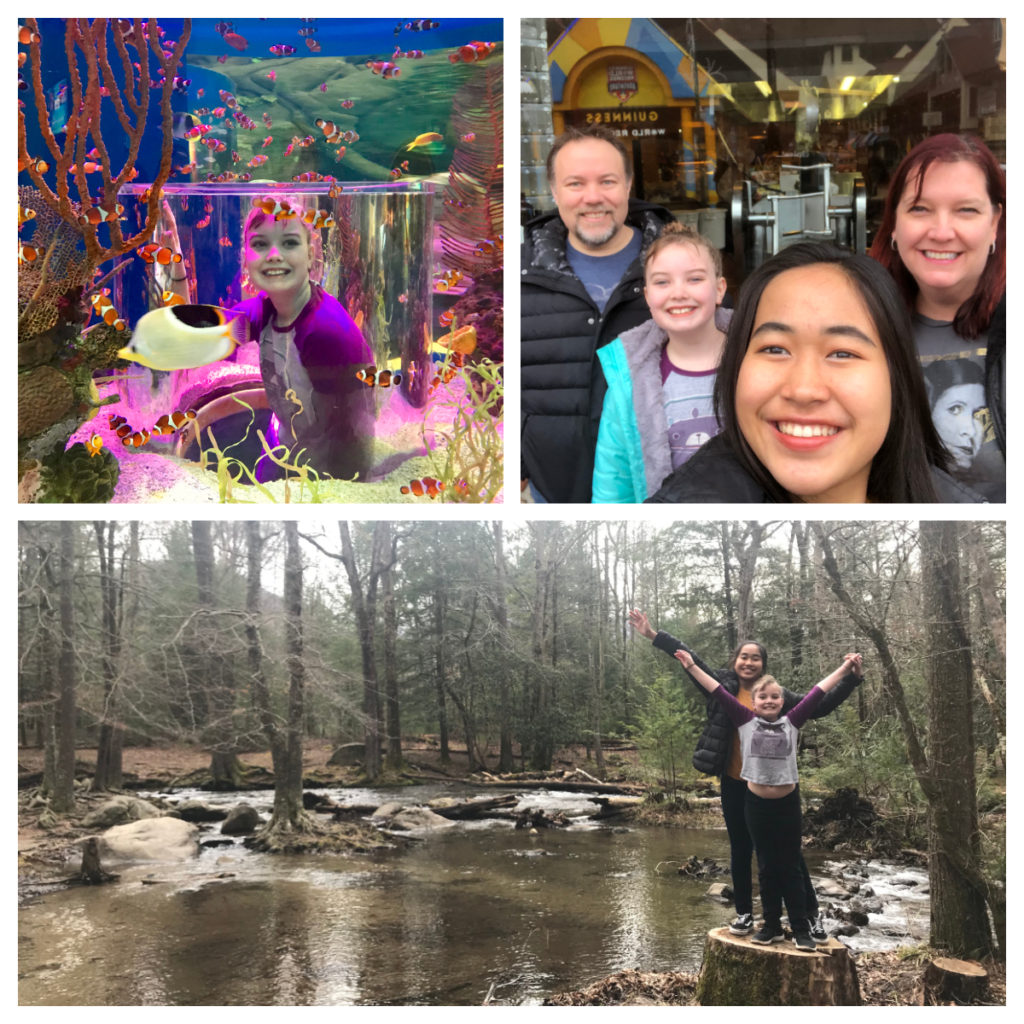 Columbus can be so cold and grey in the winter – sometimes you just need a little getaway. Luckily, there are some great family travel destinations within a very drive-able distance.
That's how we decided on a mid-February nature lover's tour of Gatlinburg, TN and its Great Smoky Mountains National Park!
Aquarium of the Smokies
After a fantastic first day in Gatlinburg, our family was ready for even more adventures on day two. The rush of the river beneath our cabin window and the birds in the forest outside made for a relaxing morning soundtrack! E and Zoe hit the hot tub upon waking, while I explored and took photos of the river and cabin grounds. We soon headed out as a family to Pancake Pantry, a popular breakfast tradition in downtown Gatlinburg. This place always has a line outside, but it's worth the wait – we all loved our pancakes!
Rain was forecast for Saturday, but we were able to walk from breakfast to Ripley's Aquarium of the Smokies before the skies truly opened up. It was a great day to stay indoors, but there are plenty of options in Gatlinburg. We are aquarium buffs, having been to many of the greats including the world-famous Monterey Bay Aquarium, Long Beach's Aquarium of the Pacific and our own, closer-to-home Newport Aquarium. That said, the Gatlinburg aquarium is well worth a visit and makes for a super fun morning or afternoon.
Aquarium highlights included the many interactive experiences in the Discovery Center, including the moon jellyfish touch tank (Z called it "tickling the jellies" and absolutely loved it), horseshoe crab touch tank that reminded me of my childhood on Long Island's beaches, and of course the ever popular stingray petting area.
My personal favorite were two separate aquariums that had a "pop up" tunnel you could crawl into and come up for a peek right in the middle of the tank. They had this for both clownfish and puffer fish – two of my all-time favorites! Of course, you know I had to give it a shot so I climbed into the puffer fish tunnel. I refuse to leave all the fun stuff to the little people. I'm happy to report they did not even have to call the Fire Department to get me back out of the tube!
Another highlight was the unique Glass Bottom Boat Adventure through the shark-filled lagoon. Although this was another $10 per person, we splurged and the girls loved it. It was really fun cruising through the aquarium in a glass-bottomed boat for an extremely close, birds-eye view straight down at the sharks and rays! Our favorite sight during the boat ride was the chainsaw-nosed Saw fish, who treated us to a close-up view when she swam directly under our boat.
We walked across the street from the aquarium to fuel up at No Way Jose with a surprisingly great Mexican lunch, and then we were ready for our next adventure.
Cade's Cove & Alpine Coaster
The day was clearing up outside, so we decided to go for a scenic drive through Cade's Cove and stop for a hike along the way in the Great Smoky Mountain National Park. I wish I could remember the name of the place we stopped to hike and explore – it was on the scenic highway between downtown Gatlinburg and Cade's Cove, and it had a gorgeous river to hike along and some shallow areas that would have been perfect for creeking on a hot summer's day.
We rock-hopped along the river, balanced on some logs, found a possible bear den and basically soaked in as much outdoor beauty as we possibly could before the rain started up again. I count myself lucky that no one fell in the river (they were courting disaster for sure) or woke up a hibernating bear! I still can't believe how lush and green the forests and riverbanks were – so much moss, pine and other evergreens really kept everything looking fresh and vibrant, even in February. We also saw some welcome hints of spring – like daffodils and flowering trees that reminded us spring is coming!
We made one last stop before starting the scenic and historic Cade's Cove loop, because we saw other cars pulled over for a field of horses who were coming over to the fence to say hello. I'm a sucker for horses anytime – it's a total throwback to my childhood, when my mom would always take us to pet and feed grass to horses in a field anytime we saw one! I absolutely love doing this and was so happy to share the love with the girls.
Finally, we hopped back in the car and entered the Cade's Cove loop, an 11-mile stretch that is considered one of the most scenic drives in the Great Smoky Mountains. It's a beautiful valley with the Smoky Mountains in the background and tons of wildlife and historic sites. There are plenty of places to hike in Cade's Cove, but since we were dealing with a lot of sprinkling from the sky, we kept it to a cruise-in this time. I'd love to go back and see Cade's Cove in spring, summer or fall when there would be more chance to meet some elk or black bear! As it was, we saw many deer and wild turkeys.
I'd be remiss if I didn't mention another stop we made that day: the girls got to ride the Alpine coaster at Goats on the Roof in Pigeon Forge. Alpine coasters are one of those popular Gatlinburg tourist "things" that you sort of have to do at least once. I stayed off the thing, but Z rode once with Napa and once with E – and both times, you could hear their delighted screams coming down the mountain long before you could get a visual!
At the end of another long, fun day in Gatlinburg, we stopped in town at the Cherokee Grill for a relaxing dinner at this well-known local steak house. Then, it was back to the cabin for – you guessed it – more hot tubbing. And that was the end of our Gatlinburg getaway! The next morning we hot tubbed one last time, packed up our stuff and headed north. There was plenty more to do in the Gatlinburg/Pigeon Forge area, and I do wish we'd had one more day to enjoy, but we were missing the dogs so home we went.
What other fun things have you done in Gatlinburg and the Great Smokies? I'd love to hear your stories in the comments below or over on Facebook. And where do you think our family should road trip to next? I'd love some ideas!