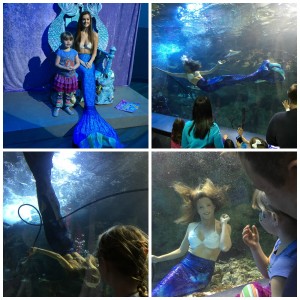 Ever since she was old enough to answer the question "What do you want to be when you grow up?" our Zoebelle has replied the same way: I'm going to be a mermaid. This answer both amuses and delights me, for I too have been obsessed with mermaids since early childhood.
But just lately, as she spends more time with the "school-agers" in her class and falls under the seductive sway of their influence, she has started to come home with troubling questions such as "Mommy, is it true that mermaids aren't real? [Insert random cool, undeniably influential school-ager name here] said so."
This breaks my heart. Why can't those darn school-agers just keep their opinions to themselves?!
This past weekend, thanks to the limited-time appearance of the Weeki Wachi Mermaids at the Newport Aquarium, I was delighted to have the opportunity to prove to her, beyond a shadow of a doubt, that mermaids do exist.
During our super fun visit to the aquarium, we enjoyed seeing tons of fish and other aquatic creatures. We also had the memorable experience of seeing a mermaid swim and perform from within the Coral Reef tank – and she even waved and blew kisses to my spellbound Zoebelle through the glass! Then, we also got to meet and talk to Mermaid Taylor, take pictures with her, and even give her some artwork Zoe had created just for her. It's such a cliche to call an experience magical, but I can think of no better word for this. And it was all free with admission to the aquarium!
About the Weeki Wachi Mermaids
We've known about the world-famous Weeki Wachi Mermaids of Florida for some time but, surprisingly, we've never taken the drive to visit them. It's a bit of a hike from E's folks' place, plus I'll be honest – as a true-blue, diehard mermaid nut, I was a little afraid the show would be a little hokey, kitschy or not quite up to my high mer-standards. Now that we've seen the mermaids for ourselves, I am completely in awe of these ladies and I'm quite sure they are worthy of being a regular road trip during our annual visits to FL!
The Weeki Wachi mermaids have been performing at Weeki Wachee state park for 67 years. According to the website, Weeki Wachi is an enchanted spring – the only one of its kind in the world – and one of Florida's oldest and most unique roadside attractions. Since 1947, the fun, family oriented park has lured in visitors with beautiful mermaids who swim in the cool, clear spring waters performing for awestruck audiences. Weeki Wachi is billed as "the only city of live mermaids." How on earth have I not been there before now?!
Now that we've met a few of the Weeki Wachi mermaids face to face, we will also happily participate in their wonderful "Tail Mail" literacy program. When children write to the mermaids, they create personalized videos for each child, reading the letter and responding personally – then they post the videos on YouTube and Twitter. How fun is that!
About the Newport Aquarium
The Newport Aquarium is a very cool venue in its own right, located just across the Ohio-Kentucky border at Newport on the Levee (think Easton Town Center but with amazing views of downtown Cincinnati across the river). Newport Aquarium showcases thousands of animals from around the world in a million gallons of water. According to the website, this state-of-the-art facility was named the No. 1 aquarium in the 2012 Readers' Choice Travel Awards from 10Best.com; the Best Rainy Day Outing in 2006 in Cincinnati Family Magazine; and the Best Aquarium in the Midwest in the Zagat Survey's U.S. Family Travel Guide in 2004.
In addition to the (regrettably only temporary) mermaids, we especially enjoyed the Penguin Parade, Turtle Canyon, shark touch tank and very cool Gator Alley area – including albino alligators right beneath your feet (and hopefully some very tough glass). This would be a terrific outing anytime of year, as it is all indoors and open 365 days!
Well worth a drive!
Some family fun venues are worth driving for, and the Newport Aquarium – and especially the Weeki Wachi Mermaids encounter – is one of them. What's your favorite family fun adventure within a two to three-hour drive of Columbus? As always, I'd love to hear from you in the comments below.