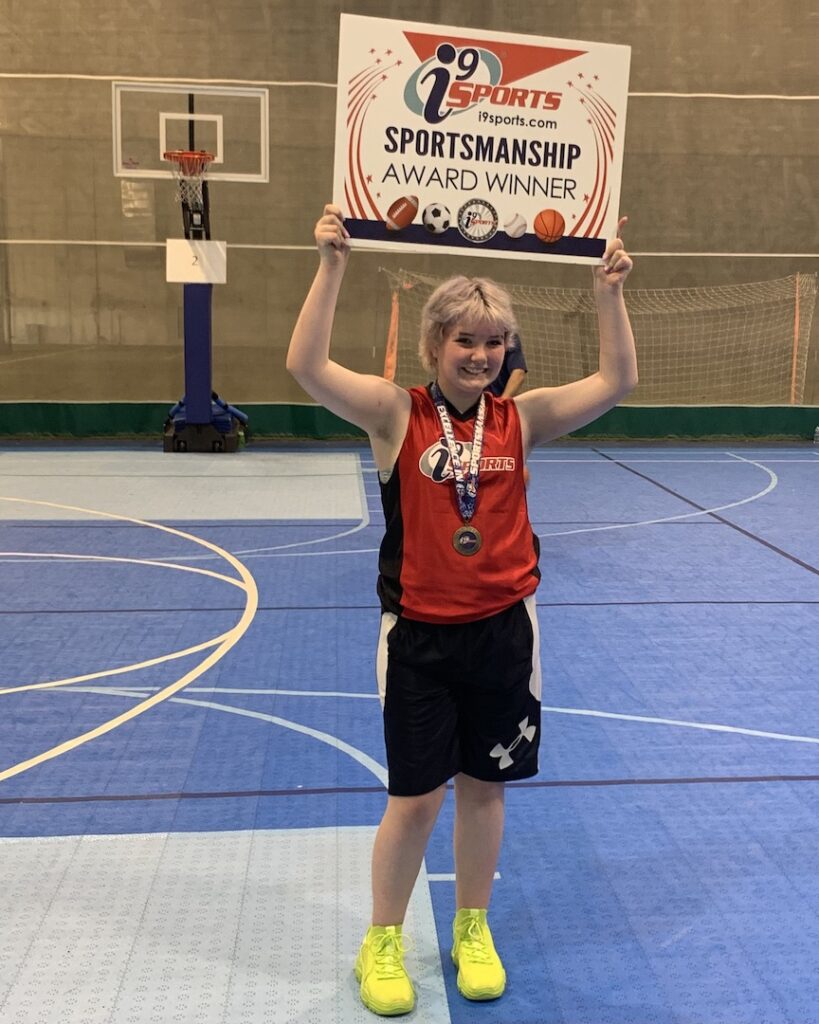 Basketball has always been Journey's favorite team sport.
We first played recreational basketball when Journey was nine. A friend asked us to sign up with her. Journey loved it immediately, and basketball is so much fun to watch for us parents.
Since then, Journey has played on both co-ed and all-girls teams through i9 Sports, and all have been great experiences. The coaches are wonderful, there's an emphasis on sportsmanship and everyone is welcomed regardless of skill level.
Never has that been more apparent than this season, when Journey began playing for the first time in an all-boys league through i9 Sports.
We didn't set out to do this on purpose – there simply isn't a girls basketball team or league in Journey's age range. Journey really wanted to play, so I first asked her what she thought about playing on an all-boys team.
Pretty predictably, she said she was fine with it. Gender doesn't mean much to Journey; she sees it as a made-up social construct and therefore fairly limitless. Imagine how our lives would be different if we could all see gender this way!?
I next asked the i9 organizers if they would be okay with a girl signing up to play in the boys' league. They had no problem and, in fact, were wonderful about making sure we ended up on a team with a supportive and inclusive coach.
When our first day of basketball arrived, Journey was so excited. We loved Coach Janelle immediately and Journey clicked with her teammates right away, too.
When it came time to play actual games, I wondered if the opposing teams might say something about our team having a girl on it – but so far, we haven't heard a word.
Basically, it's a non-issue. No one has a problem with Journey being a girl because she's an awesome teammate who is caring, committed and fun.
When a kid on our team was injured during a game, Journey was the first one to race to his side and check on him, then sit beside him for a while to make sure he was okay. She won her team's weekly Sportsmanship award in week two for personifying the value of "Respect."
Journey is great at shouting support for her teammates when they do a good job – and also calling out "arms up!" when she sees they need to step up their defensive game. Journey's passion for defense is second to none!
I'm so delighted with how i9 sports handled having our girl join an all-boys league. I'm thrilled and thankful that we got such an awesome coach. And I'm pleasantly surprised that none of the opposing teams (or parents!) have made comments or questioned why we have a girl on our team.
As a parent, you never want to hold your kid back – but you also hate the thought of putting them into potentially uncomfortable, awkward or hurtful situations. I'm just so happy that Journey is able to do what she likes and not be held back by gender or other social constructs.
May we all tackle life with the enthusiasm and fearlessness of our bright, beautiful and bold Journey! She teaches me every day how to be a better human and not be held back by imaginary – or real – obstacles.
Maybe I need to get her to teach me how to play basketball next.