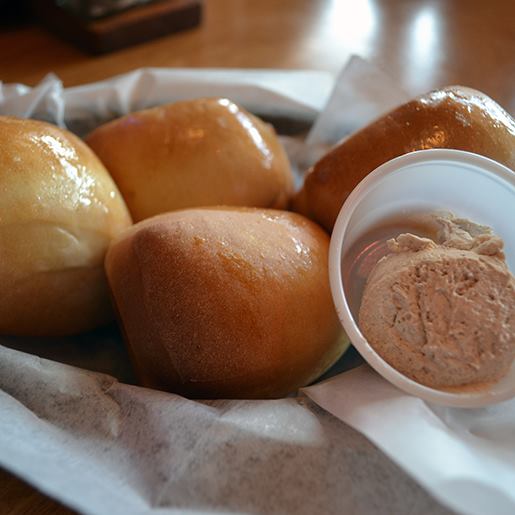 This post is an ode to our family's all-time favorite restaurant: Texas Roadhouse.
We have been regulars at the Polaris Texas Roadhouse for more than 12 years. The owner knows us on sight and always comes over to say hi. For a long time, it was the only restaurant little Zoe would go to so we were there almost weekly.
When you have a highly sensitive child who is also a picky eater (they often go hand in hand), sometimes you jump at any opportunity to get a good meal into her. That was the case with us for many years. When she was really tiny, Z would eat a bunch of rolls and steak, then pass out right at the table!
Thankfully, Zoe's palate and preferences have expanded so Texas Roadhouse is now just one of a handful of favorite restaurants we rotate between. Still, it will always be our absolute favorite place to get a great steak.
E and I have gone to many fancy steakhouses in central Ohio on date nights or special nights out with friends. We've never found a better steak than at Texas Roadhouse!
I don't want to throw any of the other big-name steakhouses under the bus. They are all delightfully fancy with great food and terrific service. This is not meant to be a dig at them.
Rather, this is simply a tribute to how fantastic the food and service are at Texas Roadhouse – particularly the one on Polaris. It's just that good.
Anytime we go to a fancier place and shell out $100 per person on a steak dinner (or even more, occasionally) we always leave shaking our heads and saying "that really wasn't any better than our favorite $20 steak at Texas Roadhouse."
You simply cannot beat the quality, taste, value or overall experience at our favorite steak place. Heck, you also can't beat those Texas Roadhouse rolls – tell me you've found a better basket of never-ending rolls anywhere else and I'll call you a liar. These cannot be topped.
This is not a sponsored post. Texas Roadhouse doesn't pay me or spiff me with free meals – though I would certainly accept it if they wanted to.
This is simply a declaration of love for the restaurant that has been such a wonderful gathering place for our family for more than a dozen years and still going strong. We love Texas Roadhouse for dinners with just the three of us, and we also love to bring the extended family there when we have visitors from out of town.
We love the rolls, we love the steaks, we love the great staff and we especially love our VIP card that gets us seated first even when there's a long wait (but if you don't have that, you can always use their call-ahead service which also helps with the wait time!)
Thank you, Texas Roadhouse, for all the great rolls, steaks and memories. We seriously love you. We'll probably see you this weekend.