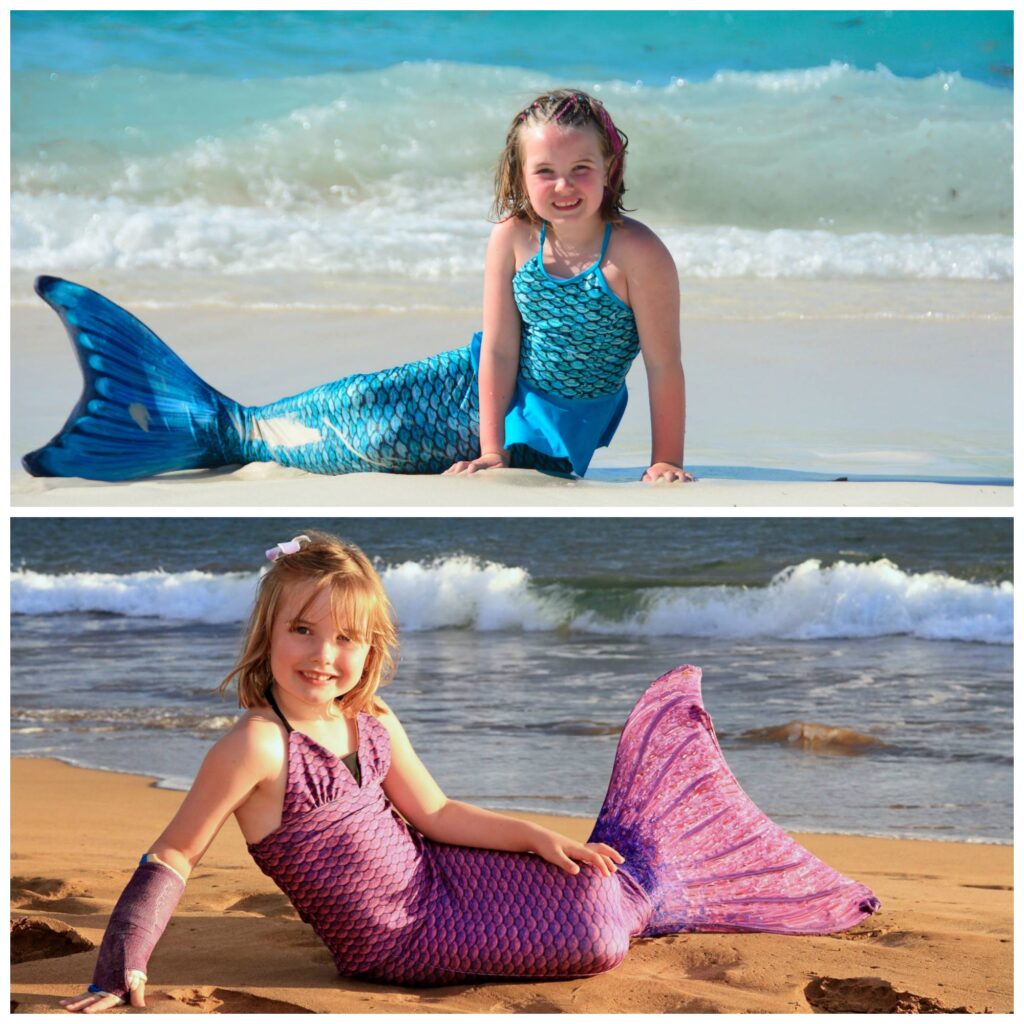 I've had a life-long love of mermaids so I was delighted when Z also showed an affinity for merfolk at a young age.
One of my fondest childhood travel memories is searching for mermaids anytime we were on a boat or near the water. I've come close to spotting mermaids several times in the Caribbean and South Pacific.
In fact, I longed to be a mermaid myself but, due to all my childhood ear troubles, I was never a good enough swimmer. Our little Z, on the other hand, has always swum like a fish. We've called her our mermaid since she was about six months old and showed a real affinity for the water during mommy and me swim lessons. By three, Z was an adept swimmer and novice diver.
When our little mer-girl turned five, her big birthday gift was a Fin Fun mermaid tail in gorgeous shades of purple. She adored it. She practiced with it tirelessly in the hotel swimming pool in Maui later that year. We always stayed within arm's length in case she had problems. We ended that trip with an epic photo shoot on the beach with Z in that purple tail – and her matching arm cast.
Over time, Z eventually outgrew that tail so we got her a replacement, beautiful blue tail skin (we were able to keep the same monofin) when she turned seven. She got to swim with the new blue tail in the resort pools in Turks and Caicos, and of course we had to get some pro shots of her in the blue tail on beautiful Grace Bay beach.
I wasn't sure if she'd still be interested in the mermaid tail as she grew older, but sure enough, when she outgrew the original monofin, she begged for a replacement. Z got her third and current FinFun mermaid tail – a fancy, blue and green Atlantis model – and a replacement monofin when she turned nine. She's worn this version in Florida a few times at the beach and in the pool. It may be her prettiest mer-attire yet.
Tips for newbie mermaids
All these years of experience with the Fin Fun tails makes us something akin to mer-experts, so I want to share a few tips here for parents considering this purchase for your little ones.
First, a mermaid tail and/or monofin is a serious piece of equipment that should only be worn by someone who is already a very strong swimmer. Fin Fun provides a four-page safety brochure and safety website link with its fins for a reason – this is no joke.
Zoe was an extremely proficient swimmer when she got her first monofin and Fin Fun tail, yet I have no doubt that she could have gotten herself into serious trouble without having a parent at arm's length. The act of swimming with a monofin/tail on is physically challenging in ways that ordinary swimming is not; I would liken it to putting your kid in a sack, tying it tight and then throwing them in the deep end.
In addition, even strong swimmers can easily freak out when they are in deep water and suddenly find themselves "bound" or restricted by the tail. It can be quite difficult to get out of the tail once in the water; we've seen even experienced swimmers struggle and panic. It's critical to stay very close so that you can grab your swimmer and pull them up if they need help.
Fin Fun recommends that swimmers complete several swimming tests to be sure they are ready to try wearing the tail and monofin in the water. I'd also stress that newbie mermaids should try the tail and monofin on dry land first to get used to how it feels before going in the water.
When Z got her first tail, she wore it while relaxing around the house to get used to it. She even took a few baths wearing her tail just for fun! And, she only swam with the mermaid tail and monofin under close adult supervision for the first several years.
My intent is not to scare anyone, but there are certainly horror stories to be found if you google "mermaid tail drowning." An Australian study found that wearing a mermaid tail reduces the ability to swim by about 70 percent – so don't even consider putting one of these on your kiddo unless you're confident they are swim-team caliber swimmers.
All that said, Z loves a physical challenge and has become so proficient in her mermaid tail over the years that it's impossible not to stare in awe. She makes friends anywhere we go as she gracefully glides through the pool and surfaces with a tail slap that would make any real mermaid proud. Mermaiding is truly an art form and I'm glad we gave Z the opportunity to safely make her mermaid dreams come true!
Have you ever tried a mermaid tail or monofin yourself, or given one to your kids? Now that Z has the larger size monofin, I'm very curious to try it for myself and plan to soon. I'd love to hear your mermaid tales (see what I did there?) in the comments below or over on Facebook!